Literacy Turns 20! Anniversary Celebration
Main Content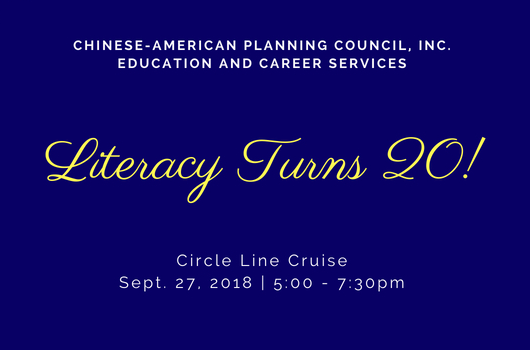 Literacy Turns 20! Anniversary Celebration
CPC celebrates the Adult Literacy Program's 20 years of service to our community on Thursday, September 27, 2018 on board the Circle Line Cruise.
The Literacy Turns 20! Anniversary Celebration will be an evening of happy reunions on board the Circle Line Cruise. The planned evening will feature past and present Literacy students, staff, and raffles while guests enjoy a light snack and unlimited non-alcoholic drinks. There will be music provided by the ship's DJ and a cash bar. Guests will be treated to this program all while enjoying the many landmarks of the NYC downtown skyline.
Circle Line Cruise
Date: Thursday, September 27, 2018
Time: 5:00 pm to 7:30 pm
Address: Pier 83, W. 42nd Street, New York, NY 10036
Rain or Shine
Tickets are $60
18 years and older.
All proceeds from this event will go towards the CPC Adult Literacy Program. Tickets and donations for this event can be purchased in person at 165 Eldridge Street, 2nd Floor, New York, NY 10002, or online here. All sales are final.
For more information on this event, please contact Lynn Nakazawa at lnakazawa@cpc-nyc.org or (212) 941-0041 x.508.