PG: SAT Recruiting - Brooklyn
Main Content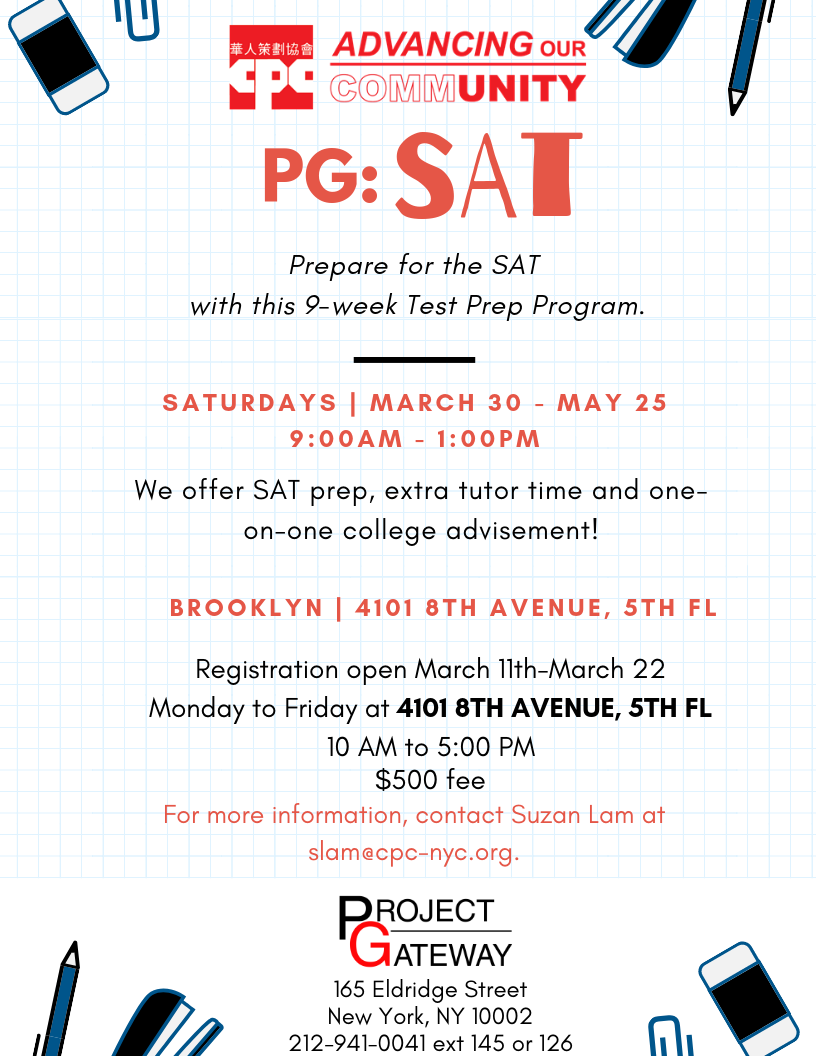 PG: SAT Recruiting - Brooklyn
March 30, 2019

to

May 26, 2019
Project Gateway is offering a low-cost, high quality SAT prep program that prepares students for the Math and Evidence-Based Critical Reading/Writing components of the SAT exam. Starting March 30, 2019, the class will meet once a week on Saturdays from 11 AM to 4 PM for nine weeks.

We are currently accepting applications at our Sunset Park, Brooklyn location until March 22, Monday to Friday from 10:00AM to 5:00PM. Registration is on a first come, first served basis. There is a course fee of $500.

For more information, please contact Suzan Lam at SLAM@cpc-nyc.org or 212-941-0041 extension 145 or Jay Li at JLi7@cpc-nyc.org or 212-941-0041 extension 126.
華策會大學之道輔導中心將提供低成本,高質量的SAT輔導課程為學生準備SAT考試。課程分為三部分,數學,判性閱讀,和寫作。從2019年3月30日開始,輔導班將在周六上午11點至下午4點結束,每週見一次,為期九週。
我們希望招募對此感興趣的學生; 地址位於日落公園布魯克林。報名時間是3月11至3月22,星期一至星期五,早上10:00至下午5:00。註冊按先到先得的原則進行。這門課程費用為500美元。
如果想了解更多的信息,請聯繫:
Suzan Lam
大學之道輔導中心
郵箱地址:SLAM@cpc-nyc.org
致電: 212-941-0041 extension 145
Jay Li
郵箱地址:JLi7@cpc-nyc.org
致電: 212-941-0041 extension 126