CPC BEST Speaker Spotlight Series
Main Content
CPC BEST Speaker Spotlight Series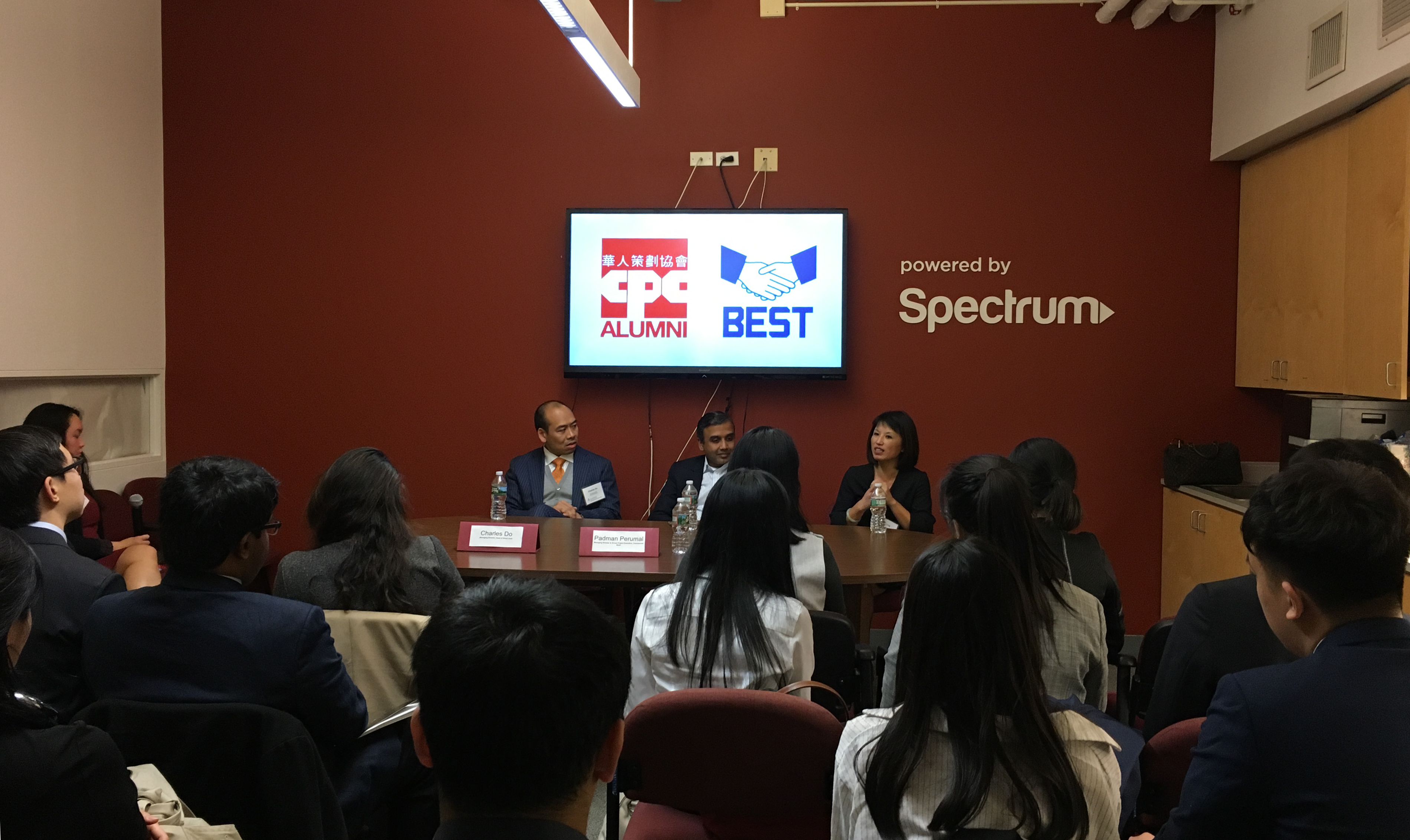 On Friday, October 19th, the Chinese-American Planning Council (CPC) hosted another successful Business Exploration Student Track (BEST) Mentorship Program event featuring a Distinguished Spotlight Speaker Series panel with JPMorgan.
The event began with a mock interview workshop where students were paired with JPMorgan volunteers. The volunteers served as mentors and discussed strategies on improving one's interviewing skills to get into the industry. Afterward, Lai Ling Li, a Vice President at JPMorgan moderated the "Asian Americans Breaking through the Bamboo Ceiling: Career Strategies & Cultural Barriers Part 2" panel. We invited three Asian American executives of various backgrounds, Charles Do, Managing Director and Head of Direct Auto, Bei Ling, Managing Director & Chief Administrative Office of Compensation and International Management, and Padman Perumal, Managing Director & Group Project Executive of Commercial Bank Administration.
Lai Ling kicked off the discussion. The panel discussion was primarily to shed light on leadership skills, cultural values, unique challenges and barriers, and lessons learned in the workplace.
Padman said success requires one to have strict discipline and to broaden one's horizons. Padman elaborated to invest in oneself; research how the organization works, do your homework on the industry, invest in relationships, care about the overall success of the organization and team, and get out of your comfort zone for potential opportunities.
Charles echoed the same sentiment that he quickly got out of his comfort zone as a former finance guy when he was asked to take on a new role in managing client relationships. He explained that "executive presence" entails focusing on three factors; exerting confidence, knowledge, and experience. Furthermore, Charles articulated his motto is to "work hard" to build your brand and "feedback is the best gift" for any job. He stated people will notice your brand and consider you for the next job. Charles encouraged people to solicit and embrace constructive feedback as part of one's professional development.
Bei articulated it is important to be prepared and thoughtful on discussion topics before a meeting. She further emphasized the difference between mentorship and sponsorship. Both are necessary to advance one's career to the next level. When asked what one challenge Bei encountered in her area is, she jokingly said, "one-minute mistake in finance can lead to a world crisis but when HR wants to make a change it can take up to 1 month". Bei also mentioned that in order to improve one's public speaking skills, you should record yourself and ask a friend to provide feedback to combat stereotypes associated with being a "quiet Asian American".
All three panelists have remarkable careers and inspirational stories. We explored workforce topics including core competencies, leadership skills, diversity, mentorship and lessons learned. We hope the discussion inspired and educated the audience of high school seniors and current college students to appreciate diverse cultures and pave the way for future leaders to emulate the success of our panelists.
The Chinese-American Planning Council (CPC) partnered with Lai Ling Li, a Vice President at JPMorgan Chase (JPM) and launched the Business Exploration Student Track (BEST) Mentorship Program in January 2018. The mentorship program has three components, a workshop dedicated to coaching students on resume building, mock interview and leadership skills, a Spotlight Speaker Series panel featuring guest speakers to provide career navigation, and a networking session. CPC BEST Mentorship had a number of events this year.
If you were a past CPC Education and Career Service (formerly Youth Services) participant and would like to be reconnecting with CPC through our Alumni Network, please complete this form.
If you are interested in hearing more about the next our next BEST event, please register here.