CPC Supports Council Member Hudson's Aging Legislative Package at City Hall
Main Content
CPC Supports Council Member Hudson's Aging Legislative Package at City Hall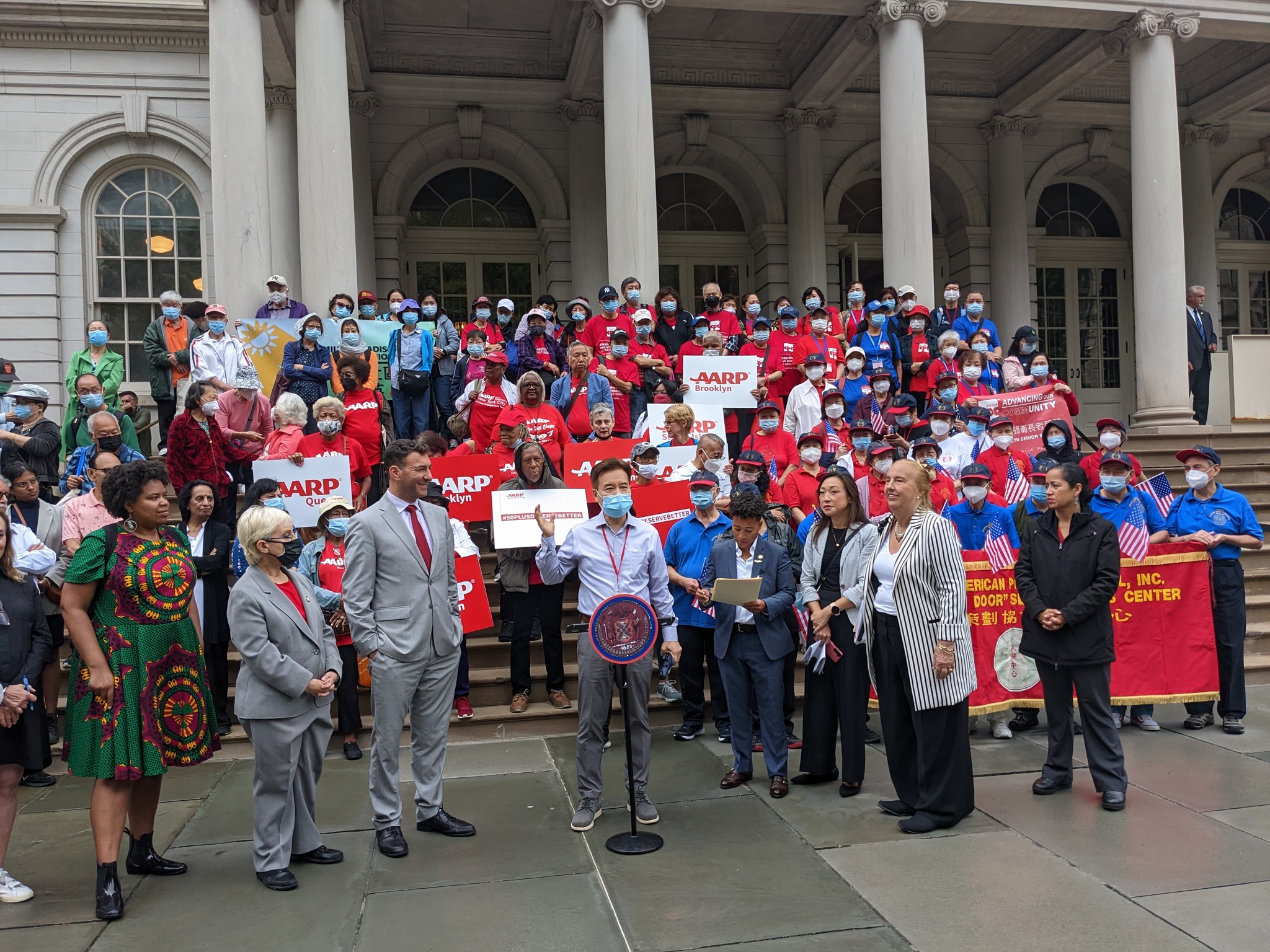 On Wednesday, September 7th, CPC led a group of over 150 older adults from our Brooklyn, Manhattan, and Queens Senior Centers to join a rally in support of Chair of the Aging Committee and Council Member Crystal Hudson's Aging Legislative Package at City Hall. The rally was also joined by Council Member Alexa Aviles, Council Member Gale Brewer, Council Member Eric Dinowitz, Council Member Kristin Richardson Jordan, Council Member Linda Lee, and Council Member Lynn Shulman. Peter Cheng, Director of CPC Nan Shan Senior Center, urged New York City Council to pass the #AgeInPlaceNYC package to ensure all older adults can age in place with dignity.
The Aging Legislative Package is critical in ensuring that our city is taking care of older adults by providing essential guidance and protection of their rights. The legislation has three main goals:
Currently, older adults on fixed incomes are more likely to be housing insecure. Nearly one-in-three of our city's older adults live along and more than one-in-five are facing poverty. A 2021 CUNY Graduate Center study reports that the population of adults ages 65 and older in New York will soar 25% between 2021 and 2040. With this in mind, the legislative package would strengthen existing programs through DFTA (Department for the Aging) - aimed at helping older adults with housing-related legal issues and emergency assistance like HRA's one-shot deal (one-time payment from the Human Resources Administration to pay back rent to avoid eviction) - and by working with the state to auto-enroll older adults in SCRIE (Senior Citizen Rent Increase Exemption) and bolster current programs for older adults.
Right now, there is no law that requires the City to provide materials to all older adults informing them of their rights. City-funded older adult centers are required to post the Senior Center Bill of Rights and have information available online. However, nearly 45% of adults above the age of 65 have no internet access, making such information inaccessible to them. This legislation ensures that that DFTA conducts outreach and requires reporting on that outreach so that we can monitor the agency's work. It is essential that every older adult knows their rights and can receive materials in the way that works best for them.
While many older adults live near OACs (older adult centers) that are responsive to the cultural diversity of the community they seve, many do not. Studies show that increasing the diversity of programming at OACs increases participation at those centers. Greater participation at OACs can help alleviate feelings of social isolation. Many older adults report that they lack companionship and feel isolated from others, a rate that likely only increased during the COVID-19 pandemic and has only exacerbated physical and mental ailments. Our City must work with older adult center to ensure all older adults have programming relevant to their backgrounds, interests, and needs.