CPC 2016 Lunar New Year Dinner
Main Content
CPC 2016 Lunar New Year Dinner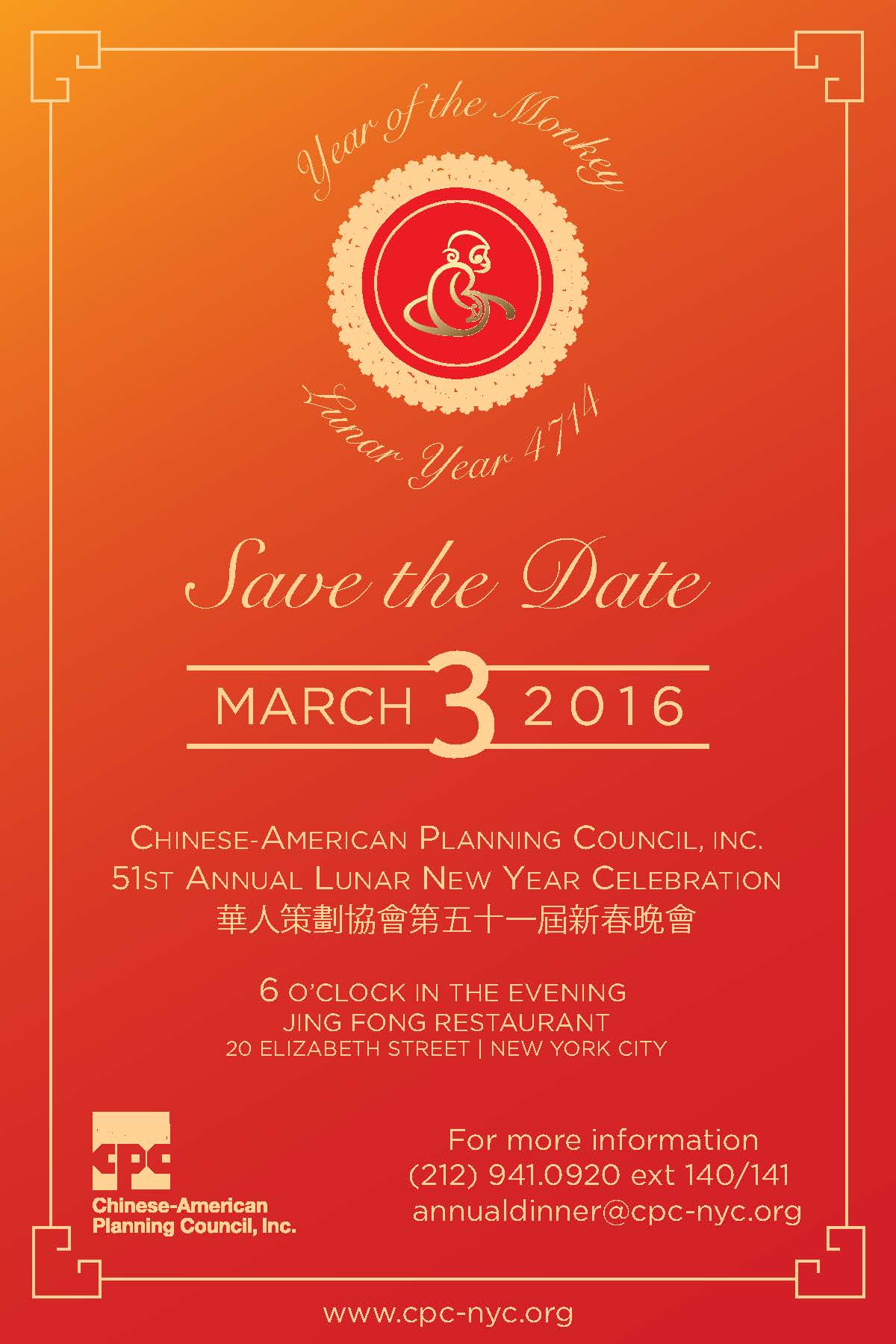 The Chinese-American Planning Council, Inc. (CPC), we would like to invite you to join CPC's 51st Annual Lunar New Year Celebration Fundraising Dinner on Thursday, March 3, 2016 at Jing Fong Restaurant to celebrate Lunar New Year 4714, Year of the Monkey.
This year we will be honoring three outstanding individuals and a distinguished corporation for their extraordinary contributions and dedication to the community:
Honoree of the Year – Lucy M. Chan, Retired IBM Vice President and IBM Industry Academy Member. In recognition of her outstanding accomplishments, advocacy for the development of Asian American leadership during her 36-year career with IBM and unwavering support of the Asian American community in Greater New York and globally.
Civic Leadership Award – Ron Kim, New York State Assembly member. In recognition of his outstanding leadership and dedicated service to the Queens community, New York City Asian and immigrant communities.
Corporate Social Responsibility Award – Time Warner Cable. In recognition of their philanthropic partnership with CPC and nonprofit organizations by providing Learning Labs that help individuals improve their knowledge of technology and learn new skills.
Service Star Award – Dora Yuen, Group Leader of CPC Chung Pak Early Childhood Center. In recognition of her over 30 years of dedicated services to early childhood education.

Event Information
Date: March 03, 2016
Time: 6pm
Location: Jing Fong Restaurant (20 Elizabeth Street NY, NY 10013)
Sponsorship Packages are available.
Click here to download the CPC 50th Lunar New Year Gala Sponsorship Package form.
Thank you for your support!

SPONSORSHIP LEVELS
$25,000 - DIAMOND:
• ONE VIP BANQUET TABLE FOR 10
• DIGITAL LOGO DISPLAY
• PROGRAM ACKNOWLEDGMENT
• FULL PAGE COLOR AD - INSIDE COVER
• RECOGNITION PLAQUE PRESENTED AT THE EVENT
• ACKNOWLEDGMENT ON WEB & IN JOURNAL
$10,000 - RUBY:
• ONE VIP BANQUET TABLE FOR 10
• DIGITAL LOGO DISPLAY
• PROGRAM ACKNOWLEDGMENT
• FULL PAGE COLOR AD
• RECOGNITION PLAQUE PRESENTED AT THE EVENT
• ACKNOWLEDGMENT ON WEB & IN JOURNAL
$5,000 - GOLD:
• ONE BANQUET TABLE FOR 10
• DIGITAL LOGO DISPLAY
• PROGRAM ACKNOWLEDGMENT
• GOLD PAGE AD
• ACKNOWLEDGMENT ON WEB & IN JOURNAL
$3,000 - SILVER:
• ONE BANQUET TABLE FOR 10
• DIGITAL LOGO DISPLAY
• PROGRAM ACKNOWLEDGMENT
• SILVER PAGE AD
• ACKNOWLEDGMENT ON WEB & IN JOURNAL
DINNER JOURNAL AD
$1,500 - GOLD PAGE (6.5" x 9")
$1,200 - SILVER PAGE (6.5" x 9")
$1,000 - FULL PAGE (6.5" x 9")
$600 - HALF PAGE (6.5" x 4.25")