Asian. American. Dreamer. Rally to Support DACA Recipients
Main Content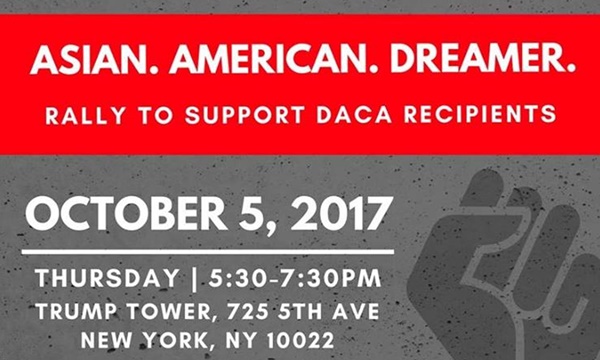 Asian. American. Dreamer. Rally to Support DACA Recipients
On Thursday, October 5, 2017, the NYC pan-Asian community and immigrant advocacy groups to will hold the Asian. American. Dreamer. rally in support of Asian American DACA recipients who are being impacted by the dissolution of the DACA program under the Trump administration. The rally will take place from 5:30 PM to 7:30 PM at Trump Tower, located at 725 5th Avenue in Manhattan.
On the day that marks the deadline for the DACA status renewal, we will rally to defend the future of DACA, a program that impacts over 270,000 Asian Americans nationally and over 191,000 Asian Americans in New York State alone. Organizers will mobilize the pan-Asian community and other immigrant communities to call on Congress to pass a clean DREAM Act, as well as other immigrant protection programs.
In adherence to our organizational mission and values, CPC will stand in solidarity with our allies and urge Congress to pass legislation that is inclusive of, and protects all, immigrant communities. We hope that you will take a stand with us.
This event is lead by the Asian American Federation (AAF), which CPC is a member of. The rally is co-sponsored by CPC and as well as other AAF members - Adhikaar, Asian American Legal Defense and Education Fund, Chhaya CDC, Chinese Progressive Association, Council of People's Organization, Desis Rising Up and Moving, Japanese American Association of New York, Japanese American Social Services, Inc., Korean American Family Service Center, Korean Community Services of Metropolitan New York, MinKwon Center for Community Action, National Queer Asian Pacific Islander Alliance, New York Immigration Coalition, OCA-NY, Sakhi for South Asian Women, Turning Point for Women and Families, University Settlement