Immigration Legal Consultation Day 移民法律諮詢日 (OCTOBER 2021)
Main Content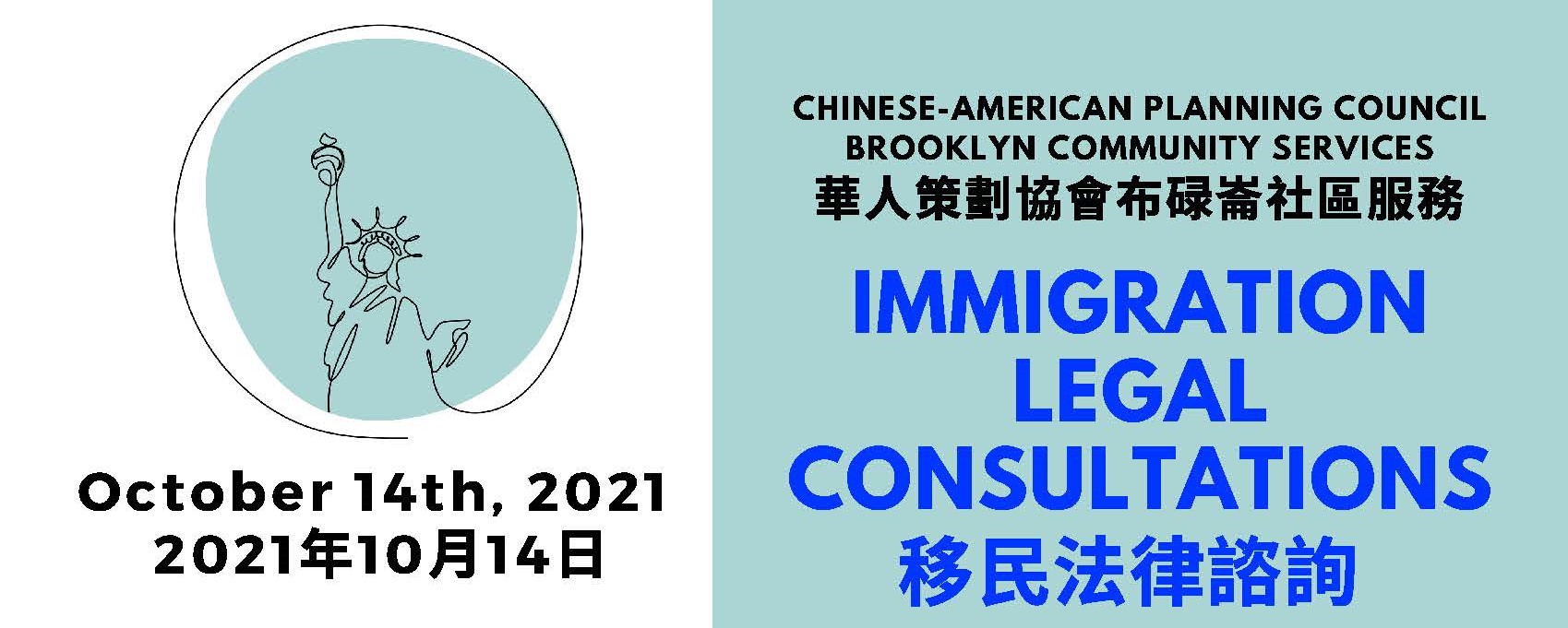 Immigration Legal Consultation Day 移民法律諮詢日 (OCTOBER 2021)
Chinese-American Planning Council Brooklyn Community Services in partnership with NYS Office for New Americans (ONA) will be hosting a Remote Immigration Legal Consultation Day on Thursday, October 14th, 2021! If you need help on immigration application or have immigration concerns, please call to make an appointment to speak with our ONA Legal Counsel! Consultations are free and available to everyone. Space is limited, please call to make your appointment!
華策會布碌崙社區服務與紐約新美國人辦公室 (ONA)合作, 將於2021年10月14日舉行遠程移民法律諮詢日。如果您需要幫助填寫移民表格或者有任何移民問題, 請先電話預約, 屆時將由 ONA的律師回答您的問題。諮詢是免費的,但預約名額有限, 請致電預約!
ONA free immigration legal services include phone consultations and remote application assistance of the following, 紐約新美國人辦公室(ONA)免費移民法律服務包括律師電話諮詢和遠程填表援助:
Citizenship and Naturalization 公民和入籍 (N-400/ N-600)
Employment Authorization 延期工作許可證(a5,c8,a10,c10,c18卡等等) (I-765 : a5, c8, a10, c10, c18)
Green Card Renewal 綠卡延期 (I-90)
Adjustment of Status 申請調整綠卡身份 (I-485)
Relative Immigrant Petitions 申請親屬移民來美國 (I-130)
Petitions to remove conditions on residence 調整配偶的兩年有限綠卡 (I-751)
Immigration Assistance for Survivors of Domestic Violence and Trafficking 家庭暴力和販賣人口受害者的移民援助 (U和T簽證) (VAWA, U & T visas)
To make an appointment*, please call to schedule in advance 申請預約請提前致電: CPC Brooklyn Community Services 華策會布碌崙社區服務 (718) 492 - 0409 x 313.
*Due to COVID-19, ONA services are provided REMOTELY. 在新型冠狀病毒疫情期間, 紐約新美國人辦公室 (ONA) 的服務都是遠程服務。
---
Remote Free Immigration Legal Consultation Day 遠程免費移民法律諮詢日
Date 日期: Thursday, October 14th, 2021 / 2021年 10月14日, 星期四
Time 时间: 10:00 am to 5:00 pm / 上午 10:00 至 下午 5:00
Location 地点: Remote / 遠程