1/31: CPC Beacon Community Center Lunar New Year Family Night
Main Content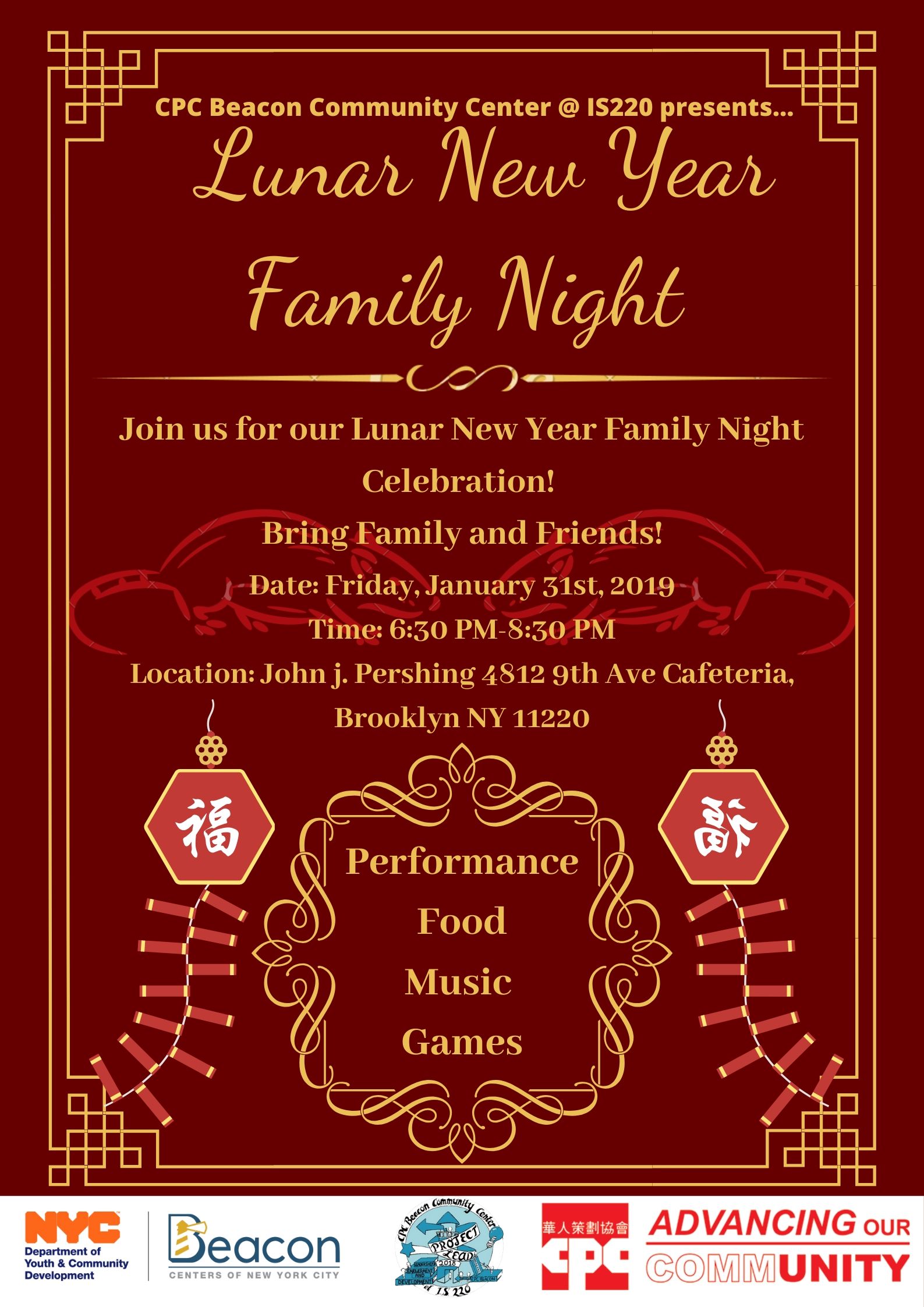 1/31: CPC Beacon Community Center Lunar New Year Family Night
CPC Beacon Community Center at I.S. 220 will be holding our annual Lunar New Year Family Night event. Come join us for free food, performances and raffles. The event is open to everyone will be held on January 31st, 2020 from 6:30pm to 8:30pm. Doors open at 6:15pm and admission ends at 7:30PM. Hope to see you there!
Date & Time: January 31, 2020 ; 6:30PM to 8:30PM
Location: John J. Pershing at I.S.220
Entrance: 48th street between 8th Avenue and 9th Avenue
位于I.S. 220的CPC BEACON社区中心,将举行我们的年度农历新年家庭之夜活动。 快来加入我们,享受免费的美食,表演和抽奖活动。 活动向所有人开放。 该活动将于2020年1月31日下午6:30至8:30举行。 门在晚上6:15打开,入场时间在晚上7:30结束。 入口在第48街。 希望在那里见到你!
日期和时间:2020年1月31日; 下午6:30至8:30
地点:约翰·J·潘兴(IS.220)
入口:介于第8大道和第9大道之间的第48街
CPC BEACON Community Center en I.S. 220 llevará a cabo nuestro evento anual de Noche Familiar del Año Nuevo Lunar. Ven y únete a nosotros para comida gratis, actuaciones y rifas. El evento está abierto a todos. El evento se llevará a cabo el 31 de enero de 2020 de 6:30 p.m. a 8:30 p.m. Las puertas se abren a las 6:15 pm y la admisión finaliza a las 7:30 PM. La entrada está en la calle 48. ¡Espero verte allí!
Fecha y hora: 31 de enero de 2020; 6:30 p.m. a 8:30 p.m.
Ubicación: John J. Pershing en I.S.220
Entrada: calle 48 entre 8th Avenue y 9th Avenue