5.28 Queens - Building AAPI Civic Power - A Conversation with City Hall and AAPI Community Leaders
Main Content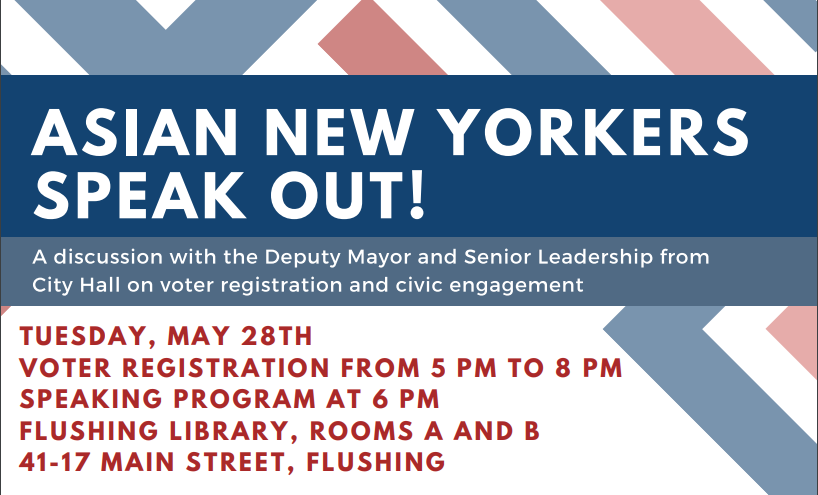 5.28 Queens - Building AAPI Civic Power - A Conversation with City Hall and AAPI Community Leaders
Does civic engagement go beyond voter registration? How are AAPI and immigrant voters engaging on community issues? Are candidates and politicians engaged too? CPC joins the discussion as we look forward to important state and federal elections in 2020 and city elections in 2021.
What: Panel discussion and voter drive to engage and empower voters in the Asian American and Pacific Islander community
Interpretation in:
Mandarin Chinese
Hindi
Korean
Spanish
Urdu
Bengali
Who: Leaders from the AAPI community, City Hall, the general public, and you!
Phil Thompson - Deputy Mayor for Strategic Initiatives
Nisha Agarwal - Deputy Commissioner, Mayor's Office of Immigrant Affairs
Sonia Lin - Senior Advisor, DemocracyNYC
Patricia Eng - Chief Service Officer
John Park - Executive Director, MinKwon
Wayne Ho - President & CEO, CPC
Jerry Vattamala - Director of Democracy Program, AALDEF
When: Tuesday, May 28th - 5-8:00 pm
Voter Registration - 5:00 - 8:00 pm
Where: Flushing Library, Rooms A & B
Chinese: 让纽约市亚裔发声
Korean: 아시안 뉴요커는 발언하세요
Hindu: एशयाई यूयाक वासय नेअपनी
राय कर
Urdu: نیو یارک کے ایشیائی باشندگان