Career Exploration Day
Main Content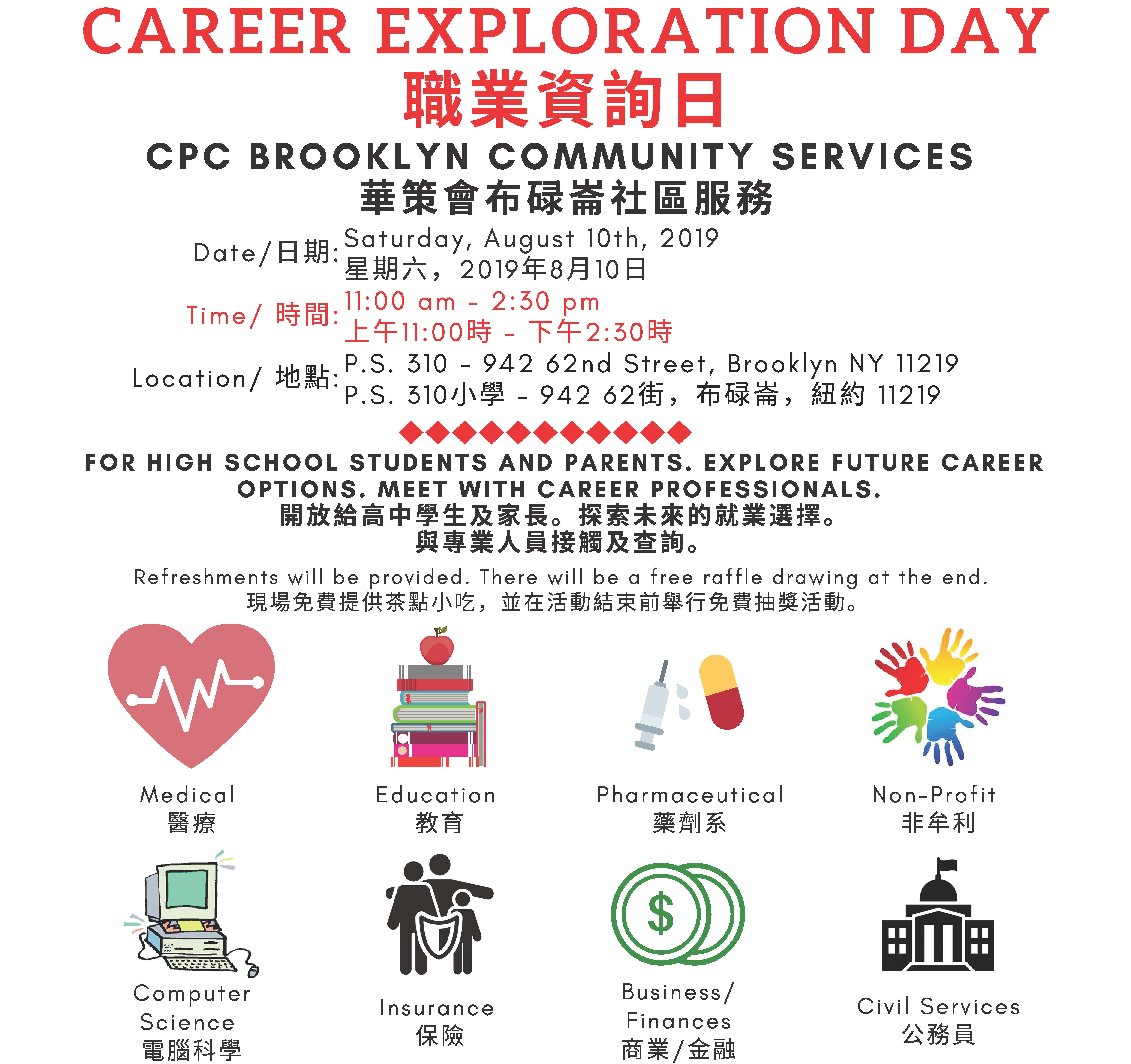 Career Exploration Day
CPC Brooklyn Community Services will host Career Exploration Day, on Saturday, August 10th, 11:00 AM at P.S. 310, located at 942 62nd Street, Brooklyn, NY 11219. Up to 10 guest speakers will be part of a panel to share their experience and expertise in their chosen fields. We have guest speakers from the following sectors;
Healthcare Professionals/Medical Services
Engineering
Accounting and Auditing
Media and Journalism
Technology/Computer Science
Education
Civil Services
Non Profit and Social Services
Business Management
Finance and Money Management
and More
Our Career panel aims to connect community members, especially, high school, college students, and job seekers with professionals from high demand careers. Community members attending will not only hear from guest speakers, but will be given an opportunity to network and speak one-on-one with invited panelists. Career Exploration Day will provide valuable information for high school students who are uncertain of what areas of study they may get into. The event, will provide college students and job seekers an opportunity to network and get valuable resources from seasoned professionals. This event is free and open to all community members. Lunch and refreshments will be provided. Free raffle drawing will take place immediately after the presentation.
CPC BCS Career Exploration Day is made possible through funding from the NYS Department of Labor and the NYS Office for New Americans.
Special thanks to Senator Andrew Gounardes, Senator Zellnor Myrie, Assemblyman Peter Abbate and Council Member Justin Brannan for co-sponsoring and supporting this community event.
For more information, feel free to call (718) 492-0409 or email bcs@cpc-nyc.org.
What: Career Exploration Day
Where: P.S. 310, 942 62nd Street, Brooklyn, NY 11219
When: Saturday, August 10th, 11:00 AM to 2:30 PM
Whom: Open to all community members
Special thanks from Brooklyn Community Services