College Financial Aid Workshop for Parents and Students (in Chinese)
Main Content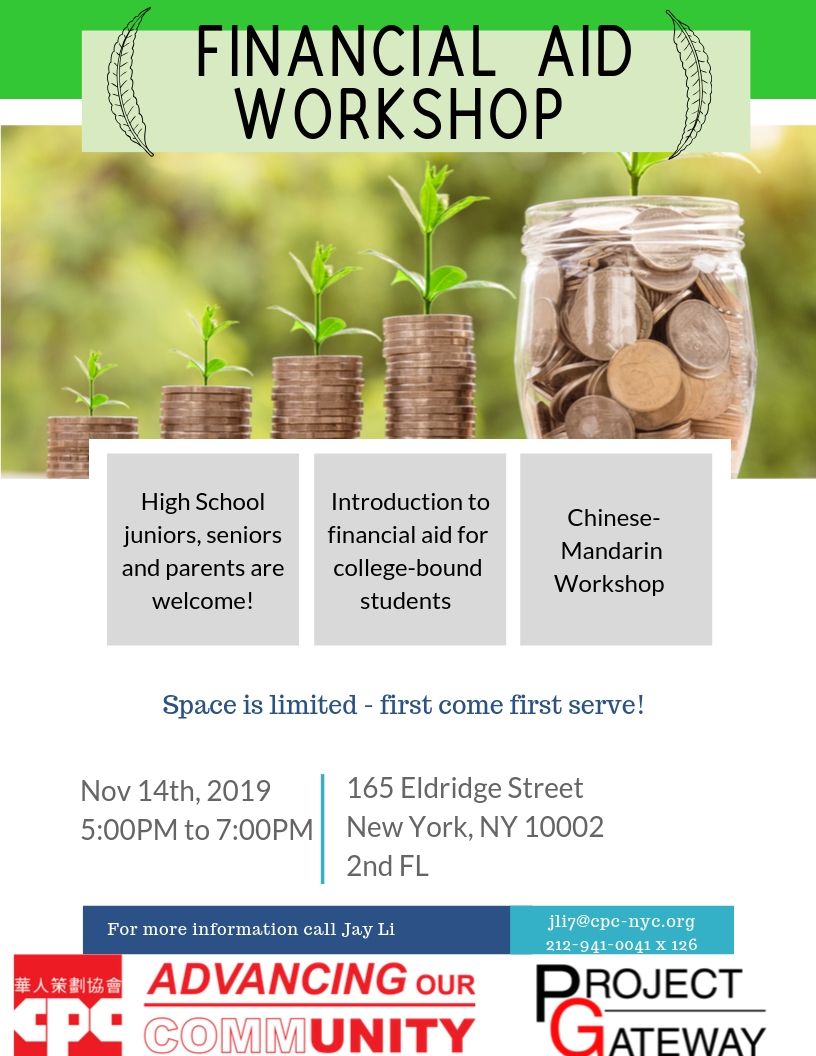 College Financial Aid Workshop for Parents and Students (in Chinese)
Project Gateway is hosting a Financial Aid Workshop in Mandarin on Thursday, November 14th from 5 PM-7 PM at 165 Eldridge Street New York, NY 10002. The workshop will educate parents and college-bound students on financial aid opportunities including but not limited to Federal Pell Grant, New York State Tuition Assistance Program (TAP), Excelsior Scholarship, and Senator Jose Peralta New York State DREAM Act. The workshop will be conducted in Mandarin.
大学辅导中心将在11月14日(星期四)下午5时至7时在纽约爱烈治街165号举办一个大学助学金讲座。该讲座向父母和高中生提供有关联邦助学金,纽约州学费援助计划,奖学金,精益求精奖学金,以及Jose Peralta 参议员纽约州"DREAM 法案。大学讲座将以普通话进行。
Space is limited - first come first serve! 位置有限-先到先得!
For more information, please contact Jay Li at 212-941-0920 x126 or email to jli7@cpc-nyc.org.
想了解更多信息,请联系李生,电话:212-941-0920 分机:126。邮箱:jli7@cpc-nyc.org.