CPC 2016 Lunar New Year Dinner
Main Content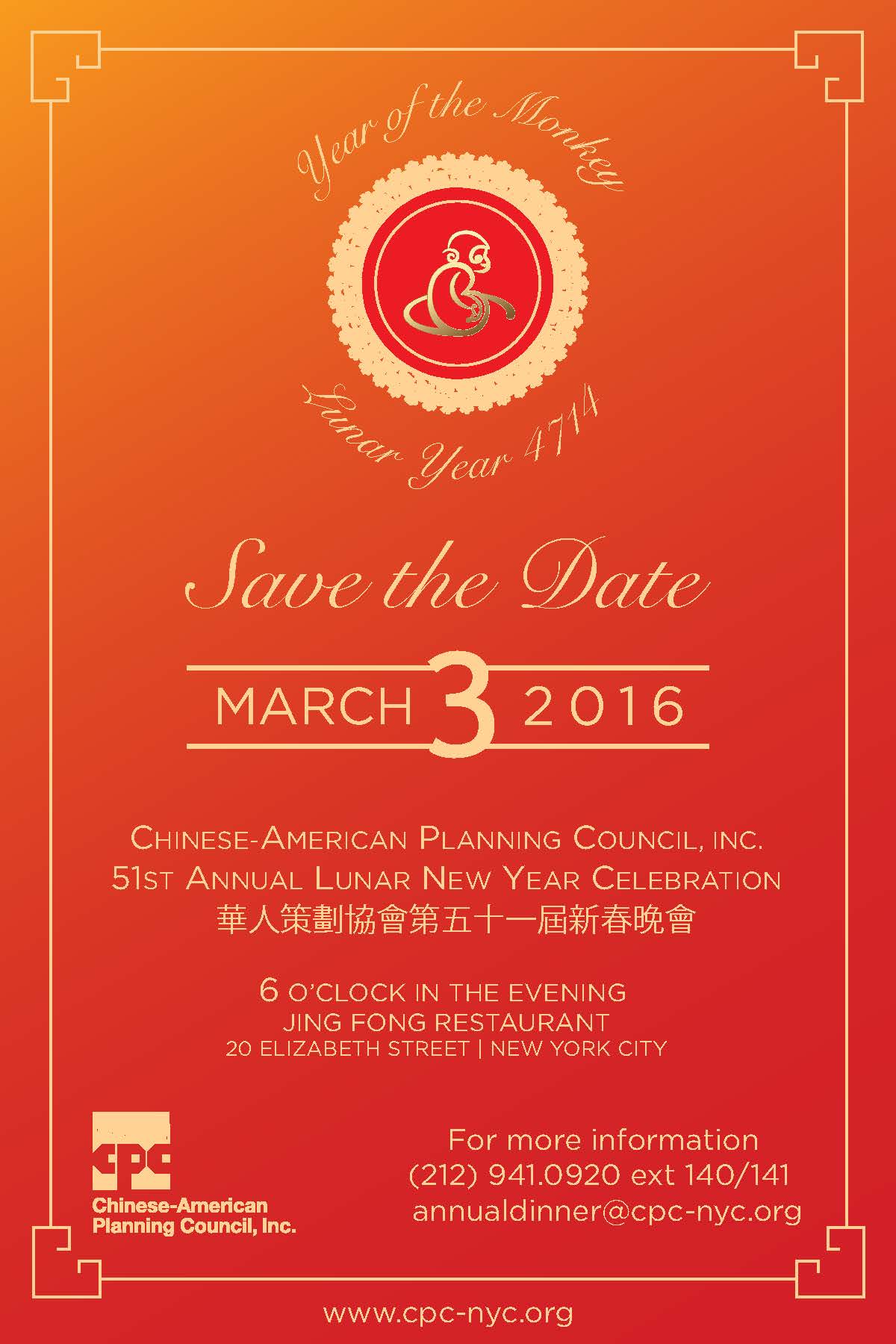 CPC 2016 Lunar New Year Dinner
Dear Friends,
On behalf of the Chinese-American Planning Council, Inc. (CPC), we would like to invite you to join CPC's 51st Annual Lunar New Year Celebration Fundraising Dinner on Thursday, March 3, 2016 at Jing Fong Restaurant to celebrate Lunar New Year 4714, Year of the Monkey.
Since our founding in 1965, CPC has become one of the largest Asian American social service providers of educational, social and community services in the United States. Our mission is to serve the Chinese-American, immigrant and low-income communities in New York City by providing services, skills and resources towards economic self-sufficiency. CPC serves over 8,000 people daily through 50+ programs in 30+ locations citywide. It administers community services, early childhood services, school-age child care, youth services, workforce development and senior services. CPC affiliates provide home care services, senior housing and affordable housing.
This year we will be honoring three outstanding individuals and a distinguished corporation for their extraordinary contributions and dedication to the community:
Honoree of the Year – Lucy M. Chan, Retired IBM Vice President and IBM Industry Academy Member. In recognition of her outstanding accomplishments, advocacy for the development of Asian American leadership during her 36-year career with IBM and unwavering support of the Asian American community in Greater New York and globally.
Civic Leadership Award – Ron Kim, New York State Assembly member. In recognition of his outstanding leadership and dedicated service to the Queens community, New York City Asian and immigrant communities.
Corporate Social Responsibility Award – Time Warner Cable. In recognition of their philanthropic partnership with CPC and nonprofit organizations by providing Learning Labs that help individuals improve their knowledge of technology and learn new skills.
Service Star Award – Dora Yuen, Group Leader of CPC Chung Pak Early Childhood Center. In recognition of her over 30 years of dedicated services to early childhood education.
This fundraising event will be covered by media and attended by over 1,000 guests including elected officials, community leaders, business executives and supporters. Your support is essential for CPC to continue our mission of serving our community and carrying out CPC's vision over the next 50 years to be the Model Service and Leadership Development Organization. Below you will find the dinner save the date and sponsorship opportunities. For more information, please contact Mabel Long at annualdinner@cpc-nyc.org or (212) 941-0920 x140.
Thank you in advance for your support! We all look forward to seeing you on March 3rd.
With warm regards,
Jenny Low Janice Won
Board Chair Interim President & CEO