CPC Brooklyn Community Services 2020 Lunar New Year Celebration
Main Content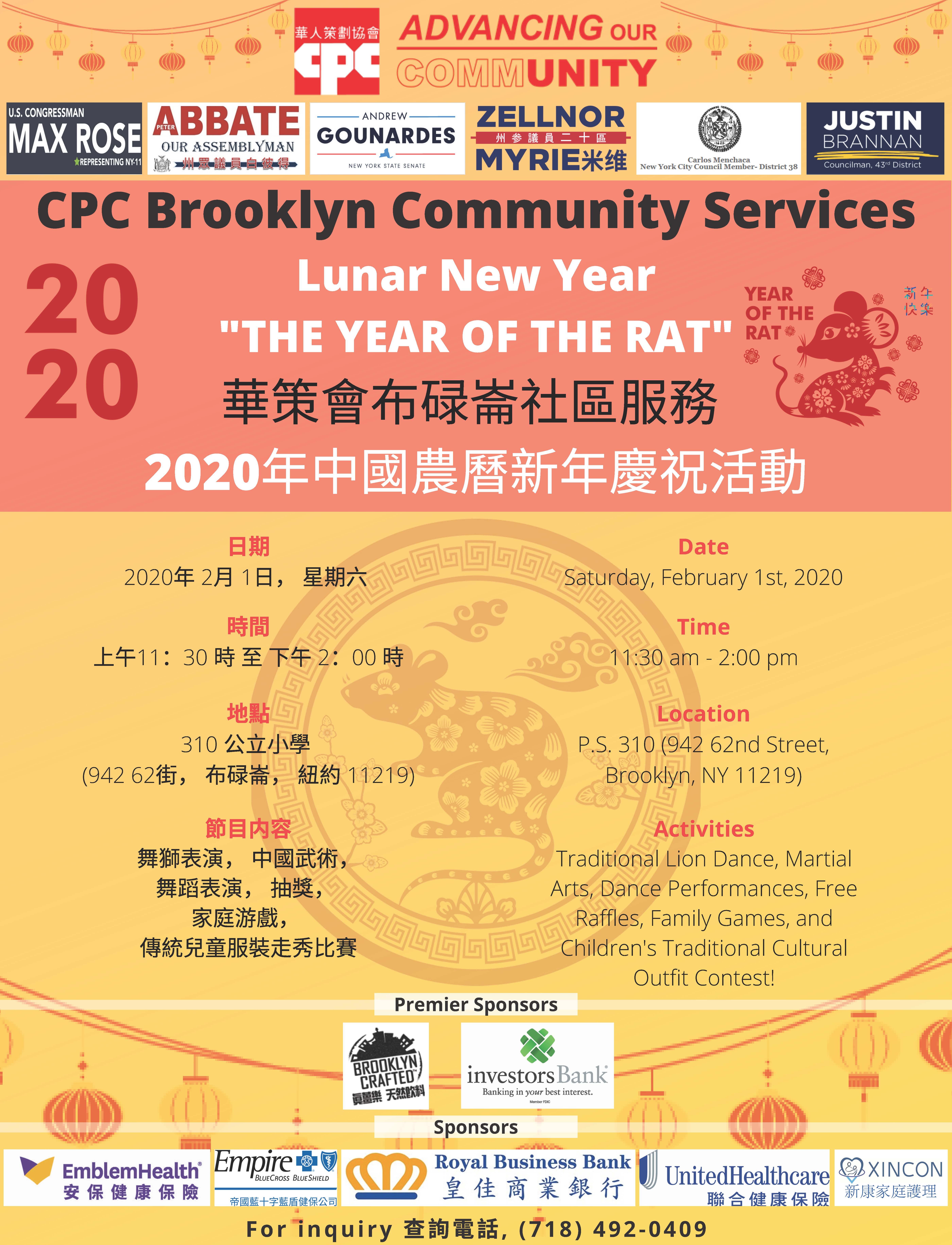 CPC Brooklyn Community Services 2020 Lunar New Year Celebration
CPC Brooklyn Community Services will host the 2020 Lunar New Year Celebration - Year of the Rat, on Saturday, February 1st, 2020, from 11:30 am - 2:00 pm! This year, the 2020 Lunar New Year Celebration will be held inside the P.S. 310 Gymnatorium, located at 942 62nd Street, Brooklyn, NY 11219.
We want to welcome all community members to join us as we kick-off the Year of the Rat. Lunar New Year is the most celebrated holiday in Asia and many holidays are held throughout the world. During our celebration, we will have a variety of family-friendly activities, interactive stage games, and awe-inspiring performances for everyone to enjoy. There will be a traditional Lion Dance performance, Martial Arts, dancing performances from a variety of age groups, table games and activities, Lunar New Year riddles, giveaways, free raffles and much more. All attendees will be eligible to enter our free raffle drawing and a chance to win incredible prizes (Grand Prize: 24k Gold Rat Figurine)
During the 2020 Lunar New Year Celebration, we will also host the final round of the Children's Traditional Cultural Outfit Contest. Many children auditioned on Saturday, January 11th, for a chance to compete against one another at the finale. For anyone who was unable to attend our auditions but are interested in joining the contest, we will accept registrations on the day of the 2020 Lunar New Year Celebration.
We invite all community members to stop by with their families and friends to enjoy all the fun activities and performances at our 2020 Lunar New Year Celebration!
For more information, please contact us at (718) 492 - 0409 or bcs@cpc-nyc.org.
---
We are collaborating with U.S. congressman Max Rose, NY State Senator Andrew Gounardes, NY State Senator Zellnor Myrie, Assembly Member Peter Abbate, NYC Council Member Carlos Menchaca, and NYC Council Member Justin Brannan to bring this free and open to the public event. We would also like to thank our sponsors, Brooklyn Crafted, Emblem Health, Empire BlueCross BlueShield, Investors Bank, Royal Business Bank, United Healthcare, and Xincon for supporting this celebration.