CPC Brooklyn Community Services - 37th Anniversary Dinner Gala of 2016
Main Content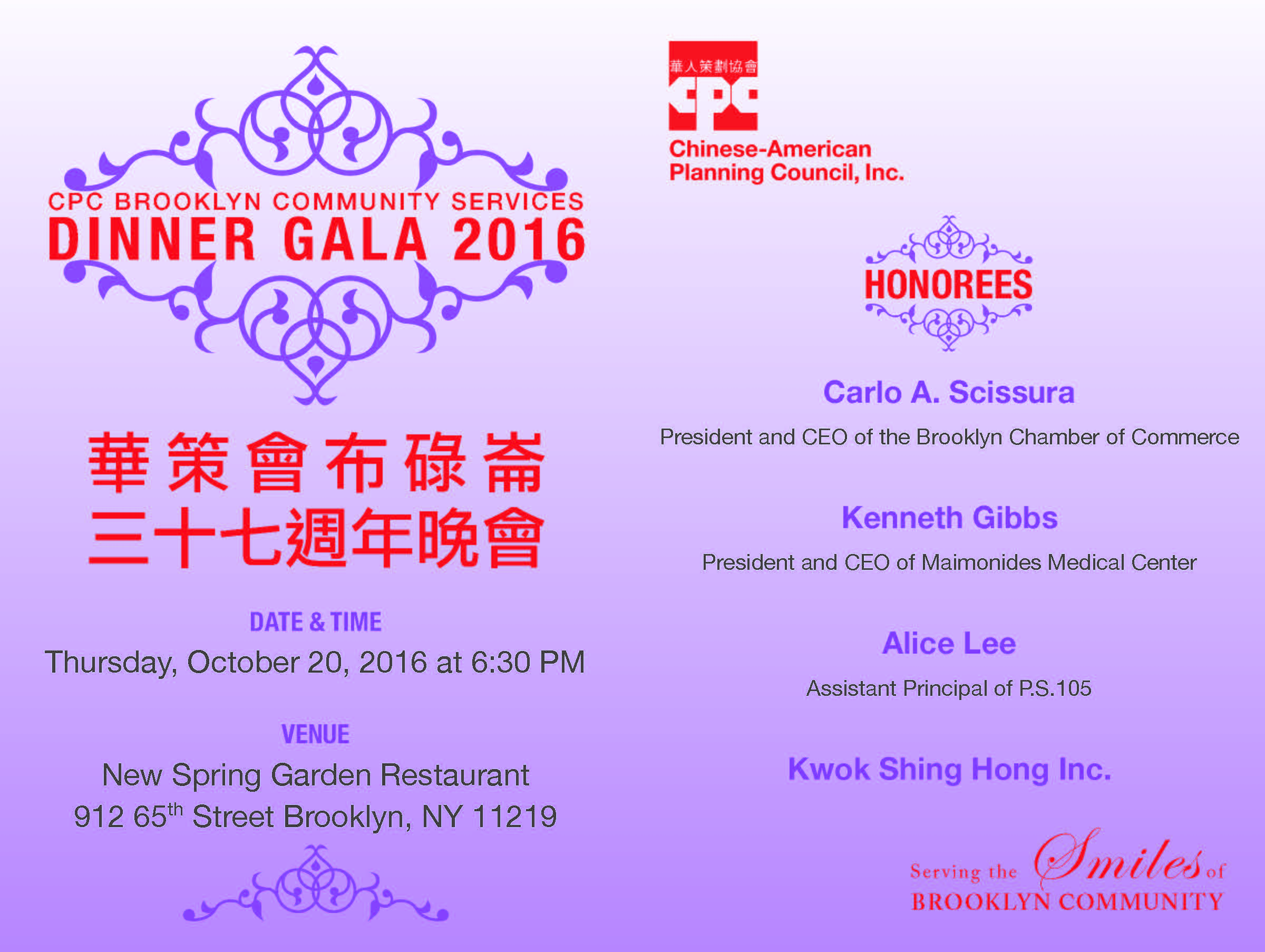 CPC Brooklyn Community Services - 37th Anniversary Dinner Gala of 2016
After another productive year Serving the Smiles of the Brooklyn Community, the Chinese-American Planning Council (CPC) Brooklyn Community Services (BCS) is excited to announce that our 37th Anniversary Dinner Gala of 2016 will officially be taking place on Thursday, October 20th, 2016!
We are very honored to declare the recipients of our 2016 Honoree Awards:
Carlo A. Scissura, President and CEO of the Brooklyn Chamber of Commerce
Kenneth Gibbs, President and CEO of Maimonides Medical Center
Alice Lee, Assistant Principal of P.S.105
Kwok Shing Hong Inc.
These four have proven to go above and beyond as driving forces within our community. It is our privilege to honor, acknowledge and congratulate them for all the hard work and service they contributed towards advancing Brooklyn.
Join CPC BCS as we celebrate over 37 years of servicing the Brooklyn Community! This is a fantastic opportunity to let loose and network in a relaxed setting with scrumptious food!
For more information about sponsorship opportunities and how you can be a part of our 37th Milestone, please see our campaign page.
TICKETS ARE SOLD OUT
Thank you for your generous support of CPC's work in Brooklyn.
If you have any other questions or concerns, feel free to contact our event coordinators, Mr. Lenny Cheng or Ms. Deborah Francisco, via email at BCS@cpc-nyc.org or give us a call at 718-492-0409.