CPC Brooklyn's Lunar New Year 4716 ‐ Year of the Dog Celebration
Main Content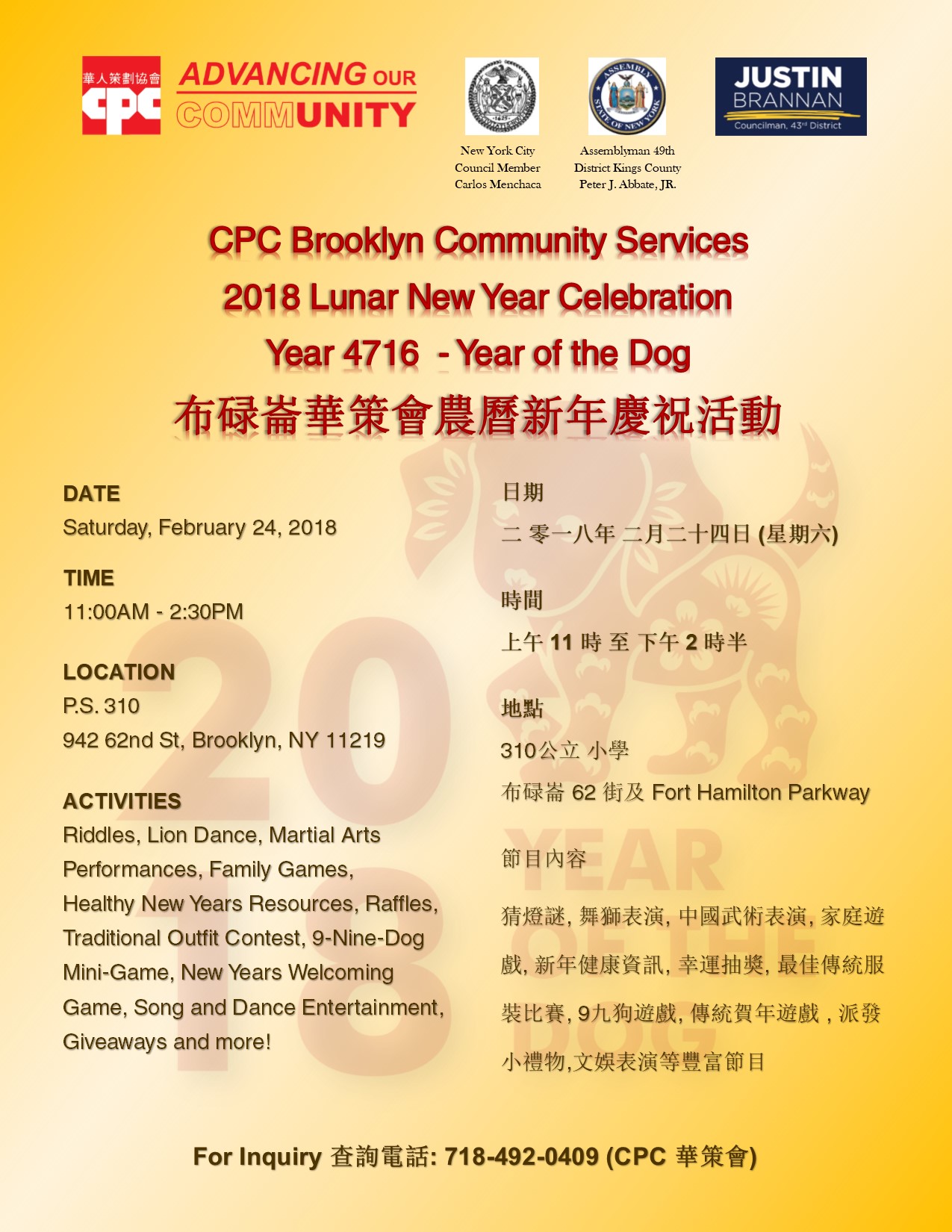 CPC Brooklyn's Lunar New Year 4716 ‐ Year of the Dog Celebration
The Chinese‐American Planning Council's (CPC) Brooklyn Community Services (BCS) in collaboration with Assemblyman Peter Abbate, Councilman Carlos Menchaca and Councilman Justin Brannan, will be holding the Lunar New Year 4716 ‐ Year of the Dog Celebration on Saturday, February 24th 2018 from 11:00am to 2:30pm, inside the Gymtorium of P.S.310, located on 942 62nd St, Brooklyn, NY 11219. As an open door community event, all are welcome to join and we encourage friends and families of all ages to come and enjoy the festivities together.
We have a wide variety of family friendly activities, contests and showcases lined up for everyone to enjoy. Come and experience the richness of Chinese heritage and learn more about the traditions we uphold. There will be Traditional Music, Song and Dance performances, Martial Arts, family activities, arts and crafts, lion dances, interactive games, custom balloons and more. We have brand new riddles for our ever popular Riddle Games and a wide selection of health and finance vendors offering free resources and consultations.
New this year, we are excited to be featuring a Traditional Outfit Contest as well as a "9 Nine Dog Mini-Game". With something for everyone, our celebration is sure to be the perfect spot for a family outing! All attendees will also be eligible to join our free raffle prize drawings and receive incredible giveaways. Our celebration is a free and open door community event, easily accessible for people of ALL ages, ethnicity and culture so we encourage you to invite your friends and family!

Thank you to our sponsors First American International Bank, Mass Mutual, Emblem Health, Empire Blue Cross Blue Shield, Senior Whole Health and Xincon for enabling us to host this traditional celebration. We look forward to honoring our heritage and celebrating the Year of the Dog together with our Brooklyn CommUNITY
If you have any other questions or concerns, please send us an email at bcs@cpc-nyc.org or give us a call at (718) 492 - 0409. Thank you for your consideration and for your support, we hope to see you there!