Deferred Enforcement Departure (DED) Hong Kong Workshop 香港延期強制離境講座
Main Content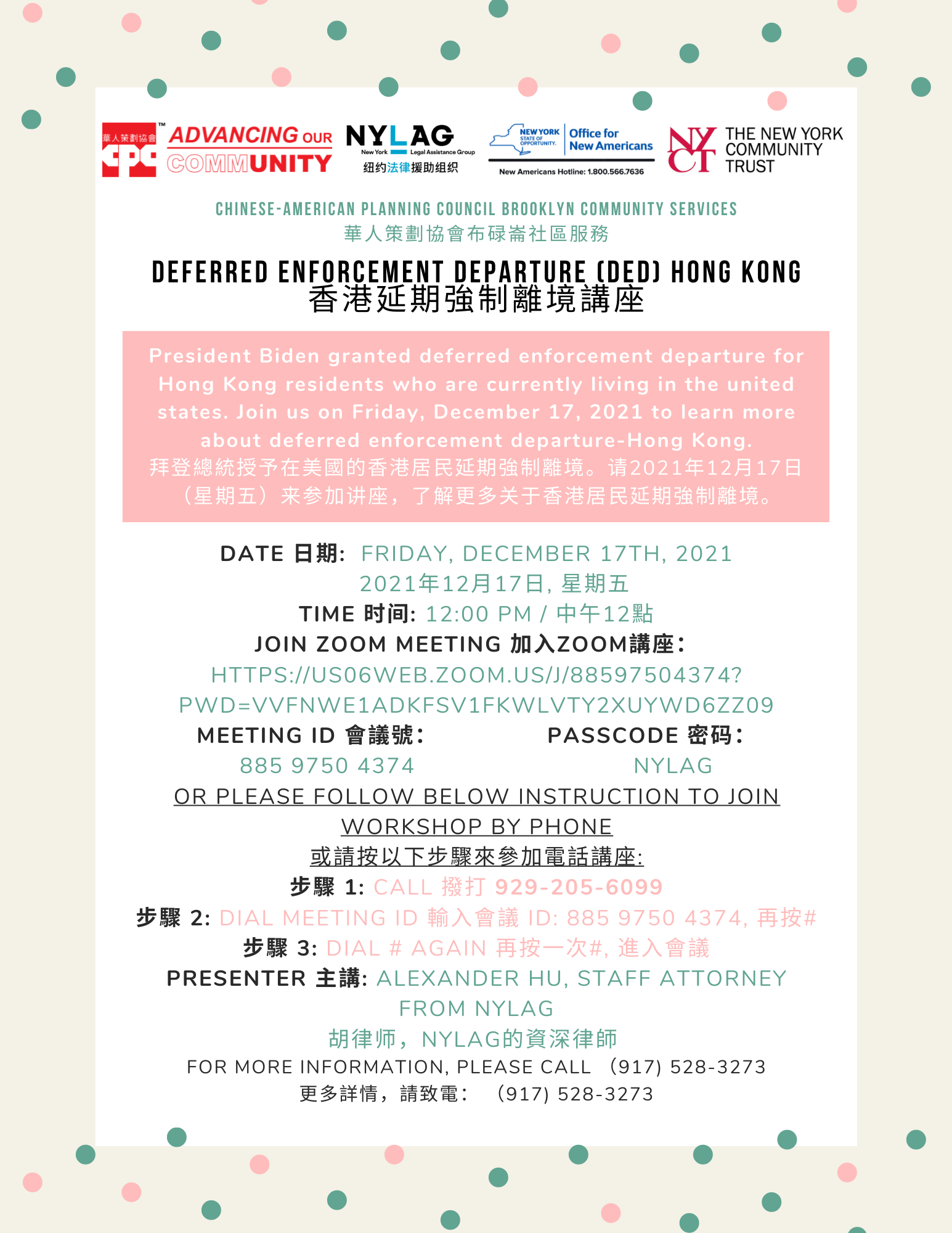 Deferred Enforcement Departure (DED) Hong Kong Workshop 香港延期強制離境講座
President Biden granted deferred enforcement departure for Hong Kong residents who are currently living in the United States. Join us on Friday, December 17, 2021 to learn more about Deferred Enforcement Departure-Hong Kong.
拜登總統授予在美國的香港居民延期強制離境。请2021年12月17日(星期五)来参加讲座,了解更多关于香港居民延期強制離境。
---
Date 日期: Friday, December 17th, 2021 / 2021年12月17日, 星期五
Time 时间: 12:00 PM / 中午12點
Presenter 主講: Alexander Hu, Staff Attorney from NYLAG / 胡律师,NYLAG的資深律師
Join Zoom Meeting 加入Zoom講座:
https://us06web.zoom.us/j/88597504374?pwd=VVFnWE1adkFSV1FKWlVTY2xUYWd6Zz09
Meeting ID 會議號: 885 9750 4374
Passcode 密码: NYLAG
Or Please follow below instruction to join workshop by phone 或請按以下步驟來參加電話講座:
步驟 1: Call 撥打 929-205-6099
步驟 2: Dial Meeting ID 輸入會議 ID: 885 9750 4374, 再按#
步驟 3: Dial # again 再按一次#, 進入會議
For more information, please call (917) 528-3273
更多詳情,請致電: (917) 528-3273
---
In partnership with Office for New Americans (ONA), New York Legal Assistance Group (NYLAG), and The New York Community Trust (NYCT).