Free C Doubles Handball Tournament at Sara D. Roosevelt Park
Main Content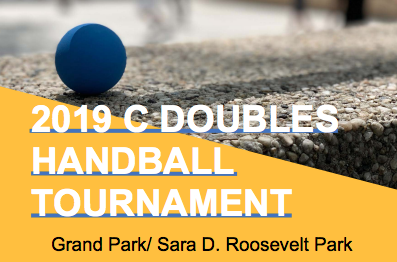 Free C Doubles Handball Tournament at Sara D. Roosevelt Park
This summer, CPC will be hosting a C Doubles Handball Tournament and has begun accepting applications for interested players between the ages of 15-30 years old. Securing spots for your team of 2 is based on a first-come, first-served basis, so be sure to sign up as soon as possible! Hope to see you there!
WHAT: C Doubles Handball Tournament
WHEN: Saturday, July 13th, 2019 from 9 AM - 6 PM
WHERE: Grand Park/ Sara D. Roosevelt Park, Chrystie St. & Grand St. New York, NY 10002
WHO: Anyone ages 15 to 30
COST: FREE!
BACKGROUND: CPC's Education and Career Services is proud to announce that it will host a free C Doubles Handball Tournament on July 13th, 2019 at Grand / Sara D. Roosevelt Park in Chinatown. Nearly 90 players will be provided with refreshments during this day of friendly competition and socializing!
*** Low B's are welcomed to compete as well ***
Each team will be guaranteed 3 games, 15 point straight games
Top 8 teams will advance to playoffs
One bracket ~48 teams
Game schedule will be posted on the day of the event

More information and to sign up for the tournament, use the link here or contact Kevin Tse at ktse@cpc-nyc.org.