Free Flu Shot and Hepatitis B Screening, October 19th
Main Content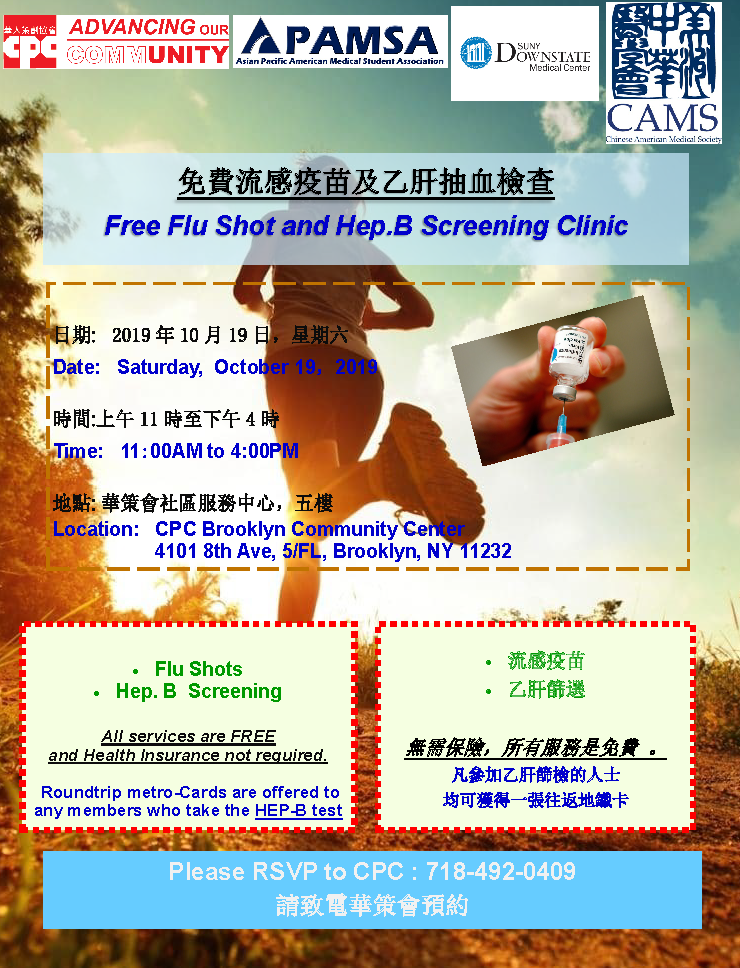 Free Flu Shot and Hepatitis B Screening, October 19th
CPC Brooklyn Community Services in partnership with SUNY Downstate Medical Center, Asian Pacific American Medical Student Association, and the Chinese American Medical Society will host a Flu Shot and Hepatitis B Screening Clinic for all community members. With the Flu season fast approaching, CPC Brooklyn Community Services and our partners from will be offering free flu shots to all community members. (All children under the age of 18 must have parental consent) Flu shots provide vital immunization for our community members as the flu virus is becoming increasingly more dangerous. Medical professionals highly encourage young children and older adults to get an annual flu shot.
CPC, along with our community partners, will also provide a Hepatitis B screening session. 200,000 Americans are infected with Hep B each year. Hep B is treatable and can be cured with detection, but screening is key. We invite our community members to join us for this life saving screening. For more information please call CPC Brooklyn Community Services at (718) 492-0409 or email us bcs@cpc-nyc.org. All services are provided free of charge. Round trip Metrocards provided for all community taking a HEP-B Screening. Health insurance is not required.
What: Free Flu Shot and Hepatitis B Screening Clinic
When: October 19th, 11AM to 4PM
Where: CPC Brooklyn Community Center, 4101 8th Avenue, 5th Floor, Brooklyn, NY 11232
Who: All community members are welcomed, (children under the age of 18 must be accompanied by a parent)
Registration is encouraged and walk-ins are welcomed!!!
(718) 492-0409, bcs@cpc-nyc.org