Free Flu Shot Clinic at CPC Brooklyn Community Services
Main Content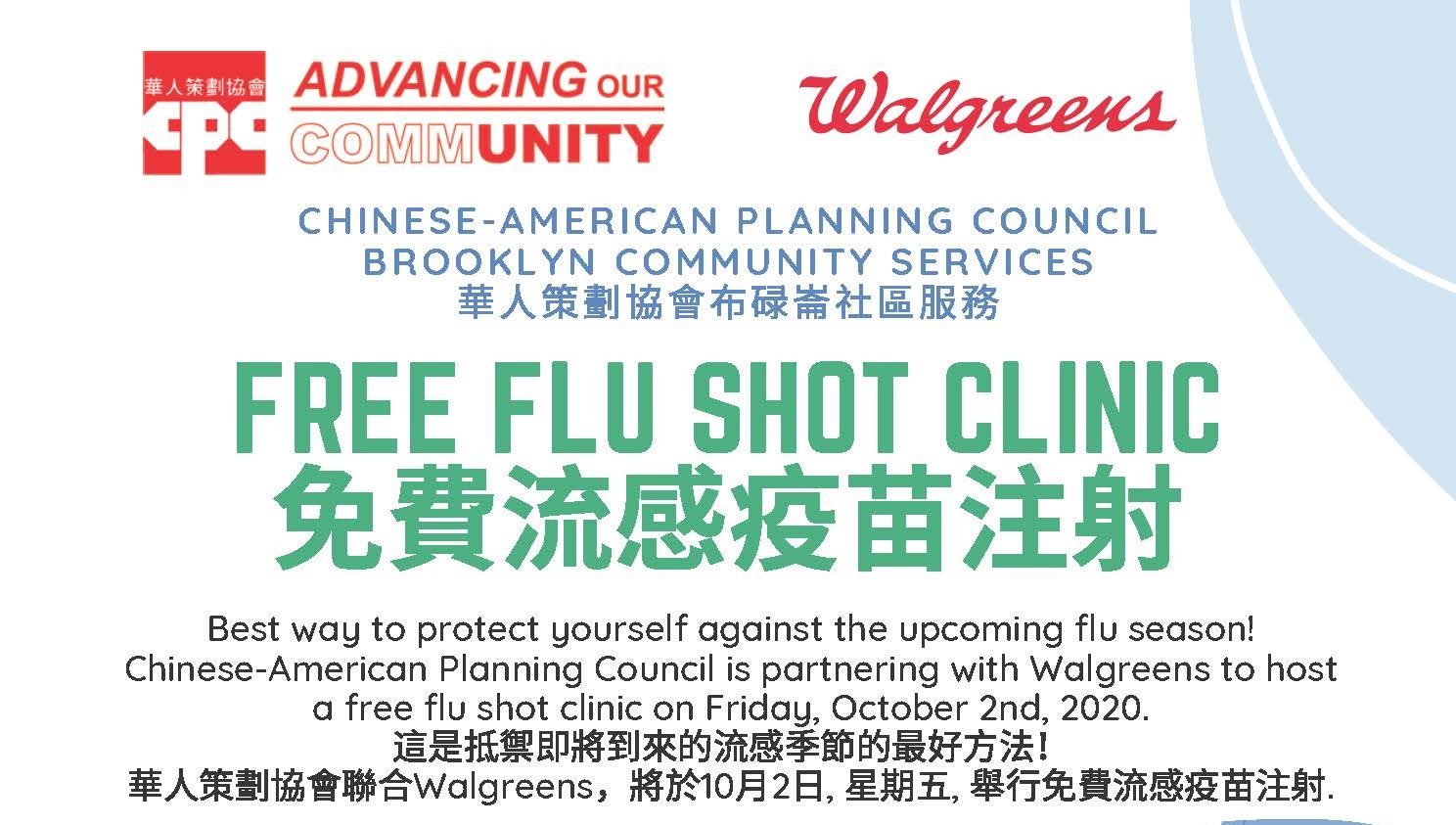 Free Flu Shot Clinic at CPC Brooklyn Community Services
More than ever, it is important to get your flu shot as flu season approaches. The Chinese-American Planning Council (CPC) Brooklyn Community Services (BCS), in partnership with Walgreens, will host a Free Flu Shot Clinic on Friday, October 2nd, 2020, at CPC Brooklyn Community Center (located at 4101 8th Ave, 1st Floor, Brooklyn, NY 11232) from 10:00 am to 3:00 pm. (Health insurance is not required! )
While every flu season varies in severity and individuals are affected differently each year, a seasonal flu vaccine is the best way to help protect yourself and your loved ones against the flu. As flu virus strains become more dangerous, flu shots provide vital immunization for our community.
Don't wait until it is too late! Get your flu shot now! Registration is highly encouraged to ensure we have proper quantity of flu shot vaccines for all interested individuals. However, walk-ins are welcome, as supplies last!
For registration, please call CPC Brooklyn Community Services at (718) 492-0409.
在今年,提前接種流感疫苗比以往重要。華人策劃協會布碌崙社區服務將聯合Walgreens,將於2020年10月2日,星期五,上午10時至下午3時,在華人策劃協會布碌崙社區中心(地址:4101 8大道,紐約,布碌崙,11232)為社區居民免費提供流感疫苗接種。(無需醫療保險)
儘管每年流感季節的危害程度都不同,但季節性的流感疫苗是保護自身與家人的最好途徑。流感疫苗會根據流感病毒的進化而更新並有助於免疫系統對抗病毒。
不要猶豫,接種疫苗。現已開放登記預約。提前預約是確保您當天能有疫苗提供給您的最佳途徑。當然,當日也可以直接造訪我們的現場,所有疫苗優先提供給已預約的社區居民。
欲要預約,請致電華人策劃協會布碌崙社區服務(718)492-0409。
---
Free Flu Shot Clinic 免費流感疫苗注射
Date / 日期: Friday, October 2nd, 2020 / 2020年 10月 2日 (星期五)
Time / 时间: 10:00 am to 3:00 pm / 上午 10:00 时 至 下午 3:00 时
Location / 地点: CPC Brooklyn Community Center (4101 8th Ave, 1st Floor, Brooklyn, NY 11232) / 華人策劃協會布碌崙社區中心 (4101 8大道 41街,布碌崙,纽约 11232)
Health insurance is not required. 無需醫療保險.