Free Flu Vaccine Clinic 免費流感疫苗接種活動
Main Content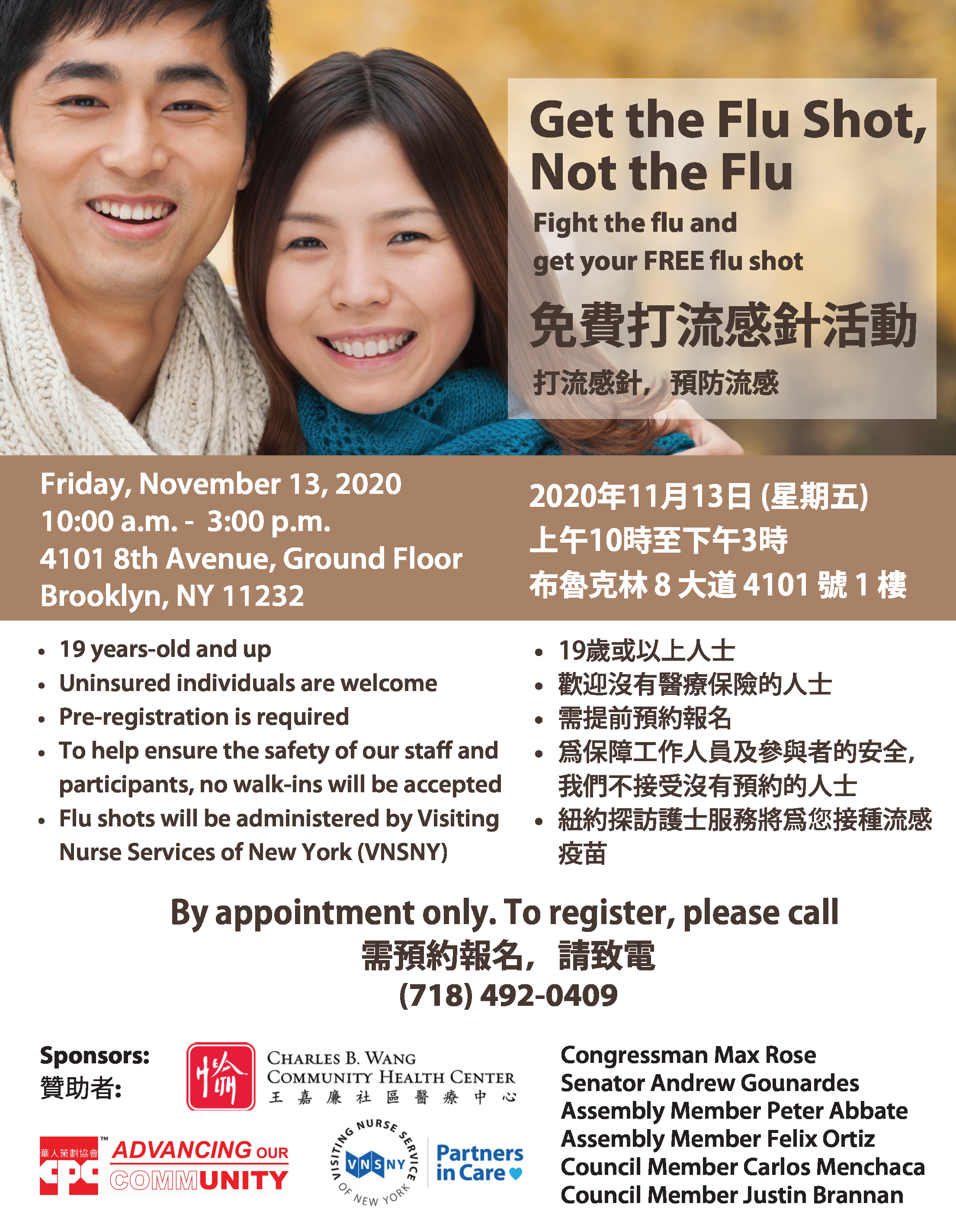 Free Flu Vaccine Clinic 免費流感疫苗接種活動
More than ever, it is important to get your flu shot as flu season approaches. The Chinese-American Planning Council (CPC) Brooklyn Community Services (BCS), in partnership with Charles B. Wang Community Health Center and Visiting Nurse Services of New York (VNSNY), will host a Free Flu Vaccine Clinic on Friday, November 13th, 2020, at CPC Brooklyn Community Center (located at 4101 8th Ave, 1st Floor, Brooklyn, NY 11232) from 10:00 am to 3:00 pm. (Uninsured individuals are welcome.)
Don't wait until it is too late! Get your flu shot now! Registration is required to ensure we have proper quantity of flu shot vaccines for all interested individuals. Must be 19-years old and older.
For registration, please call CPC Brooklyn Community Services at (718) 492-0409.
This event is supported by Congressman Max Rose, Senator Andrew Gounardes, Assembly Member Peter Abbate, Assembly Member Felix Ortiz, Council Member Carlos Menchaca, and Council Member Justin Brannan.
---
在流感季節中,接種流感疫苗迫在眉睫。華人策劃協會布碌崙社區服務將聯合王嘉廉社區醫療中心以及紐約探訪護士服務,於2020年11月13日上午10點至下午3點在華人策劃協會布碌崙社區中心一樓八大道正門舉辦免費流感疫苗接種活動。(無保險者亦可接種)
即刻行動,接種流感疫苗。需提前預約以保證當天有充足疫苗提供給所有接種者。必須年滿18周歲以上。
欲要預約,請致電(718) 492-0409聯繫華人策劃協會布碌崙社區服務。
本次活動由國會議員羅斯,州參議員郭納德, 州眾議員奧迪茲,州眾議員白彼得,市議員萬齊家, 市議員紀斯庭聯合支持。
---
Free Flu Vaccine Clinic 免費流感疫苗接種活動
Date / 日期: Friday, November 13th, 2020 / 2020年 11月 13日 (星期五)
Time / 时间: 10:00 am to 3:00 pm / 上午 10:00 點 至 下午 3:00 點
Location / 地点: CPC Brooklyn Community Center (4101 8th Ave, 1st Floor, Brooklyn, NY 11232) / 華人策劃協會布碌崙社區中心 (4101 8大道 41街,布碌崙,纽约 11232)
Uninsured Individuals are welcome. 歡迎無醫療保險者參與活動.