Free HIV and STDs Testing 愛滋及性病免費檢測
Main Content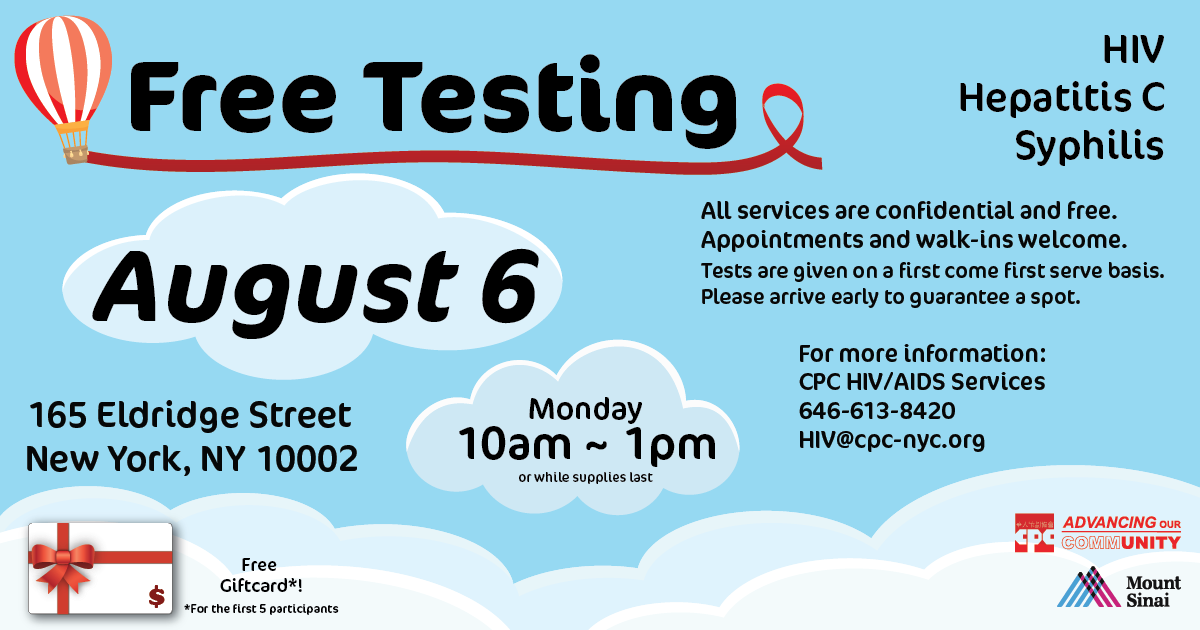 Free HIV and STDs Testing 愛滋及性病免費檢測
CPC HIV/AIDS Services and Mount Sinai Hospital is collaborating to provide free and confidential HIV, STD, and Hepatitis C testing.
Most people who are infected with HIV does not show symptoms. You can only know your status by getting tested. If you think that you are infected, you should get tested as soon as possible.

Date: 8/6/2018
Time: 10am-1pm
Address: 165 Eldridge Street New York, NY 10002
Phone: 646-613-8420
Email: hiv@cpc-nyc.org
ALL SERVICES ARE CONFIDENTIAL and FREE
**First 5 participants will receive a Starbucks gift card!**
Dates subjected to change, please contact HIV/AIDS services for the schedule.

Travel by Train:
Take the B or D train to Grand St
or
Take the F, J , M, or Z train to Essex St./Delancey St.
Travel by Bus:
Take the M15, M15-SBS, M103 or B39

For more information click on the link below:
CPC HIV/AIDS Services

華策會愛滋病服務部將與西奈山醫院合作,提供免費及保密的愛滋病、性病及C型肝炎檢查。 大部分人感染愛滋病不會有明顯的症狀,只有接受檢驗才能知道準確的結果。如果您懷疑自己可能已經受感染,應立即接受愛滋病毒檢驗。

日期: 8/6/2018
時間: 10am-1pm
地址: 165 Eldridge Street New York, NY 10002
專線: 646-613-8420
電郵: hiv@cpc-nyc.org
所有檢測及服務都是保密及免費的!
**前五名檢測者將獲得免費的星巴克禮卡**
日期或有變動,確切日期請聯絡愛滋病服務部

搭地鐵:
坐 B 或 D 至Grand St
或
坐F、 J、M、或Z至Essex St.
搭公車:
坐 M15、 M15-SBS、 M103 或B39

更多資訊請上我們的官網:
CPC HIV/AIDS Services