Halloween Family Night at CPC's Beacon Community Center in Sunset Park
Main Content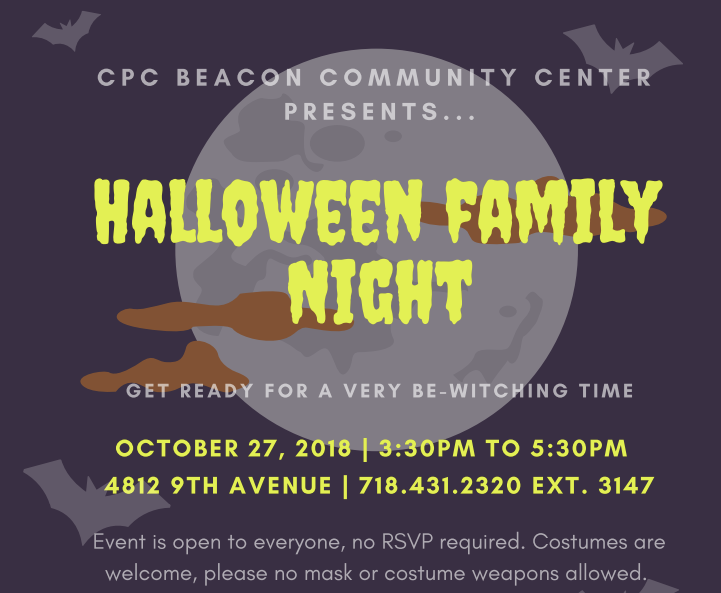 Halloween Family Night at CPC's Beacon Community Center in Sunset Park
CPC Beacon Community Center will be hosting its annual Halloween Family night on Saturday, October 27th, 2018 from 3:30pm to 5:30pm. There will be free food, games, goody bags, photo booth and prizes will be raffled away near the end of the party. Guests are welcome to attend in costume, however masks or any parts of the costume that is covering the face is not permitted. Please do not bring toy weapons to the event either. Please see flyer for more information and we hope to see you at the party!
CPC Beacon社区中心将于2018年10月27日星期六下午3:30至5:30举办万圣节家庭之夜。 免费食物,游戏,礼品袋,照相亭和奖品将在派对结束时抽出。 欢迎客人参加服装,但不允许戴口罩或覆盖脸部的服装任何部分。 请不要将玩具武器带到活动中。请参阅传单了解更多信息,我们希望在聚会上见到您!
El Centro Comunitario Beacon de CPC celebrará su noche familiar anual de Halloween el sábado 27 de octubre de 2018 de 3:30 p.m. a 5:30 p.m. Habrá comida, juegos, bolsas de regalo, fotomatón y premios gratuitos que se sortearán cerca del final de la fiesta. Los invitados pueden asistir con el disfraz, sin embargo, las máscaras o cualquier parte del disfraz que cubra la cara no está permitida. Por favor, no traigas armas de juguete al evento tampoco. Consulte el folleto para obtener más información y esperamos verlo en la fiesta.