Housing Options Workshop 住房選擇方案講座
Main Content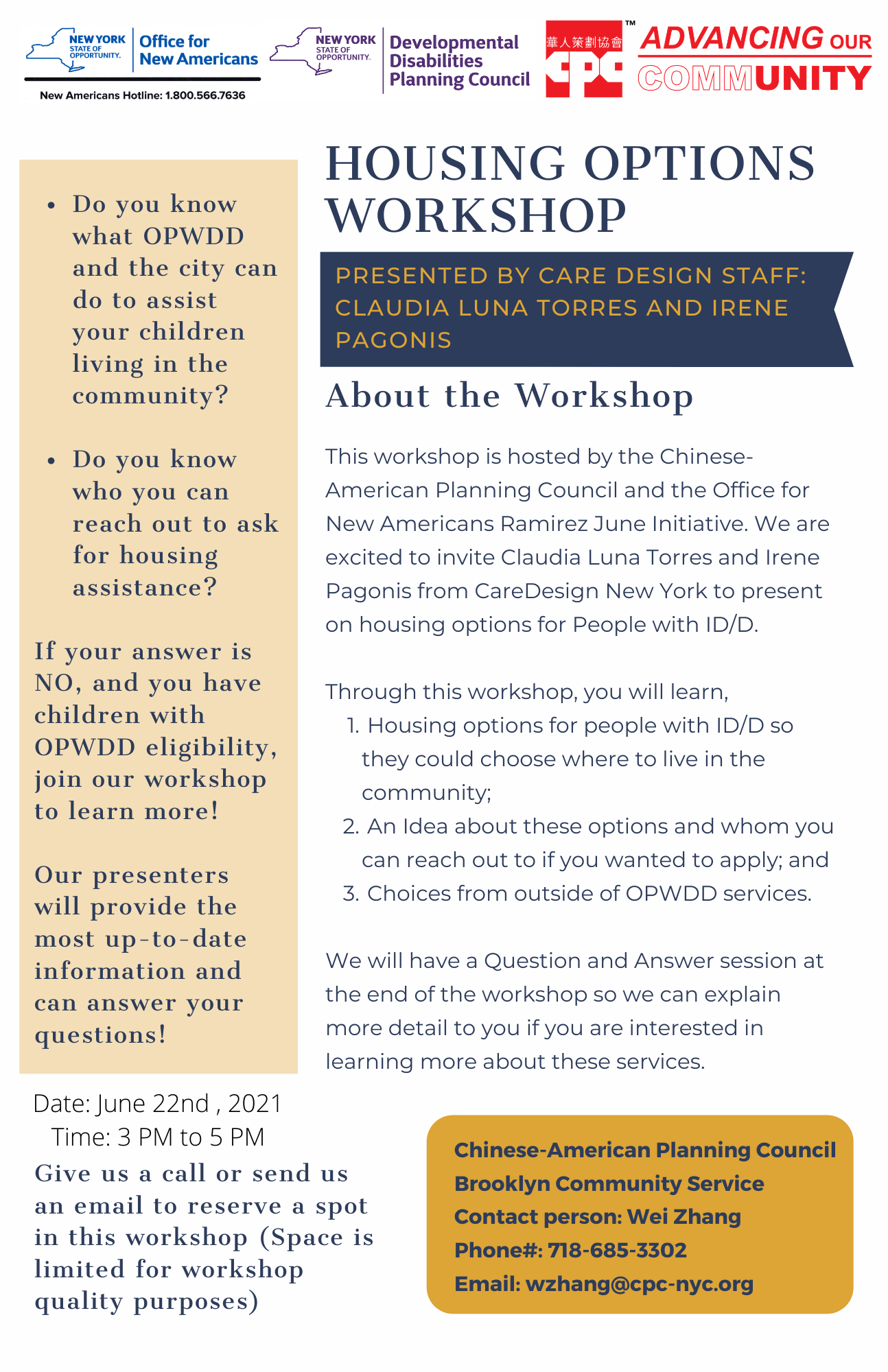 Housing Options Workshop 住房選擇方案講座
This workshop is hosted by the Chinese-American Planning Council and the Office for New Americans Ramirez June Initiative. We are excited to invite Claudia Luna Torres and Irene Pagonis from CareDesign New York to present on housing options for People with ID/D.
Through this workshop, you will learn,
Housing options for people with ID/D so they could choose where to live in the community;
An Idea about these options and whom you can reach out to if you wanted to apply; and
Choices from outside of OPWDD services.
We will have a Question and Answer session at the end of the workshop so we can explain more detail to you if you are interested in learning more about these services.
本次講座由華人策劃協會和新美國人辦公室Ramirez June 活動共同舉辦. 有幸邀請到CareDesign NY 福利專員 Claudia Luna Torres 和資深照護經理 Irene Pagonis 為我們講解發育障礙人群的住房選擇方案。
通過本次講座你將會學到,
能幫助發育障礙人群在社區生活的住房選擇;
這些住房選擇方案的基本概念和應該聯繫誰來申請這些方案;
除發育障礙人士辦公室所提供的選擇方案以外的,其他住房選擇方案。
我們將會在講座的最後有一個問答時間。此時將會解答大家的疑問和為提問者詳細說明他們感興趣的選擇。
---
Housing Options Workshop 住房選擇方案講座
Date 日期: June 22nd, 2021 (Tuesday) 6月22日 (星期二)
Time 時間: 3:00 pm - 5:00 pm 下午3點到5點
Give us a call or send us an email to reserve a spot in this workshop (Space is limited for workshop quality purposes) 電話或電子郵件聯繫我們以預定參加本次講座 (基於質量保證原因,講座有可能限制參加人數)
Chinese-American Planning Council Brooklyn Community Service 華人策劃協會布碌崙社區服務
Contact person 聯繫人: Wei Zhang 張威
Phone# 電話號碼: 718-685-3302
Email 電子郵箱地址: wzhang@cpc-nyc.org