Lights on Afterschool Celebration
Main Content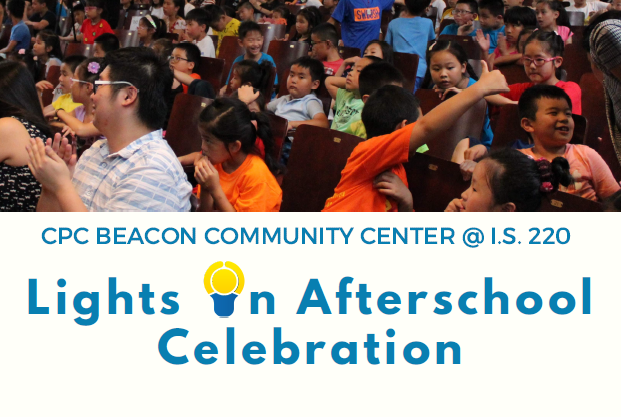 Lights on Afterschool Celebration
Join CPC Beacon Community Center's Lights on Afterschool Celebration on Saturday, October 26th. The event is open to the public and begins with an orientation for 2019-2020 CPC Beacon After-School participants and families. Community members that have supported Beacon continuously throughout the years will be honored too. Lunch will be served in the cafeteria after the program and the event will conclude with a raffle prize. Throughout the event, activity booths like face painting will be stationed in the hallways with information about the Beacon center and current services and programs available to community members.
Location: John J. Pershing (I.S. 220)
4812 9th Avenue
Brooklyn, NY 11220
Date: Saturday, October 26th, 2019
Time: 12:00 PM to 2:00 PM
Doors Open at 11:45 AM
Please use the side entrance at 48th Street between 8th and 9th Avenues
位置:John J. Pershing(220中学)
第9⼤街4812号
布鲁克林,纽约11220
⽇期:2019年10⽉26⽇,星期六
时间:12:00PM⾄2:00 PM
⻔在11:45 AM打开。
请在第8和第9⼤街之间的第48街使⽤侧⻔
UBICACIÓN: John J. Pershing (I.S. 220)
4812 novena avenida
brooklyn, ny 11220
FECHA: sábado 26 de octubre de 2019
HORA: 12:00 P.M. A 2:00 P.M.
Puerta abierta a las 11:45 a.m.
Utilice la entrada lateral en la calle 48 entre las avenidas 8 y 9