University at Buffalo Instant Decision Day
Main Content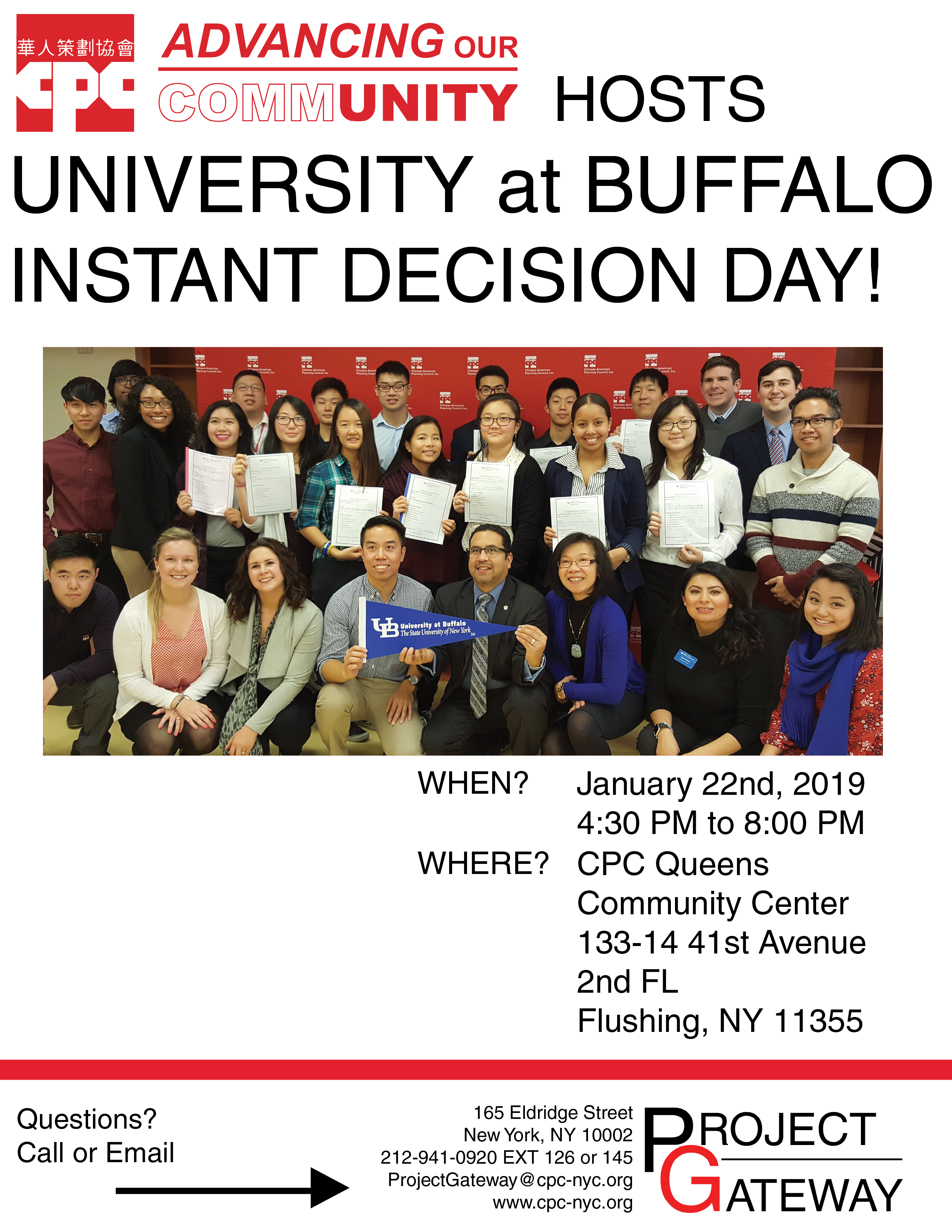 University at Buffalo Instant Decision Day
CPC's Project Gateway is continuing to collaborate with the State University of New York at Buffalo to host an on-site Instant Decision Day! Join us on January 22nd, 2019 starting 4:30 PM to receive one-on-one advisement with an admissions counselor. College-bound community members interested in applying to the University at Buffalo are encouraged to attend to have your college application reviewed. Applicants may even be offered acceptance on the spot!
When?
Tuesday, January 22nd, 2019
4:30 PM to 8:00 PM
Where?
CPC Queens
Community Center
133-14 41st Avenue, 2nd FL
Flushing, NY 11355
How?
Complete this interest form* and we will email you updates on how to register for the event!
*https://tinyurl.com/InstantDecisionDay2019
If you have any questions or want to schedule an appointment to review your college application, please feel free to call Project Gateway at 212-941-0920 ext 145 or 126 or email us at ProjectGateway@cpc-nyc.org.
Previously, CPC has hosted two UB Instant Decision Days that were successful for interested college applicants. You may read more about these events at the CPC website:
UB First Instant Decision Day
https://www.cpc-nyc.org/news/1090/cpc-university-buffalo-host-first-ever-instant-decision-day
UB Second Instant Decision Day
https://www.cpc-nyc.org/news/1387/return-victor-e-bull-cpc-university-buffalo-hosts-2nd-site-decision-day