Working for Council District 20 Town Hall with Mayor de Blasio
Main Content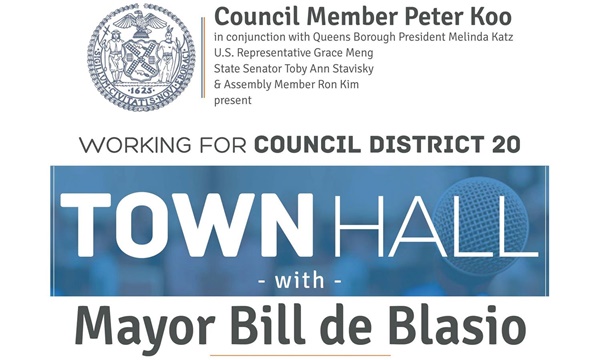 Working for Council District 20 Town Hall with Mayor de Blasio
CPC will be co-sponsoring a town hall meeting with Mayor Bill de Blasio on Tuesday, November 21, 2017 at 7:30PM. Doors open at 6PM. The town hall will be hosted at JHS 189Q/Flushing International High School (144-80 Barclay Avenue, Flushing, NY 11355.
This will be a fantastic opportunity to ask questions to the Mayor, Council Member, and Commissioners from top City agencies.
RSVP by Monday, November 20, 2017, 5PM via website, email or phone:
This town hall is co-sponsored by Asian Americans for Equality, Chinese-American Planning Council, Inc., Flushing Chinese Business Association, Korean American Family Service Center, Queens Community Board 7, South Asian Council for Social Services, and Union Street Merchants Association.
Date: Tuesday, November 21, 2017
Time: 7:30PM (Doors open at 6PM and will close at 7:30PM)
Location: JHS 189Q/Flushing International High School
(144-80 Barclay Avenue, Flushing, NY 11355 entrance between Barclay Ave. & Sanford Ave.)
RSVP: Monday, November 20, 2017, 5PM via website, email, or phone