Learning Chess, Building Confidence
Main Content
Learning Chess, Building Confidence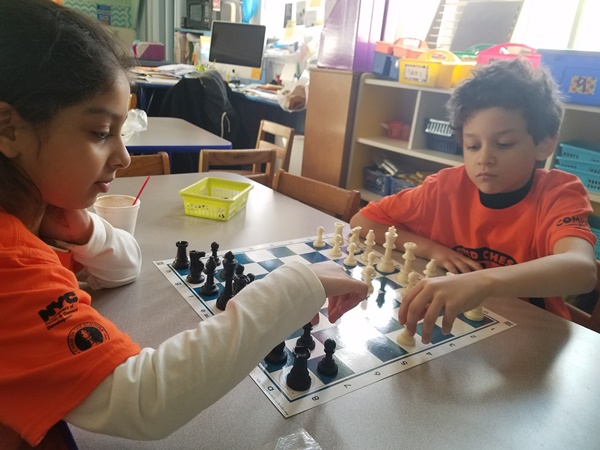 On Saturday, December 2, 2017, students from CPC's Homecrest SACC at P.S. 153 attended the 4th Annual NYC Dept. for Youth & Community Development (DYCD) Chess Masters Tournament. Azqa Faisal (3rd grade), Sebastian Valentin (3rd grade), and Roman Shamilev (5th grade) joined over two hundred students from DYCD programs across New York City for an all-day match at P.S. 11: The William T. Harris School. Our students were joined by their parents, as well as Mary Cheng, CPC's Director of Early Childhood Education and CPC Homecrest SACCC at P.S. 153's Program Director, Ashley Huang. When Azqa, Sebastian, and Roman arrived, they went to their team rooms, where instructors from Chess in the Schools shared different strategies participants could use to help them win each round. Everyone was excited to begin with, but meeting with the instructors built up their excitement even more! Before the tournament started, Sebastian and Azqa shared that they only started playing chess a few weeks before the tournament, but were extremely excited to be a part of the experience. Roman learned to play chess from his grandfather, who has been teaching him the game since Roman was about seven years old.
Following the procedure from previous years, all students were able to play four rounds with a Swiss system, which paired players with similar scores for the next round. In between rounds, players were able to practice and discuss what happened during their previous games, relax, and participate in an artistic booth to create their own shopping bags. Sebastian received a score of 1.0 and Azqa received a score of 1.5. With a score of 3.0, Roman received a medal for 25th place in the elementary open. Whether or not the students received a medal, they walked away feeling proud of each move they made and the rounds they played.
At the end of the tournament, Sebastian's mother shared that perhaps it was time she learned to play chess so she could challenge Sebastian at home. Azqa decided to start teaching her little brother how to play so he could join the Chess Masters Tournament with her! All participants said they would love to join the tournament again next year, and the free chess set they received at the end of the event only motivated them to continue developing their chess game!
Thank you to DYCD for giving our students and parents this learning and personal growth opportunity.
To learn more about our Homecrest School-Age Child Care Center click here
To learn more about CPC's School-Age Child Care Services click here