Essential Worker Highlight: Amy Chen, Supervisor of CPC Asian Family Services
Main Content
Essential Worker Highlight: Amy Chen, Supervisor of CPC Asian Family Services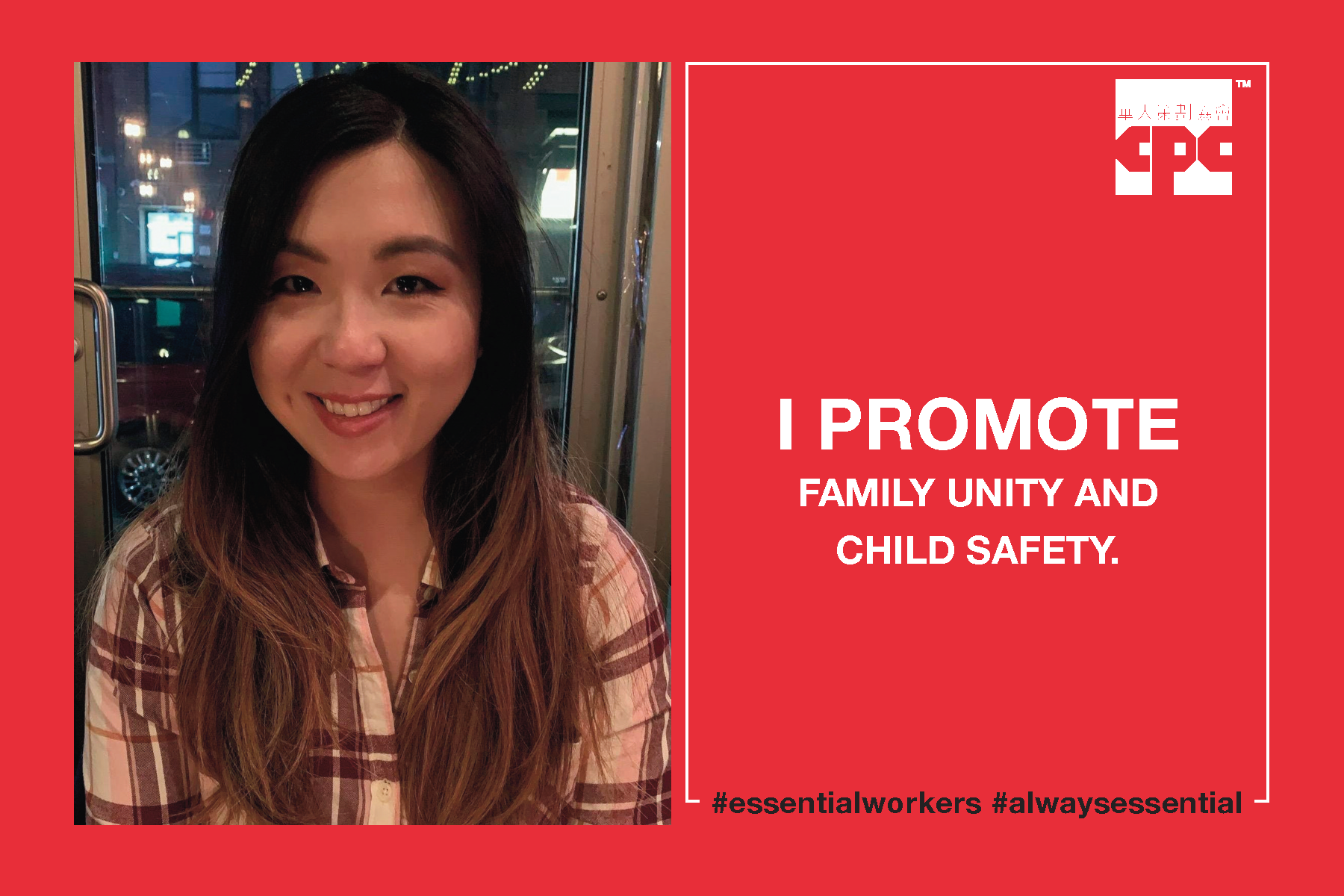 While medical personnel treat the coronavirus in our hospitals, other human service providers and essential workers are ensuring New Yorkers have the resources they need to not only remain safe but also continue to have opportunities to thrive. These individuals, whether working from home or within our neighborhoods, are supporting a strong recovery for those who are too often overlooked, underrepresented, or underinvested in.
The following Q&A took place between Chris Kuo of CPC Leadership Council and Amy Chen, Supervisor of CPC Asian Family Services. Asian Family Services is a child abuse/neglect prevention program that offers a variety of services to help caretakers understand acceptable child rearing practices and to keep children out of the foster care system. Over 400 families, 800 children, and 900 caretakers have benefitted from the program.
The CPC Leadership Council is a tight-knit community of business and nonprofit leaders who seek to advance CPC's mission to promote social and economic empowerment of Chinese American, immigrant, and low-income communities.
Join CPC in sharing stories of essential workers using the tag #AlwaysEssential and #EssentialWorkers. 
Essential Worker Highlight: Amy Chen, Supervisor of CPC Asian Family Services
Chris Kuo, Leadership Council: How did you end up where you are today?
Amy Chen, Supervisor of CPC Asian Family Services: CPC and I go pretty far back. I had a friend in high school who introduced me to CPC Project Gateway and the agency as a whole. We were trying to figure out how to prepare ourselves for college. When I enrolled in the Summer Youth Employment Program, Project Gateway's office was actually my first worksite. That was over a decade ago. I ended up coming back to CPC after having studied psychology in college. Truth be told, social work was not my top career preference at the time. I was more interested in helping individuals one on one, but I gave working with young children and families a try through CPC's Early Intervention program. That made me fall in love with social work. Over the course of just one year I realized what a big role family interactions play in people's lives, especially within the Asian community. I wanted to help an even wider population and joined Asian Family Services, where I've been for almost six years. I'm now both a full-time staff member at CPC and a full-time student pursuing my Master of Social Work.
Chris Kuo, Leadership Council: Could you tell us a little bit about your program?
Amy Chen, Supervisor of CPC Asian Family Services: Asian Family Services provides a lot of supportive services to families that are mostly immigrants and that have at least one child under 18. Families get referred to us from the Administration for Children's Services (ACS) or directly seek us out. We work collaboratively with ACS to offer them crisis intervention, counseling, training, referrals, and other supports that promote child safety and address any related concerns, whether in and out of the home. Our staff consists of about 10 people, including case planners, supervisors, case aids, and program aids. We all act together as a team to support our families, strengthen their bonds, and help keep children and their caretakers together.
Chris Kuo, Leadership Council: Could you describe the nature of your work with families?
Amy Chen, Supervisor of CPC Asian Family Services: Case planning involves assessing what each family's concerns and needs are and then providing services and resources to address those. We work with families that are facing hardships at home and that have an incomplete understanding of appropriate parenting methods. For example, in Chinese culture, physical disciplining of children is considered normal, yet it is unacceptable in modern Western cultures. When immigrant families are not aware of the cultural norms here in the US, mistakes happen. They don't know how to discipline their children using other methods, so they need training and support. We teach them parenting techniques and how to implement things like time schedules, timeouts, and rewards systems. We provide them with educational materials and coach them on how to communicate with their children. A lot of times parents don't understand what's going on in their children's heads growing up. With immigrants, there can be major cultural divisions between generations as parents may not know how to communicate with their Americanized children and vice versa. Case planning helps build that bridge between family members.
Chris Kuo, Leadership Council: How has COVID-19 impacted your work?
Amy Chen, Supervisor of CPC Asian Family Services: We switched to supporting our families remotely, which in one sense has lifted a little bit of our staff's burden of traveling to families' homes. On the other hand, the pandemic has created more difficulties for our families, and we've had to provide more services in response to these needs. A lot of parents have lost their jobs or been furloughed, for example, and many didn't qualify for unemployment benefits, so we've had to facilitate referrals to food pantries and offer emergency cash assistance. Families have also struggled with the language barrier in supporting children with their remote learning. Parents weren't able to teach their kids the material that they were supposed to be learning for school or didn't have the technology needed for the online work. We helped families apply for iPads from their schools and for a time provided a tutoring service to help ease their anxieties. When summer came, we shared information about virtual summer camps for children. We've also provided PPE to families who didn't know where to obtain it. Throughout the pandemic, we've been checking in with our families every week and asking them how they're doing. A lot of things can happen from one week to another, so we make sure that they're not feeling overwhelmed with what's going on. Many are anxious about all the uncertainty surrounding the future, and we don't want the population that we serve to be left behind.
Chris Kuo, Leadership Council: What would you change about your program if you had more resources?
Amy Chen, Supervisor of CPC Asian Family Services: I would provide our families with more positive experiences that they wouldn't otherwise have access to. For example, a lot of families have never been to a Broadway show. It's hard for immigrants to learn and adapt to our culture when they haven't had the opportunity to really experience it firsthand. I'd like to offer our families trips that they can enjoy with their children. These would help them grow closer to each other and to New York itself.
Chris Kuo, Leadership Council: What does it take to do this line of work?
Amy Chen, Supervisor of CPC Asian Family Services: It is true that not everyone can do this kind of work. It is very hard putting yourself between families and their children, even when you're trying to help. But at the end of the day, if you have the heart to serve this community, you can do it. The Asian population in New York often gets misunderstood because of our cultural differences, but I believe that our families deserve the chance to grow and succeed as well. When I look back on all the years I've worked for AFS, I have to say that they've been very challenging but also very rewarding. Seeing families and children empowered through our work has made all of the long shifts and high-stress moments so worth it.
Chris Kuo, Leadership Council: What's been your favorite memory working at Asian Family Services?
Amy Chen, Supervisor of CPC Asian Family Services: It's not just one particular memory, but the best memories that come to mind are of the annual Christmas parties that AFS holds for our families. Every year we like to organize this celebration where we invite families to our office to have lunch and enjoy some family games. It brings me warm feelings to see all these families able to come together to not only work with and support one another but also play and have a good time with their children. Family bonding is very important to me on a personal level, and just experiencing the warmth of that one day each year when these families can put aside their worries and connect really brings me happiness.
Essential workers risk their health and their families' health to serve others through COVID-19. As New York begins to recover, organizations like CPC will be among the ones helping the hardest hit New Yorkers put their lives back together. Support them here! #AlwaysEssential