CPC Statement on FY19 NYC Executive Budget
Main Content
CPC Statement on FY19 NYC Executive Budget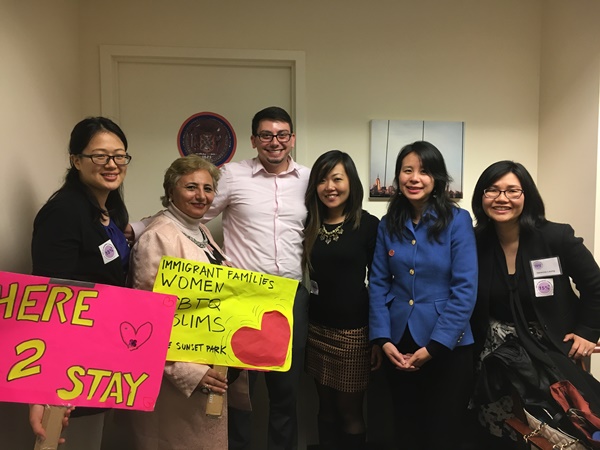 The Chinese-American Planning Council (CPC) acknowledges Mayor de Blasio for his FY 2019 Executive Budget that takes some key steps toward building a fair and equitable city, but urges both the Mayoral Administration and City Council to do much more to ensure that immigrants, people of color, and low-income New Yorkers will be included fairly in the adopted budget.
"New initiatives are critical during these tough times when immigrants, people of color, and other marginalized communities are under attack by the federal government. That is why CPC looks to the Mayor to baseline many of these priorities in the adopted budget. Core services should be funded by the Executive side of the budget, allowing the City Council to invest in new and innovative initiatives to improve access and upward mobility, such as immigrant workforce and family literacy," said Wayne Ho, President and CEO of the Chinese-American Planning Council. "The Mayoral Administration and City Council should also make sure that funding is allocated fairly, equitably, and at parity for immigrant and people of color led organizations, which are best positioned to provide culturally competent and linguistically appropriate services to diverse New Yorkers."
The $89.06 billion Executive Budget represented nearly half a billion dollar increase from January's Preliminary Budget, primarily by making up for the shortfalls in Fair School Funding, School Aid, Close to Home, and the MTA. Some notable budget investments include:
$125 million in Fair Student Funding
$30.55 to expand early literacy programs
$1.2 million to evaluate Thrive mental health initiatives
$7.1 million to expand Career Pathways
$20 million to deal with work order backlogs at NYCHA
The Executive Budget is missing several critical investments that will build economic and social empowerment for Asian Americans, people of color, immigrants, and low-income New Yorkers. CPC looks forward to working closely with the Mayoral Administration and City Council to ensure that these budget priorities are included in the adopted budget:
$20.35 million in funding for summer camp programs for 34,000 middle school students, which risks the success of the programs if providers are forced to wait until June for funding confirmation.
$12 million in funding for Adult Literacy programs
$5 million for the Communities of Color Nonprofit Stabilization Fund (NSF)
$200 million in funding to address chronic underfunding in the nonprofit human services sector, which would include 15% for indirect costs, 37% for fringe benefits, 10% increase to occupancy costs, and 10% increase to casualty and liability insurance
Funding for three City Council Initiatives which support older adults: Health Aging, Support Our Seniors and Naturally Occurring Retirement Communities
Funding for three City Council mental health initiatives: Geriatric Mental Health Initiative, Children Under Five Mental Health Initiative and Autism Awareness Initiative.
Funding for salary parity between early childhood teachers in community based organizations and DOE teachers, who do the same jobs with the same qualifications for vastly different pay.
Funding for Fair Fares to provide half-price MetroCards to 800,000 New Yorkers living below the poverty line
For more information please contact Carlyn Cowen, Chief Policy and Public Affairs Officer at ccowen@cpc-nyc.org.
Click here to read coverage of the NYC Executive Budget by NY Nonprofit Media