Lois Lee is the First Recipient of the Elinor Guggenheimer Advocacy Award
Main Content
Lois Lee is the First Recipient of the Elinor Guggenheimer Advocacy Award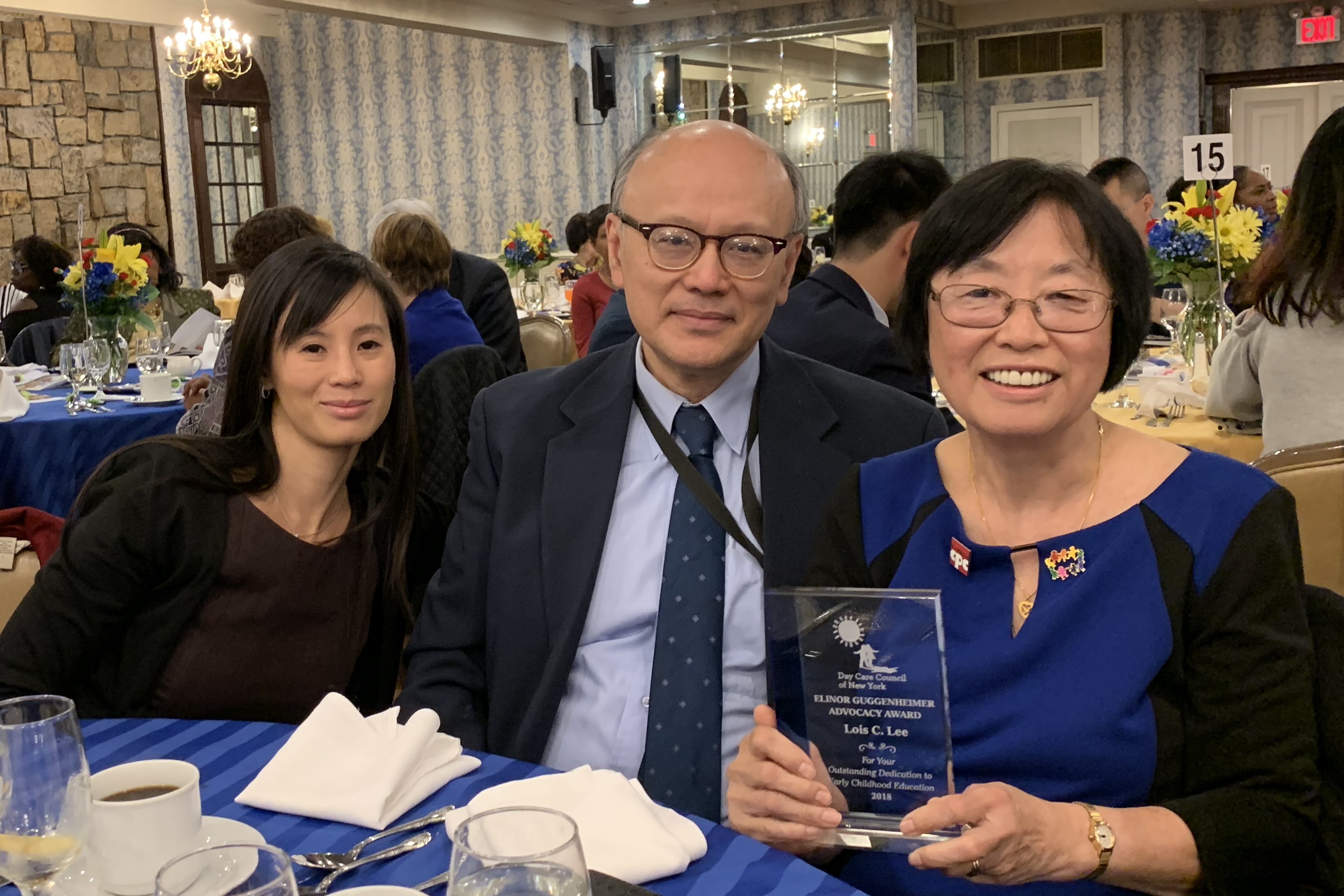 On October 13, 2018, the Daycare Council of New York (DCCNY) honored the Unsung Heroes of the Early Childhood field. CPC Queens Early Childhood Center director, Lois Lee (pictured on the far right), was named DCCNY's first recipient of the Elinor Guggenheimer Advocacy award in recognition for her outstanding and many years of advocacy for immigrant children and children of immigrants in our community.
After receiving the award, Lois said she felt blessed to be supported by the CPC directors and staff she worked with at the start of CPC's programs in the 1970s, the new generation of staff, and current leadership who were all together in one room for the luncheon. She emphasized the importance of following in the footsteps of Elinor Guggenheimer, one of the founders of the Day Care Council.
Mary Cheng, Director of Childhood Development Services, said of Lois, "Over her course of 40 years of service, Lois has been a true driving force within CPC and an outspoken voice for NY's community at large. If you asked me to choose a spirit animal for Lois, I believe her spirit animal must be the soul of a mother hawk. She keenly, watches over her nests, always making sure her community (nest) is safe. She is never afraid to speak up when called upon and swoops into action quickly when there is any injustice at play. She takes each and every staff member under her wing; always supporting their goals and seeing their full potential even when they don't."
One of Lois' most significant contributions to CPC and the education community is the attention to the importance of Social-Emotional development in a child's life. She has brought to light the emotional struggles of "satellite babies" (children who are born in the US but were sent overseas for kinship care due to their parent's working situation and brought back to the US to live with their parents when they are old enough to attend public school). The needs of "satellite babies" have not been spoken about in great length but Lois helped bring them to the forefront of many childcare conversations. Lois has brought attention to two major issues facing the immigrant community. First, the hard choices that many immigrant families are faced with daily when starting a new family in America without a supportive network – financially provide for the family or taking time to raise the family. Second, her exposure of the emotional stress children undergo through both departing and upon returning to their families after being sent "away". Lois worked with students who have identified as a "satellite baby" in the CPC Queens SACCC at PS20 (the center that she was previously the director of) to create the book "Satellite Babies", a collection of stories and drawings by our students to express their stories and emotions creatively. She has also hosted numerous parent workshops on "satellite babies" and the importance of keeping a family together. Lois has also spoken to various media outlets and documentary directors on this topic and advocates for families to stay together. Through her work with the students and their families and her relentless advocacy, Lois continues to care for and advocate for immigrant and low income families.
CPC is proud of the long history, dedication and accomplishments Lois has embodied at CPC thus far and continues to exude CPC's vision to advance and transform communities.
For more information on CPC Early Childhood Services click here
For more information on CPC School-Age Child Care click here