CPC and Subsidiary Welcome New Board Members
Main Content
CPC and Subsidiary Welcome New Board Members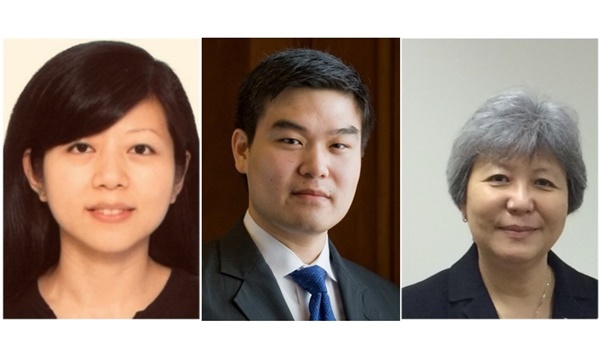 The Chinese-American Planning Council (CPC) is excited to announce the elections of Li Yan Chen and Michael Lee to CPC Board of Directors as well as Flora Si as the Chair of its subsidiary, CPC Home Attendant Program (CPCHAP).
Li Yan Chen (seen above on left) is an Operations Officer at the International Finance Corporation, a member of the World Bank Group, and focuses on implementing an effective governance framework for a global advisory portfolio of 800+ projects valued at more than $1.5 billion. She has over 15 years of professional work experience in the areas of investment banking, public finance, business operations, corporate strategy, and fundraising.
"I'm extremely honored by the opportunity to be part of this remarkable organization. My family was part of the immigrant wave that settled in New York City's Chinatown in the 1990s, and we were direct beneficiaries of CPC's services. I am a strong believer in the power of giving back and in driving positive changes to level the playing field for underserved communities, and look forward to contributing towards CPC's mission," said Li Yan.
Michael Lee (seen above in middle) is the Managing Director of Corporate Development at the New York Institute of Finance. He has over 14 years of professional experience in leadership roles in nonprofit management as well as fundraising.
"Joining the CPC board is a tremendous honor. It allows me to continue my personal mission of helping Asian American families in NYC as well as carry on a long-time legacy in my family of being part of this great organization. I look forward to applying my experiences in the nonprofit sector and in the community to contribute to the Board of Directors and support the Leadership Team and staff," said Michael.
Flora Si (seen above on right) is a Certified Public Accountant with her own tax and accounting practice in Manhattan's Chinatown. She has over 30 years of experience in accounting and is a member of the New York State Society of Certified Public Accountants and the Chinese American Society of Certified Public Accountants. Flora is the Vice-Chair of the CPC Board of Directors where she has served since 2000.
"It is an honor to be elected as the new Board Chair of CPCHAP. I look forward to leading this premier home care agency in its mission and vision. I'm very excited to lead a wonderful team of dedicated professionals," said Flora.
Li Yan, Michael, and Flora are accomplished business and community leaders who are bringing their talents and networks to help CPC implement Advancing Our CommUNITY, its organization-wide strategy to promote the social and economic empowerment of Chinese American, immigrant, and low-income communities.
---
華策會及其附屬機構歡迎新的董事會成員
紐約訊- 華人策劃協會宣佈李汝乾及陳麗艷成爲其董事會成員,施玉清成爲其附屬機構華人策劃協會家庭護理中心的董事長。
陳麗艷是國際金融公司的運營官,是世界銀行集團的成員,主要為價值超過15億美元的800多個項目的全球諮詢組合實施有效的治理框架。她在投資銀行,公共財務,商業運營,企業戰略和籌款方面擁有超過15年的專業工作經驗。
"我很榮幸有機會成為這個卓越機構的一員。我的家庭是90年代在紐約市唐人街定居的移民浪潮的一部分,並受益于華策會的服務。我相信回饋社區和對弱勢社區推動積極變革的重要性,我期待為實踐華策會的使命做出貢獻。" 陳麗艷説到。
李汝乾是紐約金融學院企業發展部董事總經理。他在非牟利組織的管理和籌款方面擁有超過14年的領導經驗。
"加入華策會董事會是一種巨大的榮譽。這使我能夠繼續實踐我的個人使命,幫助紐約市亞裔美國人家庭,並延續家族的傳統成為這個卓越機構的一員。我期待我可以在董事會上可以應用我在非牟利機構和社區工作的經驗,為領導團隊及員工提供支持。" 李汝乾説到。
施玉清是一名註冊會計師,在曼哈頓唐人街擁有自己的稅務和會計業務。她擁有超過30年的會計經驗,是紐約州註冊會計師協會和華裔美國註冊會計師協會的會員。她自2000年以來一直擔任華策會董事會副董事長。
"很榮幸當選為華人策劃協會家庭護理中心新董事長。我期待著領導這優秀的家庭護理機構去實踐它的使命和願景。並非常高興能夠領導一支優秀的專業團隊。" 施玉清説到。
李汝乾,陳麗艷和施玉清是有成就的商業和社區領袖,他們的才能和網絡將幫助華策會實現推動社區變革,以促進華裔美國人,移民和低收入者的社區和經濟發展。
Media Coverage