#YearOfTheCBO City Hall Rally
Main Content
#YearOfTheCBO City Hall Rally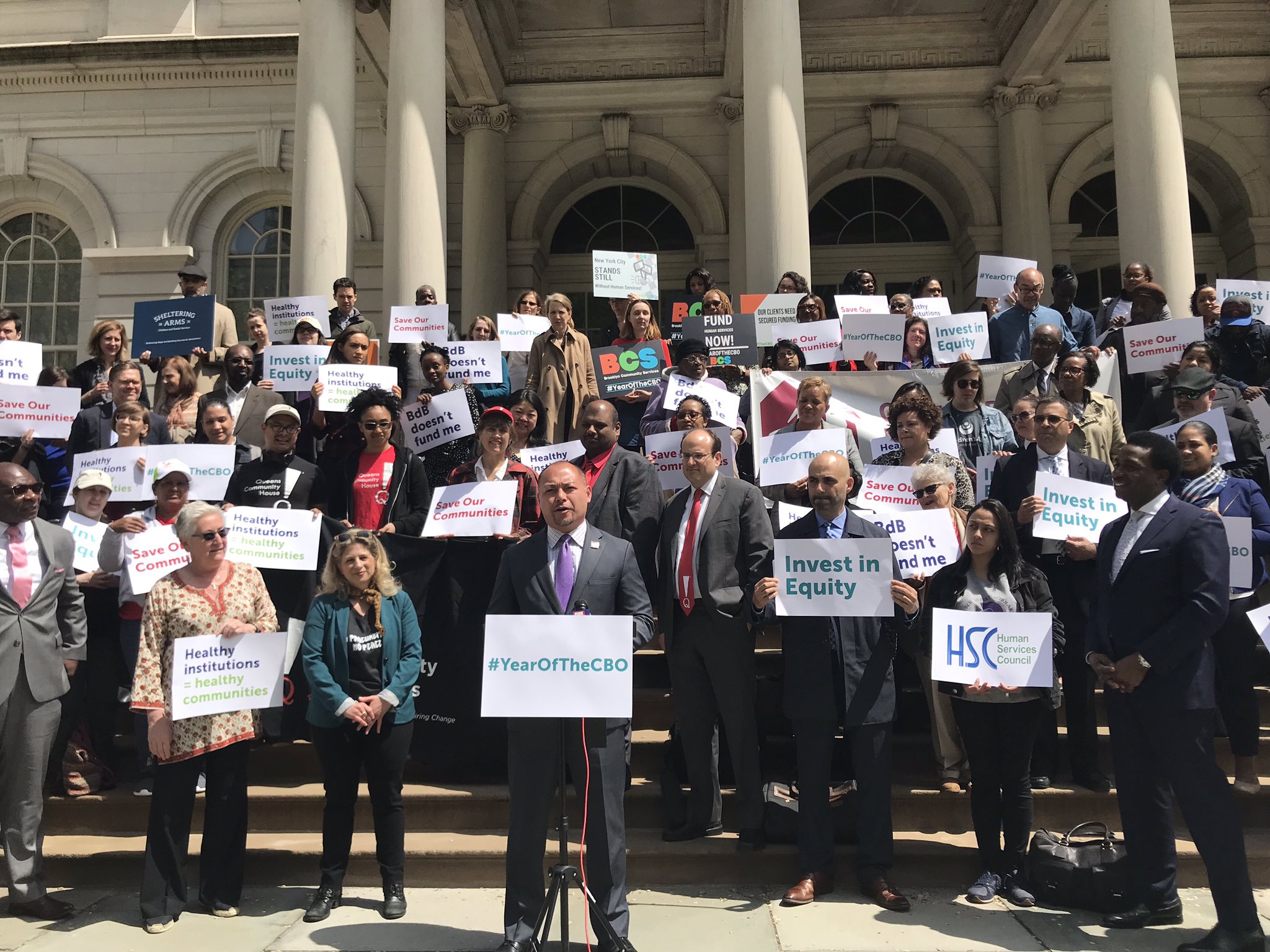 On May 7, 2019, CPC President & CEO, Wayne Ho, spoke at the Human Services Council's #YearOfTheCBO rally on the steps of City Hall. Members of the New York City Council, human services advocates, provides, workers, and community members across the city have been advocating for the Mayor to include $106 million in the FY2020 Budget to support the woefully underfunded indirect costs of human services nonprofits. Sadly, the Mayor did not include this investment in the FY2020 Executive Budget.
CPC was proud to stand with our fellow human services providers as well as Council Member Helen Rosenthal, Council Member Mathieu Eugene, Council Member Ben Kallos, and Council Member Bill Perkins to urge the Mayor to reconsider this budget item. City funded human service providers are given the bare minimum funding needed to run a program. However, indirect costs such as administrative support staff and facility maintenance is often overlooked.
"The Chinese-American Planning Council stands with our allies in the City Council and human services sector to call on the Mayor's Office to invest $106 million for community-based organizations. During these challenging times, human services organizations like CPC are the first line of defense for our community members, and the City should invest in them accordingly," said Wayne Ho, President and CEO of the Chinese-American Planning Council. "Through our government contracts, CPC provides critical programming for Asian American, immigrant, and low-income New Yorkers throughout the five boroughs. However, these contracts do not cover the full cost of providing quality services to our community members. Our staff who serve the most vulnerable community members – children and seniors – continued to be underpaid because the City underfunds all aspects of early childhood programs, senior centers, and home-delivered meals."
As a result of funding gaps, community-based nonprofits are in dire financial straits—many are on the verge of insolvency. This crisis forces providers to make impossible choices, including potentially scaling back existing services to make ends meet. Refusing to prioritize investments in the human services sector impacts the entire city by leaving organizations and the communities who rely on them at risk and impacting the quality and quantity of services in a time of rising need.
Media Coverage