CPC Brooklyn Community Services' Highlights Free Legal Assistance
Main Content
CPC Brooklyn Community Services' Highlights Free Legal Assistance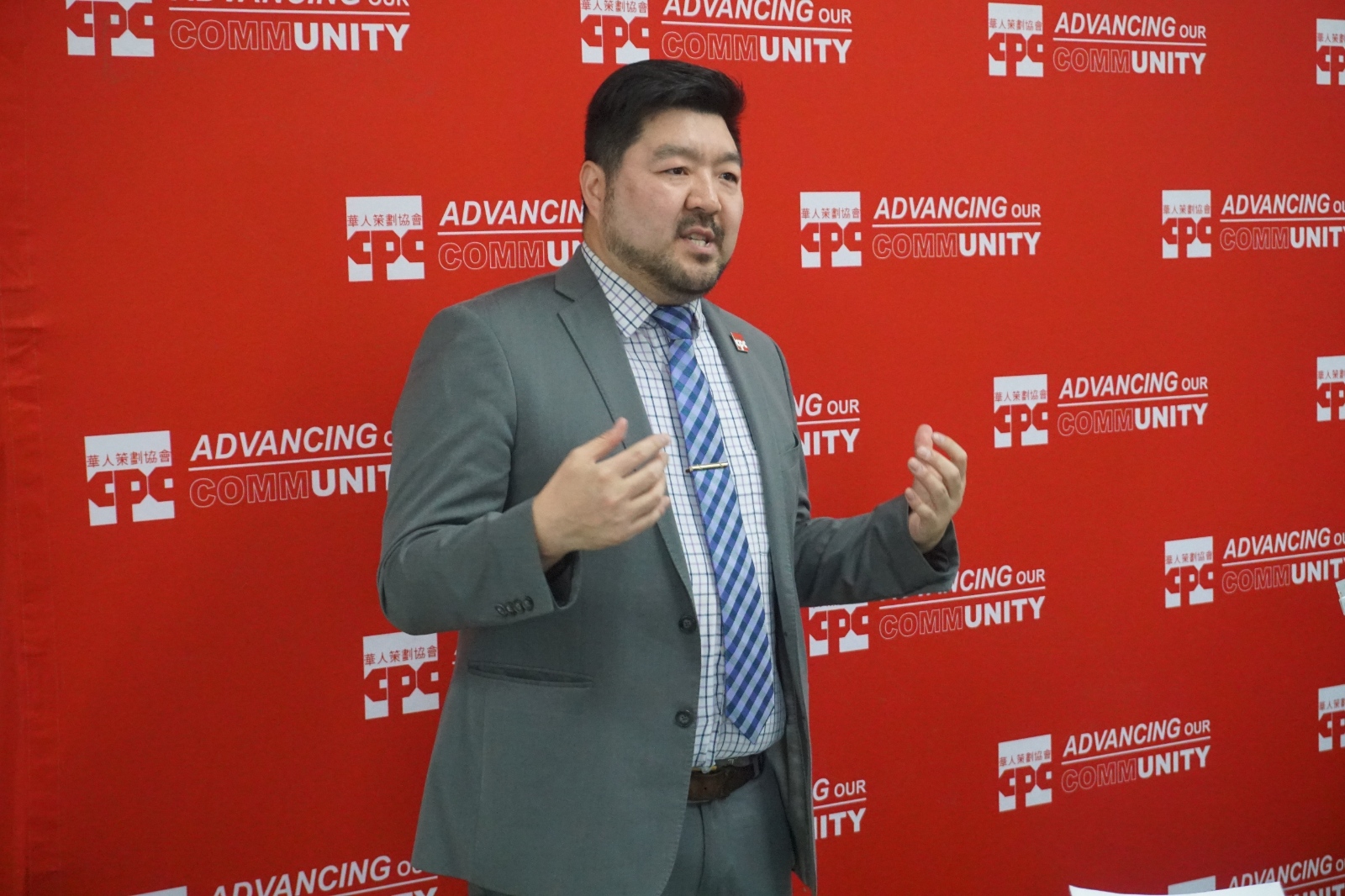 Legal Services Schedule at CPC Brooklyn Community Services
Naturalization and citizenship services are offered Monday to Friday from 9 am to 5 pm.
For questions, or to make an appointment to discuss green card renewal and application assistance, please contact Shuping at 718-492-0409 ext 313.
Walk-ins and appointments are offered at CPC Brooklyn Community Center at 4101 8th Ave, 4th Fl, Brooklyn, NY 11232.
CPC Brooklyn Community Services (BCS) recently highlighted free immigration legal services offered to community members at a press conference at our borough-based community center. CPC Brooklyn Community Services partners with New York Legal Assistance Group (NYLAG), Immigrant Justice Corps (IJC), Asian American Bar Association of New York (AABANY) and most recently, ONA Opportunity Center, to provide a variety of immigration related services.
New York State Senator Zellnor Myrie and Assistant Assembly Speaker Felix Ortiz attended and lent their voices to show support, along with representatives from the offices of New York State Senator Andres Gounardes, Assembly Member Peter Abbate, Council Member Justin Brannan, and Brooklyn Borough President Eric Adams.
CPC President and CEO Wayne Ho, CPC Brooklyn Community Services Director Steve Mei, and Crystal Lee of CPC Manhattan Community Services spoke about services offered during the event. Our community partners Neil Ren from Immigrant Justice Corps and Alex Hu from New York Legal Assistance Group also spoke.
Over the past several years, the Federal Administration issued a series of policy changes that affect our immigrant communities adversely. Many of these changes hinder immigrants from entering the country and gaining lawful status. Immigration law is often complex and navigating the immigration system can be a challenge for many immigrants. It is extremely important for community members to have access to free and reliable assistance as they pursue immigration relief. Through our partnerships with NYLAG, IJC, and AABANY, we have served hundreds of community members who are in need of immigration services.
However, there are many more community members who can benefit from receiving an immigration consultation. Even if someone had previously received an immigration consultation, changes to immigration policies can affect a person's eligibility for future immigration relief. So it is important to check in with an immigration attorney when changes to immigration policies occur.
At CPC Brooklyn Community Services, we provide free immigration consultations and can assist community members fill out their immigration forms, such as Naturalization application or Adjustment of Status applications. In addition, we host quarterly Naturalization preparation classes for community members who are interested in becoming a U.S. Citizen. These classes are free and open to the public.
For other types of legal consultations, AABANY hosts a bi-monthly Pro Bono Legal Clinic to provide members of the community an opportunity to ask volunteer attorneys a variety of legal questions such as housing, family, employment, and much more.
For more information, please call CPC Brooklyn Community Services, Ms. Shuping Deng at (718) 492 – 0409 ext. 313 or email us at sdeng@cpc-nyc.org.
See coverage in the World Journal here.
華人策劃協會("華策會")布碌崙社區服務將聯合纽 约法律援助組織(NYLAG),Immigrant Justice Corps(IJC),紐約亚裔律師協會 (AABANY)和新美國人辦公室在華策會社區中心為居民提供多種的移民相關服 務。
在過去的幾年中,聯邦政府發布了一系列不利於移民社區的新政策。這些新政策阻礙 移民進入我國並獲得合法身份。複雜的法律法規使得許多移民在使用移民法律系統時 遭遇重重困難。通過與 NYLAG,IJC 和 AABANY 的合作,我們成功為眾多需要移民 法律服務的社區居民提供了幫助。
社區居民可以從接受移民法律援助諮詢中獲益,哪怕以前曾諮詢過相關信息,但移民 政策的變更也可能會影響此人將來獲得合法移民身份。華策會布碌崙社區服務中心將 會提供免費的移民法律諮詢,並協助社區居民填寫移民表格,比如申請入籍表格或者 綠卡表格等等。除此以外,我們每個季度都為想成爲美國公民的社區居民提供免費的 入籍準備課程。
對於其他類型的法律諮詢,AABANY 每兩個月舉辦一次免費法律諮詢,為社區居民 提供機會向志願者律師詢問各種法律問題,例如住房,家庭,就業等等。
詳情請電華策會布碌崙社區服務聯繫鄧小姐(718)492 – 0409 分機 313 或者寄電 子郵件至 sdeng@cpc-nyc.org。