CPC Project Gateway Hosts Virtual Transition Fair for Incoming College Freshman
Main Content
CPC Project Gateway Hosts Virtual Transition Fair for Incoming College Freshman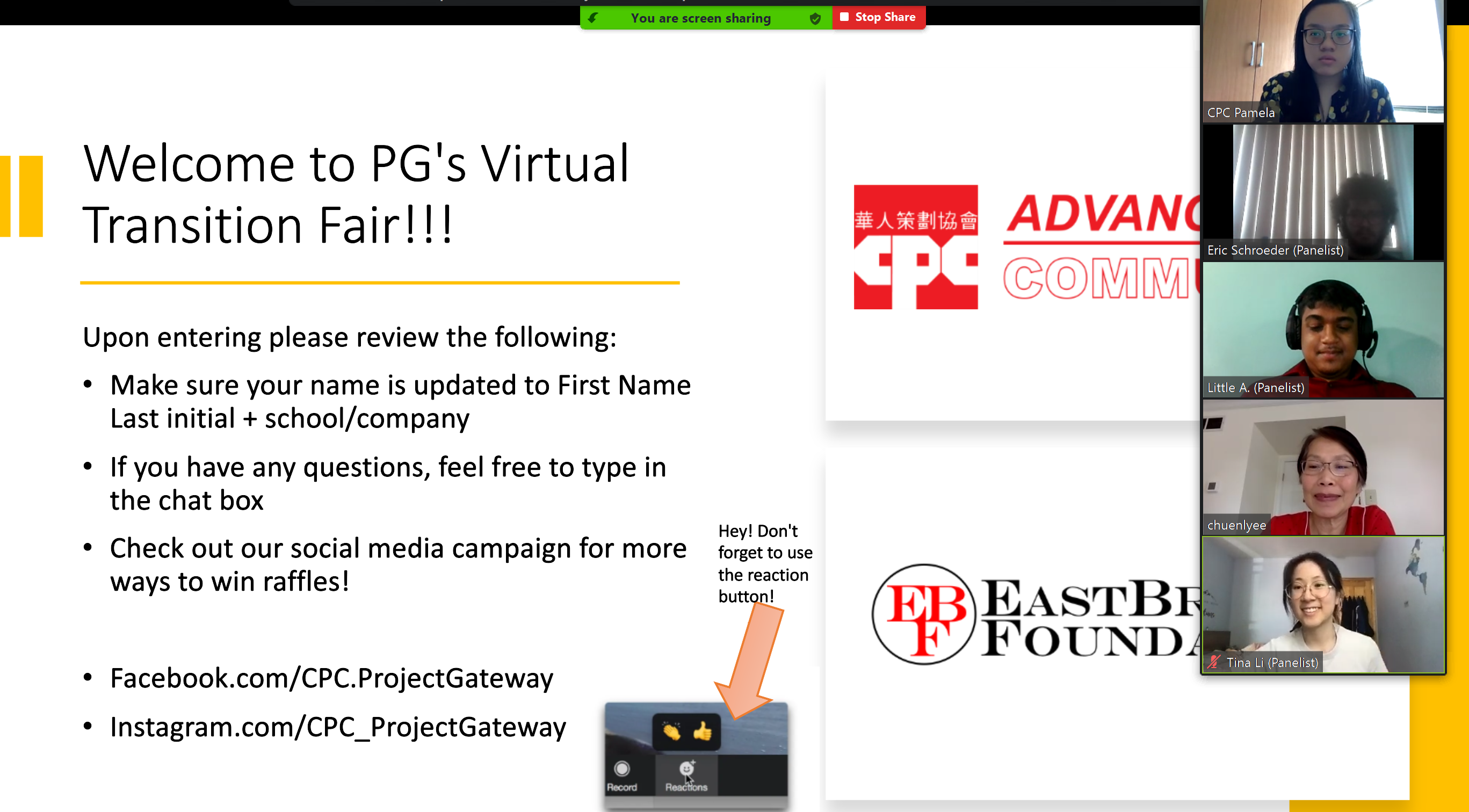 On June 12th, CPC Project Gateway and EastBridge Foundation hosted a Virtual Transition Fair for high school seniors to discuss their expectations and hear tips on how to prepare for the transition into college. Our young adult community members enjoyed the opportunity to network with rising college sophomores and receive tips on how to maximize their college experience.
During the Virtual Transition Fair, attendees listed to a panel of rising sophomores who successfully made it through their first year of college. CPC alumni and friends shared the experience of their first year along with some anecdotes about their biggest challenges. One of the most repeated advice was to talk advantage of the opportunity to explore other interest with deciding what to take on as an academic minor, or secondary discipline.
Following the panel, attendees were able to work and discuss in smaller groups through Zoom's breakout session function. Employees from Accenture volunteered along with the college student panelists to speak to the soon-to-be college students more intimately about their expectations.
This event was made possible by CPC Project Gateway, Accenture, and PG: College Connect mentors who volunteer their time to plan and execute this event. Special shout out to Vicky Li, rising sophomore from Carnegie Mellon University; Mohammad Faizaan, rising sophomore from Williams College; Tina Li, rising sophomore at Brandeis University; Little Azeez, rising sophomore at CUNY City Tech; and Eric Schroeder, rising sophomore at SUNY Stony Brook.
In response to our Virtual Transition Fair, our PG: College Connect mentors have prepared a social media campaign to provide advice and tips on surviving the first year of college.
For more information, visit us at Instagram: @cpc_projectgateway Facebook: @CPC.ProjectGateway.