CPC Meets With 57 Legislators to Discuss Community Needs on State Advocacy Day
Main Content
CPC Meets With 57 Legislators to Discuss Community Needs on State Advocacy Day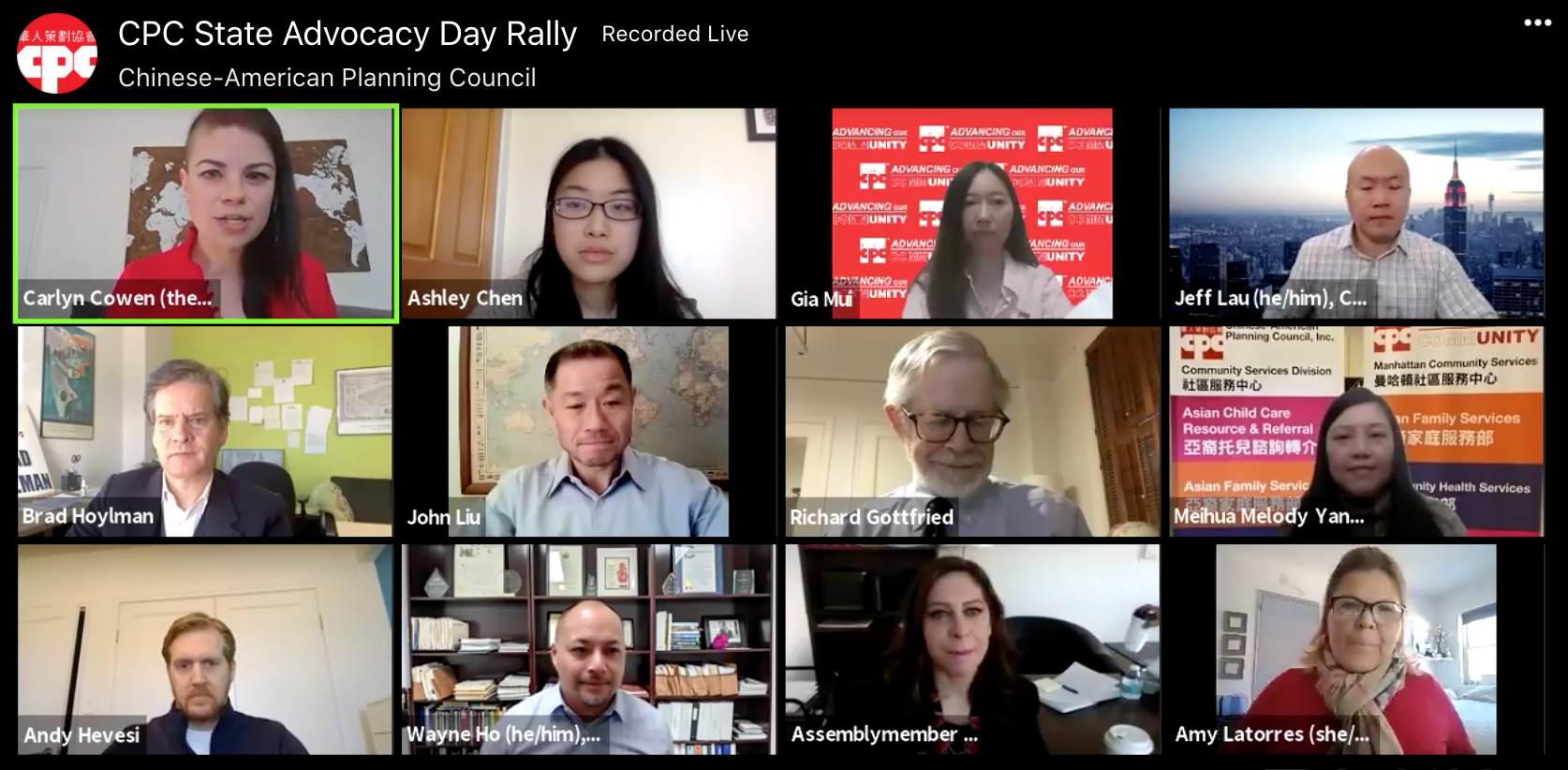 CPC held our 3rd Annual State Advocacy Day on Thursday, January 28th. CPC staff and community members met with 57 New York State legislators to discuss how CPC has been supporting our communities during COVID-19, why it is critical that we fund our programs and human services staff, and how we need guaranteed healthcare, housing relief, and more for a just recovery.
Thirteen legislators joined our State Advocacy Day virtual rally, which now has more than 2,000 views. Watch and listen to the rally here on Facebook.
We met with the following state legislators and their staff.
From the New York State Senate, we met with Majority Leader Stewart-Cousins, Deputy Majority Leader Gianaris, Senator Addabbo, Senator Bailey, Senator Benjamin, Senator Biaggi, Senator Comrie, Senator Gounardes, Senator Hoylman, Senator Jackson, Senator Kavanagh, Senator Kreuger, Senator Myrie, Senator Parker, Senator Persaud, Senator Rivera, Senator Sanders, Senator Serrano, and Senator Stavisky.
From the New York State Assembly, we met with Majority Leader Peoples-Stokes, Assembly Member Abbate, Assembly Member Aubry, Assembly Member Barnwell, Assembly Member Barron, Assembly Member Braunstein, Assembly Member Colton, Assembly Member Cruz, Assembly Member Davila, Assembly Member De La Rosa, Assembly Member Epstein, Assembly Member Frontus, Assembly Member Gallagher, Assembly Member Glick, Assembly Member Gonzalez-Rojas, Assembly Member Gottfried, Assembly Member Hevesi, Assembly Member Kim, Assembly Member Mamdani, Assembly Member Pichardo, Assembly Member Quart, Assembly Member Rajkumar, Assembly Member Rozic, Assembly Member Taylor, Assembly Member Walker, and Assembly Member Weprin.
This has been a difficult year across the board with the COVID-19 pandemic, and especially for Asian American and Pacific Islander, low income, and immigrant communities. CPC has been responding to daily changes in funding that have threatened the well-being and stability of our community members and staff.
CPC's State policy agenda focuses on ensuring human services have what they need to continue to conduct essential services, immigrant justice, healthcare access, stable housing, economic equity, and representation for marginalized communities. Our budget and policy priorities include:
Fully funding human services to meet increasing demand, resisting all programmatic cuts, providing essential workers with hazard pay, and investing in the Nonprofit Infrastructure Capital Improvement Program;
Restoring and expanding funding for the Settlement House Program, Adult Literacy, Summer Youth Employment Program, Senior housing and supportive services, Care Coordination Organizations/Health Homes, early childhood education programs and Open-Ended Preventive/Protective Child Welfare Services;
Preserving and expanding Medicaid funding, extending the essential plan to undocumented New Yorkers, and passing the New York Health Act;
Investing in community based legal services and support though expanding the Liberty Defense Project and Office of New Americans funding, passing the Excluded Workers Fund, and passing the Access to Representation Act.
We would like to thank CPC staff and community members who participated in our 3rd Annual State Advocacy Day: Mary Cheng, Ada Lin, Brian Chen, Shuping Deng, Shuk King Cheng, Megan Donovan, Judy Chan, Judy Ah-Yune, Carrie Black, Steve Mei, Priscilla Fok, Wayne Ho, Sachaly De Leon, Elizabeth Hendler, Tommy Lee, Brenda Choy, Melody Yang, Sumon Chin, Mitch Wu, Alice Wong, Amy Chen, Ben Eng, Caroline Scown, Allison Hsu, Yvonne Liu, Stephanie Eng, Lois Lee, Amy LaTorres, Bryan Lucero, Tommy Lam, Bo Lo, Jeff Lau, Anna Xie, Scot Sherman, Cindy Chen, Francis Ade, Melody Yang, Nana Apreku, Don Kao, Gia Mui, Yadira Flores, Elba Leon, Sheridan Chu, Yvette Ho, and Bill Yeung.