CPC Nan Shan Senior Center Seniors Gearing Up for the Holiday Season
Main Content
CPC Nan Shan Senior Center Seniors Gearing Up for the Holiday Season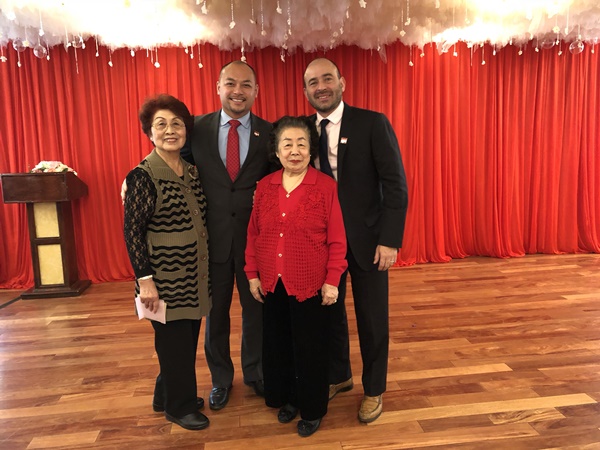 Over 500 seniors from CPC Nan Shan Senior Center were attending a fun-filled festive event this morning at a local restaurant. They were all mingling with friends, watching performances, and listening to festive music. It was a wonderful opportunity to gather together in friendship and share the joy of the season.
Our sincere gratitude goes to the sponsors and supporters of this event. They are East West Bank, Preferred Bank, Flushing Chinese Business Association (FCBA) and New World Mall, LLC. Thank you for all their generosity, enthusiasm and heartfelt support of CPC Nan Shan Senior Center. Their unwavering commitment made a big difference in the lives of many seniors.
Special thanks to all our special guests: Senator Toby Ann Stavisky, Assemblywoman Nily Rozic, Councilmember Peter Koo, Democratic District Leader Peter Tu, CPC President & CEO Wayne Ho, CPC Chief Program Officer Edgar Pereira, CPC Open Door Senior Center Director Po-Ling Ng.
During the event, Wayne Ho, CPC President & CEO, announced CPC's Community Services Award 2018 will go to the CPC Queens Nan Shan Senior Center Advisory Board. He acknowledged the Advisory Board's years of volunteerism and dedicated services. The members of the Advisory Board have given countless hours of their time and skills to the senior center. They are passionate about the center's services, strengthening seniors, families and our community tie. Thanks we're also given to Nan Shan Senior Center Director, Michael Wang, for his leadership as well. The award will be given at CPC's 53rd Annual Lunar New Year Celebration on February 22, 2018, in which thousands of guest will be in attendance.
Thanks again for the support from the community. We will all continue to work together, nurture and support each other and help the community grows better.
To read coverage by World Journal click here
To learn more about CPC Nan Shan Senior Center click here
To learn more about the 53rd Annual CPC Lunar New Year Celebration click here