Recipe Rescue Your Breakfast With Sitora
Main Content
Recipe Rescue Your Breakfast With Sitora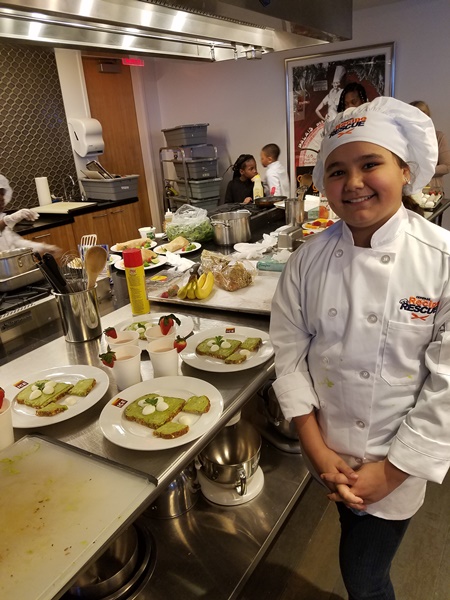 In December, students from our Homecrest SACCC at P.S. 153 after-school program entered into Department of Youth and Community Development's Recipe Rescue culinary competition. Students were challenged to create a healthier version of their choice of an original family recipe. The competition was separated into elementary, middle and high school students. The elementary students made breakfast dishes with a fresh juice or smoothie as a bonus item to earn points while middle school students made lunch dishes with a fresh salad as their bonus item and high school students made dinner dishes with dessert as their bonus item. From over a hundred entries, fifteen young chefs were selected to participate in a live cook-off event on Saturday, January 27, 2018 at the Institute of Culinary Education. Sitora Chorshanbaeva, from the CPC Homecrest SACCC's 5th grade class was a participant at the cook-off.
Sitora's rescued recipe was for Avocados and Eggs on Toast. She did a different take on this popular breakfast item and used quail eggs instead of chicken eggs, for its high protein, minerals, vitamins and good cholesterol. During the competition, Sitora only had an hour to complete her meal and she did not spare any time. While the quail eggs were boiling in water, she prepped her bread to be toasted in the oven, and mashed her avocados. In the last two intense minutes of the competition, she made sure she topped her strawberry and banana smoothie with a fresh strawberry on the side of the cup. Sitora happily received third place for her age division in the competition and was awarded a medal, trophy, and a book full of recipes motivating her to continue cooking.
She had a great time at the event and now enjoys eating avocados a lot more than she used to. She also shared she would like to cook more during the weekends with her family. We are always proud of her and happy that this competition was able to foster her interest in cooking.
Sitora's Avocados and Eggs on Toast
Serving size: 1
Ingredients:
1/2 avocado
2 quail eggs
1 slice of whole grain bread
A few drops of lemon juice (optional)
A piece of cilantro (optional)
Instructions:
Toast bread in oven.
Slice avocado in half.
With a spoon, slice avocado vertically and scoop it up to put in a bowl.
Mash the avocado with a fork.
Add a few drops of lemon juice (optional).
Boil the 2 quail eggs for about 5 minute.
Take bread out from oven and lay on a plate.
Slice quail eggs in half.
Then put the mashed avocado and eggs on top of bread.
Top with cilantro (optional) and enjoy!.
Sitora's Strawberry and Banana Smoothie
Serving Size: 4
Ingredients:
15 strawberries
1 whole banana
1 cup of milk
1 scoop of ice
Instructions:
Take leaves off the strawberry.
Cut strawberies into fourths.
Cut banana into several pieces.
Put milk into blender, then strawberries, and finally banana pieces.
Put lid on and turn on blender for 30 seconds to 1 minute.
Pour in mug and enjoy!
Cut the strawberry half way through and put it onto the side of the cup to make it pretty (optional).