BEST Session with JPMorgan Chase Features Vanessa Chiu, Executive Director at JPMorgan and CPC Board Member
Main Content
BEST Session with JPMorgan Chase Features Vanessa Chiu, Executive Director at JPMorgan and CPC Board Member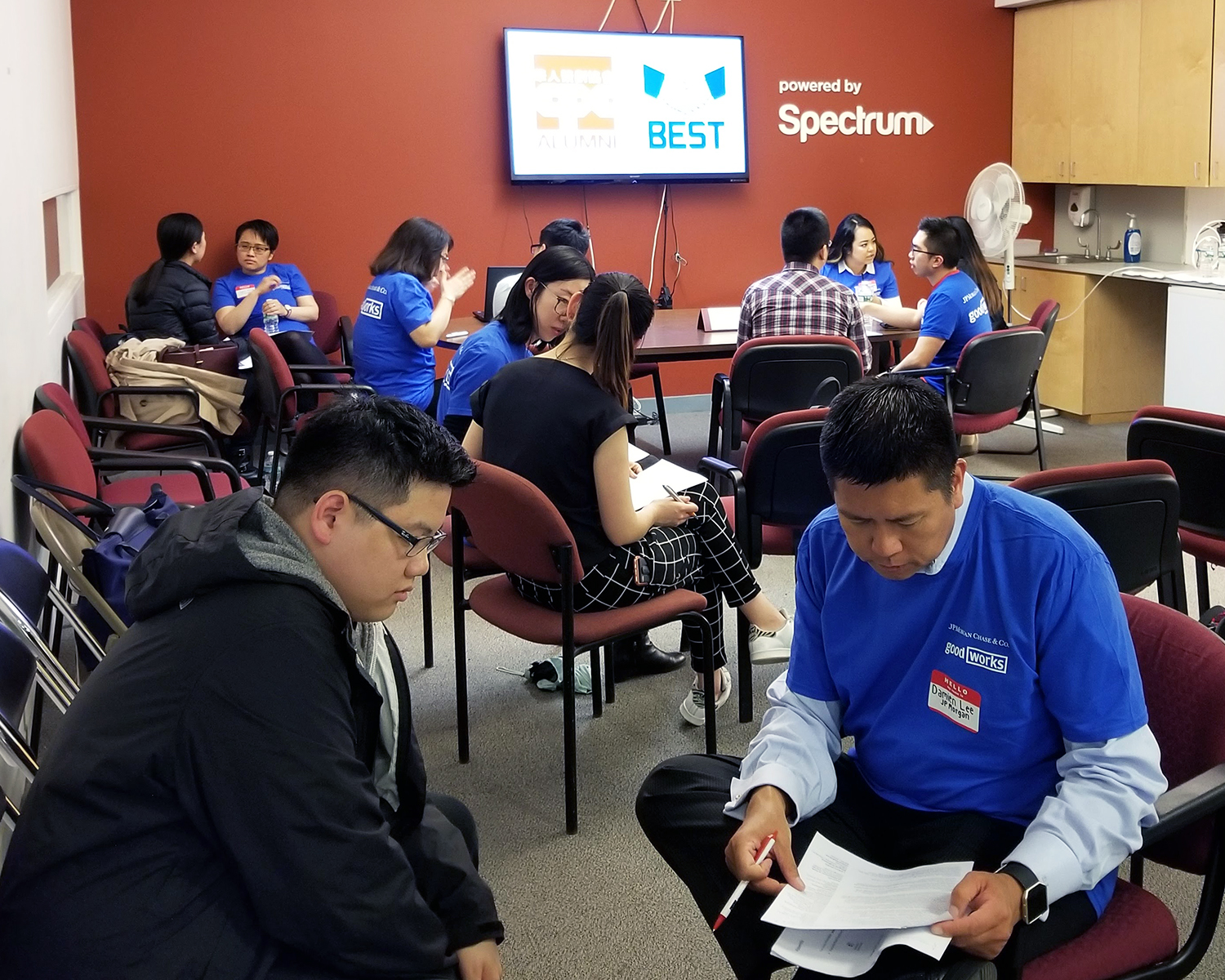 On Friday, April 27th, CPC welcomed 12 JPMorgan Chase Volunteers to our Manhattan Community Center to facilitate the second part of a three-part series with JPMorgan as part of the BEST (Business Exploration Student Track) Program. CPC BEST is a program designed to help CPC Alumni who are now college students gain a deeper understanding of what it means to work in the business industry.
The event featured Spotlight Speaker Vanessa Chiu, who is an Executive Director at JPMorgan, a member of CPC's Board of Directors, and a CPC Alumni herself. Mrs. Chiu spoke on the importance of breaking the stereotype surrounding Asian Americans in the workplace that paints us as complacent and quiet. Mrs. Chiu was also kind enough to answer questions from CPC BEST students, ranging from how she juggles being a young mother to what she finds the most meaningful in her career. JPMorgan volunteers then conducted a resume review and mock interview session for CPC participants, and gave constructive feedback on how they could improve. The event concluded with an informal networking session where participants could mingle with the JPMorgan volunteers and ask any follow-up questions.
CPC is grateful to the volunteers at JPMorgan for dedicating their time to this partnership and for making career exploration events for our alumni possible. We look forward to our next event together, which will take place on May 11th and feature the discussion topic: Asian Americans Breaking the Bamboo Ceiling: Career Strategies for Redefining Asian American Global Leadership.
Community members that have participated in Education and Career Services' (ECS) programming in the past are welcomed to join the ECS Alumni Network by filling out this form. Please contact ECSAlumni@cpc-nyc.org with any questions relating to the network.

The Chinese-American Planning Council (CPC) partnered with Lai Ling Li, a Vice President at JPMorgan Chase (JPMC) and launched the Business Exploration Student Track (BEST) Mentorship Program in January 2018. The mentorship program has three components: a workshop dedicated to coaching students on resume building, mock interview and leadership skills; a Spotlight Speaker Series panel featuring guest speakers to provide career navigation; and a networking session.