CPC Holds Inaugural City Advocacy Day
Main Content
CPC Holds Inaugural City Advocacy Day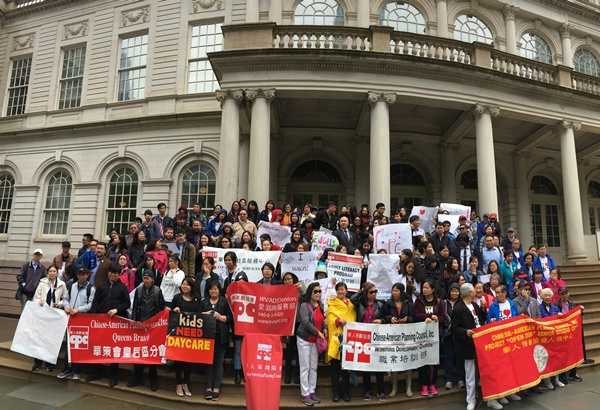 Nation's Largest Asian American Social Services Organization Advocates for Increased City Resources for Asian American, Immigrant, and Low-Income Communities In Response to Federal Policies
The Chinese-American Planning Council, Inc. (CPC) and over 150 community members convened a press conference and rally on the steps of City Hall as part of their first ever CPC City Advocacy Day. CPC called on the Mayoral Administration and the City Council to make critical investments to address the persistent and emerging needs of the Asian American community, which will be disproportionately impacted by proposed federal budget cuts and policy changes. CPC's budget priorities include:
Restore $12 million for the Adult Literacy Initiative
Restore $5 million for the Communities of Color Nonprofit Stabilization Fund (NSF)
Invest $200 million to address chronic underfunding in the nonprofit human services sector
Enhance funding for three City Council Initiatives that support older adults: Health Aging, Support Our Seniors, and Naturally Occurring Retirement Communities (NORCs)
Enhance funding for three City Council mental health initiatives: Geriatric Mental Health Initiative, Children Under Five Mental Health Initiative, and Autism Awareness Initiative
Invest in funding for salary parity for early childhood teachers in community based organizations, who do the same jobs with the same qualifications as their DOE counterparts for vastly different pay
Invest in funding for Fair Fares to provide half-price MetroCards to New Yorkers living below the poverty line
Asian Americans are the fastest growing community in New York City, making up 15% of the City's population. However, Asian American community based organizations receive only 4% of City Council discretionary funding and less than 2% of the City's social service contract dollars. The proposed federal budget cuts will disproportionately impact communities of color, immigrants, and low-income residents, and CPC calls on the City to bolster its investment in these communities in order to protect and uplift them during these times.
"The facts are clear: NYC's Asian Pacific American community is growing rapidly and needs additional resources," said NYC Council Finance Chair Daniel Dromm (D-Elmhurst, Jackson Heights). "Our city is a richer and more vibrant place thanks to the many APA families who have contributed to it over the decades. As a Council Member representing a district with one of the largest APA communities in NYC, I have successfully fought for increased funding for APA-led service providers. While I am proud of this accomplishment, much more needs to be done. I will continue to advocate for additional dollars for APA organizations throughout the budget negotiation process," said Council Member Danny Dromm, Finance Committee Chair.
"On Asian Pacific American Heritage Month, New Yorkers unite to celebrate the leadership of Asian American trailblazers, reflect on the achievements we have made as a community, and recognize our continued fight for representation and equitable resources. Today, I am especially proud to stand with the advocates who are joining me in the fight to build a better future for Asian Americans and immigrants across the City," said Council Member Margaret S. Chin, the first Asian American woman and Chinese American to represent Chinatown in New York City Council. "Local community organizations like CPC often serve as the access point where Asian immigrants who have nowhere to turn can connect to vital services. Now more than ever, we need to strengthen the link between the City and immigrant communities in need. In order for the City to live up to its promise as a haven for all communities, we demand funding equity."
Council Member Peter Koo stated, "America's inclusiveness is what makes our nation strong and unique. Every year in May, I am proud to join CPC and the Asian American Pacific Islander community in celebrating our shared cultural heritage. What makes today especially meaningful is that we're able to stand together with hundreds of immigrant families, children and seniors, and committing ourselves to help each other succeed. In New York City, the Asian American Pacific Islander community population continues to grow, and we must create and build the necessary support structures to ensure that they have access to better opportunities in life. I thank CPC for providing a broad range of social services that promote social and economic empowerment of underserved groups and low-income population, and I will continue the fight for our fair share in city council to advance the needs of our community."
"I am proud to represent an incredibly diverse district that is home to many Asian-American and immigrant New Yorkers, and I am thankful for organizations like CPC, which provide critical assistance and services that greatly benefit many of our community members. I have worked hard to ensure that the needs of these residents are being met, and I am proud to stand with CPC because of their well-earned reputation for connecting residents with the necessary resources to address those same challenges," said Council Member Mark Treyger, Education Committee Chair.
"CPC has a 53-year history of advocating for social change for Asian American, immigrant, and low-income communities. We are proud to organize our first ever City Advocacy Day during Asian Pacific American Heritage Month. Each year CPC serves over 60,000 New Yorkers who live in all 51 Council Districts, and we are joining our community members today in calling for equitable resources and funding in order to promote social and economic empowerment of New York City's fastest growing community." said Wayne Ho, President & CEO of the Chinese-American Planning Council (CPC).
"At this political moment, it is more urgent than ever that CPC and the communities we serve raise our voices to advocate for the budget investments and policy changes that will create transformative change for Asian American, immigrant and low-income community members throughout New York City. The City needs to invest resources to protect and uplift our communities, and we stand together as a community today to call on the city to stand with its immigrant communities," said Carlyn Cowen, Chief Policy and Public Affairs Officer at CPC.
"Asian American Pacific Islanders have the fastest growth rate of any other group in the nation, but for a long time, we were excluded from our nation's history -- whether through discriminatory immigration policies, voter disenfranchisement, or forced internment. Today, AAPI communities remain underserved and underrepresented, in part because we don't receive a fair share of funding. CPC is proud to host our first City Advocacy Day to raise the visibility of our community issues and call on the city to stand with immigrant communities," said Amy Torres, Director of Policy and Advocacy at CPC.
"When I moved from China, I could not speak English. My spouse passed away when my children were both young. A social worker at CPC helped me apply for the benefits I needed to support myself. The staff took such great care of my family, they even walked my children home when I had to work late. Places like CPC support new immigrants. Now that my children are grown, I also volunteer at CPC so I can change the lives of others the way they changed mine." said Ms. Tsoy, CPC Client and Volunteer.
"I have taught English at CPC for 5 years. Our students learn about U.S. laws and rights, cultural norms, interview techniques, how to start a small business, and the healthcare system. Community-based classes provide a vital source for information that can hard to find elsewhere, but our programs need funding to adequately meet the diverse and complex demand of the immigrant community," said Jeff Lau, Adult Literacy Instructor at CPC.
About CPC:
CPC's mission is to promote social and economic empowerment of Chinese-American, low income, immigrant communities. CPC was founded in 1965 as a grassroots, community-based organization in response to the end of the Chinese Exclusion years and the passing of the Immigration Reform Act of 1965, which brought waves of Asian immigrants to New York City. CPC is now the largest social service agency for Asian Americans in the country, serving 60,000 New Yorkers each year.
Click the links below for online media coverage by: