CPC Condemns Supreme Court Decision on Travel Ban
Main Content
CPC Condemns Supreme Court Decision on Travel Ban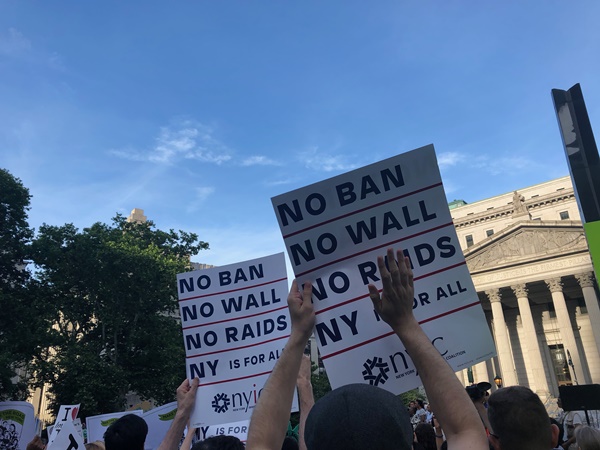 The Chinese-American Planning Council (CPC) condemns the Supreme Court's 5-to-4 decision to uphold the Federal Administration's travel ban that indefinitely restricts non-immigrant visa travel from several mostly Muslim countries including Libya, Syria, Iran, Yemen, and Somalia.
On June 26,2018, CPC staff joined thousands of New Yorkers and members of impacted immigrant communities at the Day of Action Rally and March to denounce this blatant discrimination.
The reinstatement of the travel ban echoes a long history of racist laws in the United States use national security as a justification for the exclusion and punishment of immigrant communities. From the 1882 Chinese Exclusion Act and World War II's internment of Japanese Americans to today's separation of children and parents at U.S. Immigration and Customs Enforcement (ICE) detention facilities, it is clear that racism, white supremacy, and xenophobia continue to underlie Federal policies that obstruct the rights of all immigrants. In the process of ruling on the travel ban, the Supreme Court overturned Korematsu vs. U.S. (the 1944 decision that supported the internment of Japanese Americans in WWII), yet the upholding of the travel ban is rooted in the same racist and xenophobic ideologies that were established in the Korematsu decision.
CPC remains committed to resisting this Administration's attempts of excluding and discriminating against communities of color. We urge all local agencies to continue upholding sanctuary city status, and we stand with Asian American, Latinxs, Muslims, and other immigrant communities in denouncing the Administration's travel ban and other anti-immigrant policies.
Join us in amplifying and supporting the work of local immigrant groups and resisting discriminatory practices such as the travel ban or additional barriers to family-based sponsorship, diversity visas, asylum, DACA, and TPS.
CPC is co-sponsoring the End Family Separation NYC Rally & March this Saturday, June 30th. Please join our CPC marching contingent (email ccowen@cpc-nyc.org), and volunteer to marshal if you can.
Click here for event information.

Voice your concerns about the travel ban through social media by using the hashtags #StandWithMuslims and #NoMuslimBanEver.

Consider witnessing immigration court hearings or accompanying someone headed to court. Volunteering to accompany an individual headed to immigration court provides much-needed peace of mind and moral support. Witnessing immigration hearings also holds judges and court system accountable to due process. Judges are more likely to act fairly when they know members of the public are watching.
Click here for more information from the New Sanctuary Coalition.

Tweet to @realDonaldTrump and @SecNielsen to stop incarcerating families and pressure for concrete steps towards family reunification.
Click here for sample tweets written by NYIC.

Continue to keep pressure on your local representative and make your voice heard with our call script below:
First, enter your zip code to look up your representatives here: https://house.gov/representatives/find/

Call script:
Hello! My name is [name] and I'm calling from [City]. I'm calling today to tell [Representative] to pass clean immigration reform through the DREAM Act without compromising on important pathways like DACA, TPS, asylum, diversity visas, and family reunification. I ask that [Representative] vote to permanently protect immigrants from deportation and oppose compromises like the family ban, more ICE agents, and the border wall.