CPC President & CEO Speaks at International Conference for Chinese Immigrant Service Organizations
Main Content
CPC President & CEO Speaks at International Conference for Chinese Immigrant Service Organizations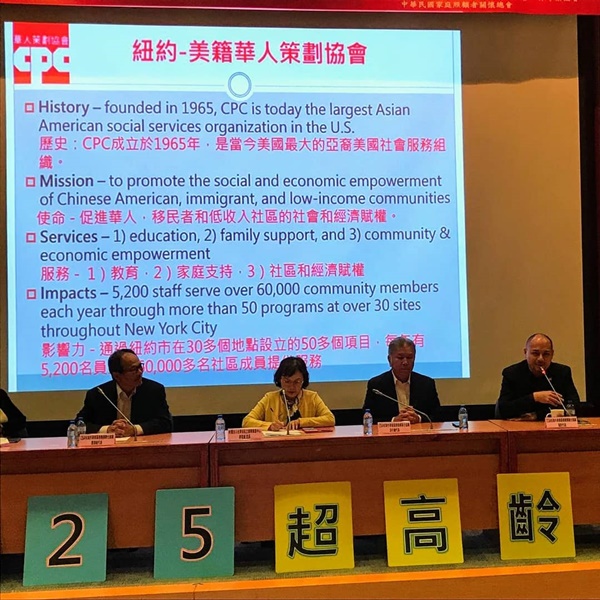 On December 6, 2018, CPC President & CEO Wayne Ho spoke at the 39th Annual Conference of Chinese Immigrant Service Agencies Network International (CISANI). CISANI was co-founded by CPC in 1979 to promote organizational development among Chinese social services organizations in the United States, and it has since grown to include organizations in countries around the world, including Australia, Canada, China, and Hong Kong.
This year's conference occurred at National Taiwan University in Taipei and focused on innovative services for seniors. Nearly 150 leaders from around the world attended the conference.
Mr. Ho spoke about the number of services which CPC provides to over 14,000 seniors each year, ranging from senior centers and home care to employment and public benefits enrollment. Mr. Ho also spoke about the critical role which seniors play in advocating for additional resources for CPC's senior services.
Po-Ling Ng, Associate Executive Director of Senior Services; Judy Ah-Yune, Director of Manhattan Community Services; and Mitchel Wu, Director of Queens Community Services, also attended the conference and spoke with participants about their innovative services for seniors.
The conference concluded with a meeting and dinner with the Overseas Community Affairs Council (OCAC) of Taiwan. CISANI leadership had an opportunity to explore how to collaborate more with OCAC and leverage their resources for our organizations.