May 2017 Anti-Discrimination Trainings In All Five Boroughs!
Main Content
May 2017 Anti-Discrimination Trainings In All Five Boroughs!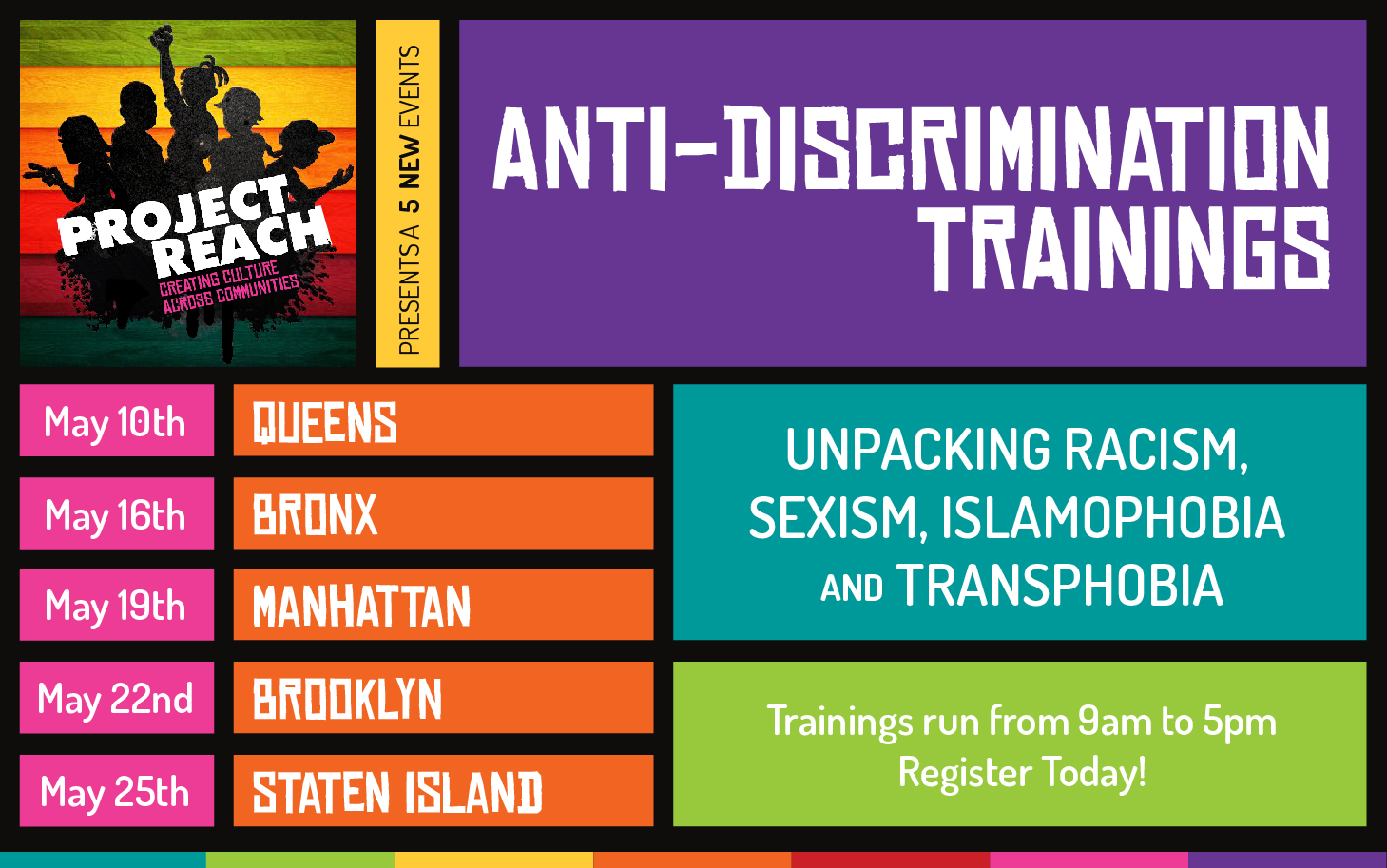 With the support of Speaker Melissa Mark-Viverito and the New York City Council, Project Reach presents Anti-Discrimination Trainings in all 5 NYC boroughs.
In light of all that has ensued since the Trump election, Project Reach has been getting an overwhelming number of requests to address the fear, violence and increased discrimination that many of our school and community organizations have been facing.
Project Reach's anti-discrimination trainings provide a time and space for incredibly diverse communities to come together to talk about our differences, examine what we call "identity destruction" and begin to sort out those root causes of inter-group tensions, bullying, bias and individual and community disempowerment.
While our trainings help participants make sense of discrimination and injustice, more importantly, our interactive and participant-centered activities aim to strengthen identity and build community for all those who participate.
These trainings are for Principals, teachers, guidance counselors; Executive Directors, service providers, social workers, after-school staff; Parents and guardians of schools and community-based organizations.
A parallel series of Anti-Discrimination Trainings for young people will follow in mid-May and June 2017.
Feel free to register for the Training in your borough (where you work or live) or the Training that best fits your schedule.
Time and space are limited so please sign-up as soon as possible.

Queens-wide Anti-Discrimination Training
Wednesday, May 10th
9am-5pm
Queens Library at Corona, 38-23 104th Street, Corona, NY 11368
More helpful information:
General Description (.DOCX)
Training Flyer (.DOCX)

Bronx-wide Anti-Discrimination Training
Tuesday, May 16th
9am-5pm
The Brook, 455 East 148th Street Bronx NY 10455
More helpful information:
General Description (.DOCX)
Training Flyer (.DOCX)

Manhattan-wide Anti-Discrimination Training
Friday, May 19th
9am-5pm
Steelcase WorkLife Center, 4 Columbus Circle, New York, NY 10019
More helpful information:
General Description (.DOCX)
Training Flyer (.DOCX)

Brooklyn-wide Anti-Discrimination Training
Monday, May 22nd
9am-5pm
Sunset Park Library, 5108 4th Avenue, Brooklyn NY 11220
More helpful information:
General Description (.DOCX)
Training Flyer (.DOCX)

Staten Island-wide Anti-Discrimination Training
Thursday, May 25th
9am-5pm
Staten Island Technical HS, 485 Clawson Street, Staten Island, NY 10306
More helpful information:
General Description (.DOCX)
Training Flyer (.DOCX)
For more information, please email donkao@projectreachnyc.org or katherine@projectreachnyc.org or Call Don - (917) 749-6116 or Katherine – (315) 664-8059