CPC Rallies for Equitable Compensation for Early Childhood Teachers
Main Content
CPC Rallies for Equitable Compensation for Early Childhood Teachers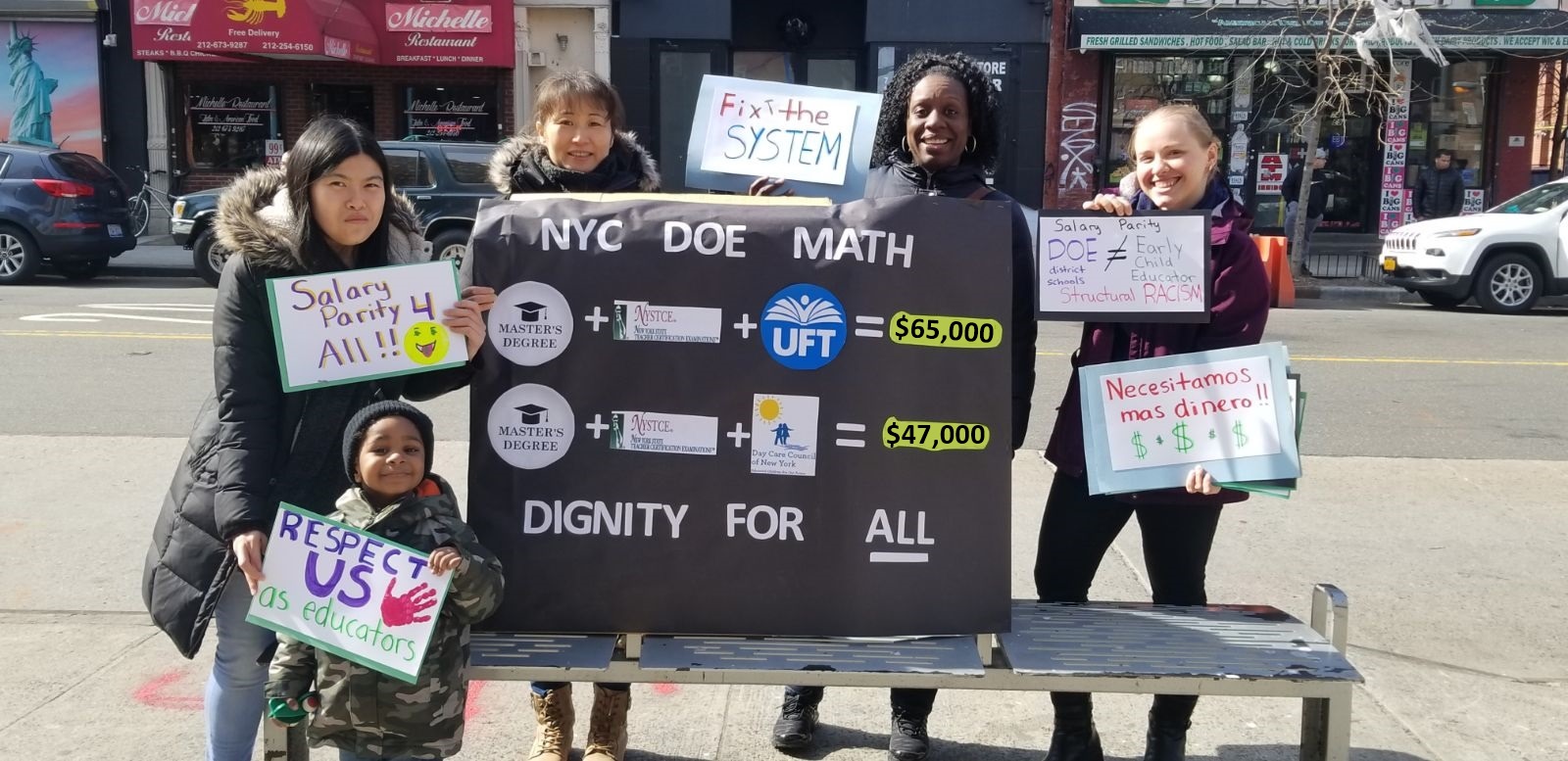 On March 20, 2019, CPC joined Campaign for Children, fellow Community Based Organizations, community advocates, and elected officials on the steps of City Hall to urge Mayor de Blasio and the administration to bring salary parity to all in the early childhood workforce. With the expansion of the Universal Pre-Kindergarten (UPK) program, Pre-K for All enrollment for four year olds is up over 350% since Mayor de Blasio took office. 94% of UPK classrooms in NYC are also doing well on the nationally recognized standard, Early Childhood Environment Rating Scale (ECERS). While the highly qualified staff in community based programs are providing the same curriculum and quality of learning as their NYC Department of Education (DOE) counterparts with the same credentials, they are being paid less.
For example, a master's certified teacher in a community based organization earns $15,000 less in the first year of employment. The disparity grows to over $32,000 less than their DOE peers by eight years of employment.
"This has a devastating affect on our centers. We are loosing highly qualified staff, which impacts the continuity of care for children and the quality of service we provide." says Mary Cheng, Director of Childhood Development Services.
The City Administration intends to create a seamless birth-to-five early education system under the DOE. The proposal process has begun with the goal of having new contracts in place for universal Pre-K for all 4-year-olds, expansion of universal 3-K, and subsidized early education for income eligible infants and toddlers by 2020. This transition presents a critical opportunity to build equity in the public education school system, beginning at the earliest age that children come under the DOE's care.
"The early childhood workforce in community based organizations provide care and education to children throughout New York City including many of the City's poorest children, and many children whose classes are their first introduction to the English language. Yet the teachers that are charged with providing these linguistic and developmental foundations are paid much less than their similarly qualified counterparts in public schools," said Wayne Ho, President and CEO of Chinese-American Planning Council. "It is outrageous that the City did not address this disparity in its Requests for Proposals and should immediately take action to rectify this injustice."
Click here to read the Campaign for Children Press Release
Click here to learn more about CPC's Education Programs
Media Coverage: