Wayne Ho Named to Nonprofit Power 100 List
Main Content
Wayne Ho Named to Nonprofit Power 100 List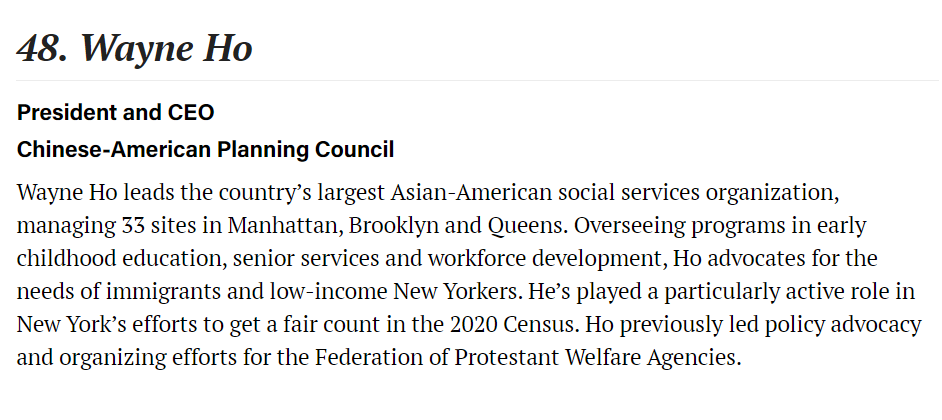 City & State NY published their "2019 Nonprofit Power 100" list and CPC's President & CEO, Wayne Ho, was named number 48.
Mr. Ho is joined by nonprofit leaders such as Steven Choi of the New York Immigration Coalition, Wes Moore of Robin Hood, and Lorie Slutsky of the New York Community Trust. Fellow settlement house leaders and community allies were also on the Power 100 list.
On November 11th, City & State held an evening reception to recognize the 100 most influential leaders of those institutions at Battery Gardens, featuring keynote remarks from Carmelyn Malalis, chairwoman and commissioner of the New York City Commission on Human Rights.
"I am humbled to be part of City and State's Nonprofit Power 100, and I am excited to accept this recognition on behalf of the board and staff of CPC," said Wayne Ho, President and CEO of the Chinese-American Planning Council. "Congratulations to everyone on this list. We are part of a movement to effect positive change with underserved communities in New York City."
Click here to see the full Power 100 list on City and State New York.