CPC & Spectrum Distributes Free Safe & Healthy Home Kits at Hong Ning Housing for the Elderly
Main Content
CPC & Spectrum Distributes Free Safe & Healthy Home Kits at Hong Ning Housing for the Elderly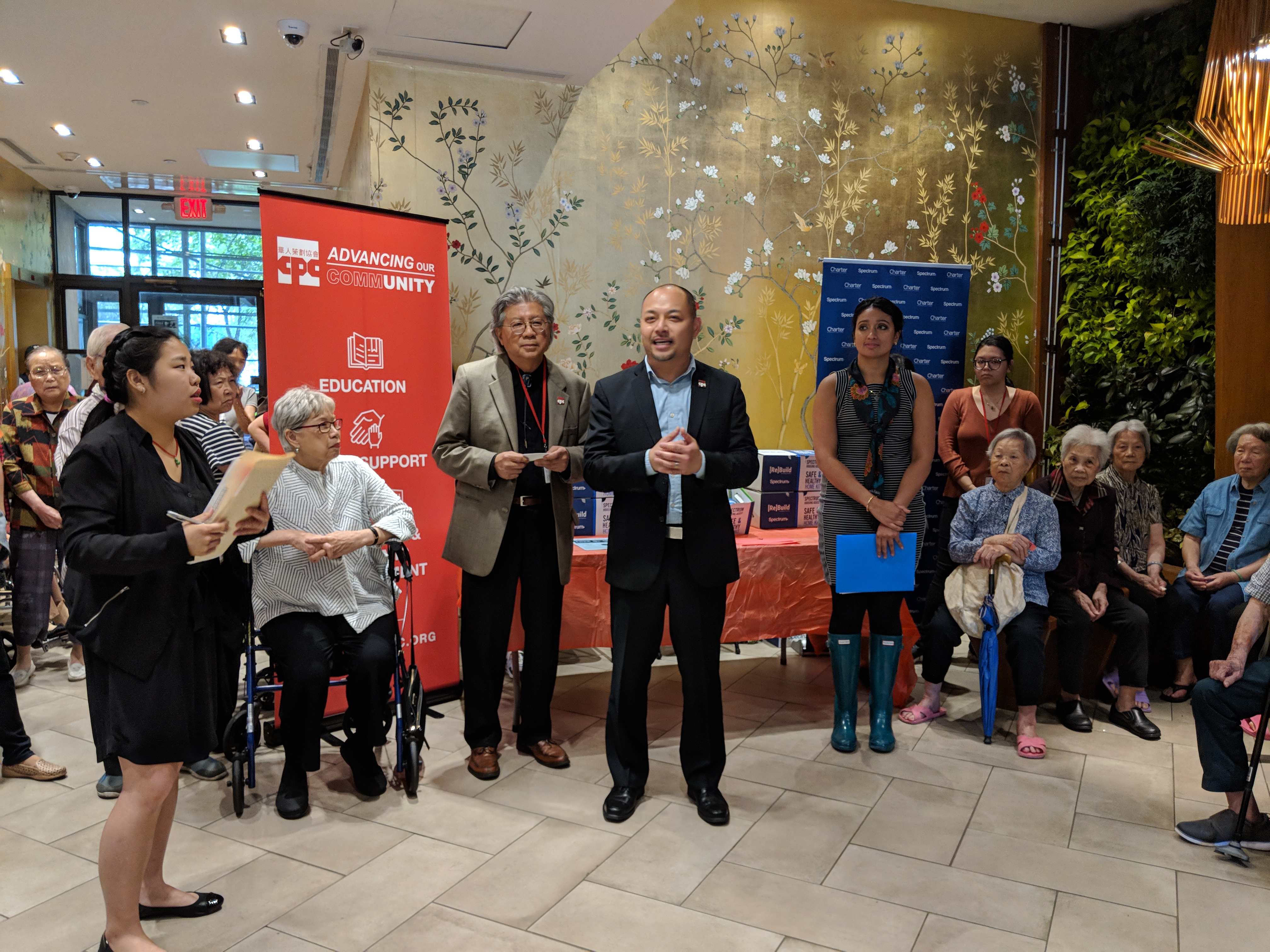 By Alice Vo, 2019 Summer Wellness Intern, University of Richmond
Friday, June 21, 2019. As a further step forward for the CPC Wellness Program at Hong Ning Housing for the Elderly in expanding its mission to enhance services, CPC and Charter Spectrum, New York's largest cable and internet provider, partnered to distribute Safe and Healthy Home Kits to the tenants at Hong Ning Housing for the Elderly.
These home kits were fabricated, assembled and donated by Spectrum and Rebuilding Together, a national nonprofit that focuses on providing home repairs and revitalizing communities. The distribution of these kits furthers CPC's mission of Advancing Our CommUNITY by promoting emergency preparedness among senior citizens, and through providing our residents with the resources they need. In these home kits, residents received a first-aid kit, weather alert radio, smoke detectors, cleaning wipes, silicone caulk, weather stripping, LED night light.
At the event's opening, tenants were greeted by Virginia Kee (CPC Founder and Board Member), Wayne Ho (CPC President and CEO), Steve Yip (CPC Director of Operations), Alana P. Cantillo (Spectrum's Director of Government and Community Affairs), and Priscilla Fok (Hong Ning's Wellness Coordinator), who also provided Cantonese translations. Council Member Margaret Chin's representative was also present.
The Wellness Team, along with Hong Ning's property management staff (from TUC Management), distributed over 120 kits to residents. Tenants and their home attendants responded with an overwhelming enthusiasm, and filled the lobby to receive their home kits. Several CPC summer interns joined with Brenda Choy and Michael Ng, CPC Central Administration staff members, and distributed the home kits from Hong Ning's Teaching Kitchen.
Residents who received the kits shared that they appreciated CPC's hard work and its organization of the event. One tenant mentioned that she recently had a conversation about emergency preparedness with her doctor, whom she shared information about CPC's home kit distribution. She further added that she and another tenant was surprised by the massive turn out, saying "I was not even aware that Hong Ning Housing had this many tenants!" Another tenant responded that she is happy to know that CPC cares about the tenants' health and safety.