CPC and Elected Officials Call for Full Funding of Adult Literacy Education
Main Content
CPC and Elected Officials Call for Full Funding of Adult Literacy Education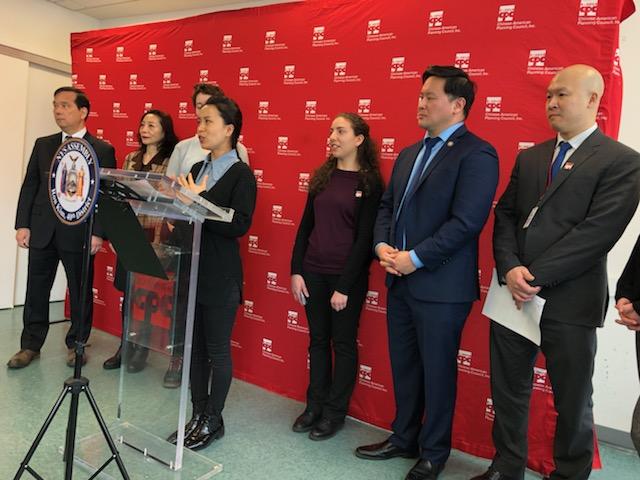 State Assemblyman Ron Kim, representatives from Senator Jessica Ramos's office, and Lena Cohen from United Neighborhood Houses joined CPC on February 20th to advocate for full funding of Adult Literacy Education (ALE) programs in New York.
CPC's Adult Literacy Program Director, Jeff Lau, spoke at CPC Queens Community Center about the impacts of the program on more than 500 English language learners and called on the State of New York to continue supporting adult literacy classes and the Flushing community. He also discussed how repeated underfunding effects the flow of programming and sets community members back. "Single-year investments and low-reimbursement rates mean we are not able to provide staffing for the wrap around services and counseling that students need outside of the classroom. More importantly, students' lives will be put on hold as people wait to achieve a high school equivalency, enter the workforce, assist in their children's homework, or become a U.S. citizen, " said Jeff.
One of the attendees who spoke was Lilian Kong, a former student of CPC's literacy program, who emphasized the positive impact and vital importance of the ALE program in her own life.
Mollie Korewa, a CPC adult literacy instructor, said, "Students in our program have many reasons to learn English: helping children with homework, communicating with doctors, going to government offices when necessary, continuing their education, becoming citizens, and of course, finding good jobs to provide for their families. Just a few months of English class can have a huge impact on students' lives."
In her class, there have been discussions on tenants' rights, workers' rights, the American education system, accessing public transportation, and much more.
There are an estimated 3.5 million adults without a high school diploma, English proficiency, or both in New York, but barely 3% of those in need of language development skills are able to enroll in State-funded classes. Organizations such as United Neighborhood Houses and CPC have sought to address this deficiency by urging the inclusion of $25 million for ALE in the annual state budget, a modest investment within the overall New York State budget, which exceeded $170 billion in the most recent fiscal year, that they say would bring outsize returns from a better educated, empowered and far more engaged workforce.
To learn more about CPC's adult literacy program, visit the program page here.
See coverage in the World Journal here.