CPC's City Advocacy Day Engages Thousands on First-Ever Virtual Press Conference and Digital Rally 
Main Content
CPC's City Advocacy Day Engages Thousands on First-Ever Virtual Press Conference and Digital Rally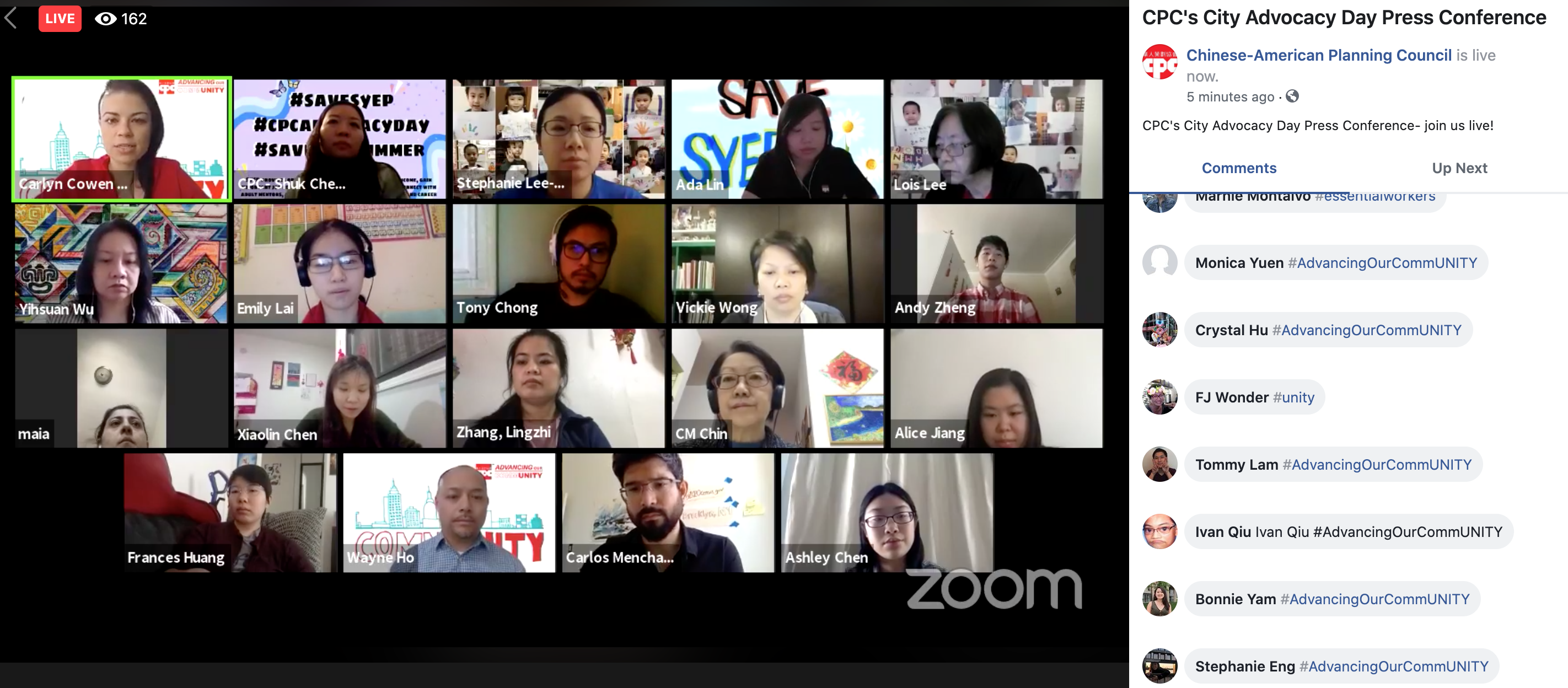 CPC's City Advocacy Day Engages Thousands on First-Ever Virtual Press Conference and Digital Rally
With stay-at-home orders in place for most New Yorkers, CPC took our City Advocacy Day 2020 online on May 5th and invited our New York City Council Members to meet us there. Held on Zoom and Facebook, CPC had a rally with more than 300 attendees (and over 2,600 unique views to date) and meetings with Council Members from across our city.
Overview
CPC's staff members from 50 bustling programs and more the 35 sites came together for a day of sharing their stories and empowering each other. Council Members met with staff to hear about day-to-day experiences of our communities under COVID-19 conditions. CPC staff described working on the front lines, delivering meals to seniors or providing home and residential care, or working remotely to serve the needs of our neighbors through phone calls and video wellness check ins.
Altogether, 65 staff and community members met with 25 Council Members to discuss how we are serving our communities during this crisis, why our programs and services need to be funded rather than cut, why our essential human services workers deserve hazard pay, better wages and working conditions, and how to support AAPI, immigrant and low-income community members in relief efforts.
Essential Workers in the Spotlight
Morning and afternoon meetings with Council Members or their legislative staff were informative and often moving to many who joined them.
"It is my first time participating in advocacy day," reported one staffer. "I only began my job at CPC a month ago. I shared how we are working hard to get childcare scholarships out to the community and helping find childcare for essential workers."
"I felt heard," said another staff. "We are working really hard right now, and it can be really challenging. I worry about my seniors and I worry about being out. But without us showing up to do our job, my seniors may not get groceries or be able to eat that day."
Our new REC center launched a few weeks ago, and one of the staff members reported stories about essential workers' families. "One parent works as a night shift grocery store stocker. She thanks me so much every time she comes in for pick up or drop off. She said, while her kids are safe and engaged at our REC during the day, she can get some sleep. I thought the Council member's legislative teams heard what we are accomplishing together. We were on Zoom, so they also could see me in the center working and I think it made it more real for them."
Reports from the field were also about families impacted by the economy. "I shared how one of my families with two special needs children both lost their jobs," said another staff of CPC. "They have had a lot of challenges caring for their children's needs full time. As well as making sure they have resources they need to thrive, I told the council person how I helped make sure their children had online tutoring from one of our interns, and how this helped them while this was available. This noted, it is very challenging for them to help their kids learn through remote learning and there is more we are working on to help them access what they need through the DOE."
Innovative Digital Rally Brings New Yorkers Together
At Tuesday's Rally, Council Member Margaret Chin joined our voices with her thoughts: "As we all know, months before the lockdown, Asian New Yorkers and small businesses were already deeply hit by ignorance and xenophobia. And by the time the PAUSE order began, Asian businesses across the city were ready to close their doors. The Asian community had already been identified as a scapegoat to place blame. May is Asian Pacific American heritage month, and it is a space to celebrate and also to connect to our shared history of struggle and activism as a community. Today, we are met with an even stronger and urgent call to action, to fight for deeper investment in the budget to make sure that everyone, regardless of race or immigration status is taken care of. I am proud that groups like CPC have been helping to lead this response for immigrant communities in Chinatown the Lower East Side and across the city."
Council Member Carlos Menchaca had supportive words of encouragement for the community: "We are in this battle together... Before the pandemic, we knew that immigrant New Yorkers were being left behind. Being left out of our economy and our government. Today that neglect is undeniable in the difference between life and death and that we are seeing in our neighborhoods. It is also a travesty when we see that most essential workers are also immigrant New Yorkers. According to recent statistics, 58% of essential workers are immigrants: 81% of home health aides are immigrants, 65% of cooks, 53% janitors and building cleaners, 87% laundry and dry cleaning services and over 50% nurses... but they are barely being discussed by the Governor and the Mayor and this is part of why I am here today to add my voice to this press conference and rally."
Council Member Mark Levine, Chair of the City Council Health Committee shared his thoughts: "This pandemic has exposed profound inequalities in our society and exacerbated them in disproportionate rates of hospitalization and deaths in communities of color, low-income neighborhoods, and immigrants in this city. And it's due to inequality in housing, the workforce, and most importantly due to long inequalities in healthcare that have preceded this epidemic. The work of CPC, which was important before coronavirus, is doubly important for tackling these inequalities for communities of color, low-income communities, and immigrant communities. We have to confront the racism of our healthcare system...and the social programs you do are more important than ever before."
Council Member Ben Kallos, Chair of the City Council Contracts Committee noted: "The pipeline that CPC has created is great to see. NYC is seeing so much racism, both before this pandemic, directed at [the AAPI] community, and even worse since then, both by individuals and in government policy. CPC has been one of the first to organize and reach out when SYEP was cut from the budget. It's a travesty and it's wrong to cut a program on a day's notice, to both the participants and the workforce. We know it's going to be a tough couple of months, but no one fights harder than CPC."
A parent said during the press conference, "I am a mother of a fifth grader, it is our last year in the program at CPC. I want to thank all of you for everything that you have done for my child. You have always been very helpful and so kind and did so many fun activities with kids, and they made so many friends, and I want to stress it is very important for CPC to stay on, because everybody works and kids need to be secure during afterschool."
Lois Lee, Director of Queens Early Childhood Center "When you have young children it is very hard to work at home at the same time, and parents are exhausted, they are learning to be parents but also to be teachers. Who can they go to but their CPC people?... We are really counting on the city council to step forward. You want bold ideas, come to anyone of the CPC programs as we create the new normal."
Thank you to all who participated!
CPC is grateful for the support of our City Council Members who attended meetings including CM Adams, CM Ampry-Samuel, CM Ayala, CM Cabrera, CM Chin, CM Cohen, CM Dromm, CM Gibson, CM Gjonaj, CM Grodenchik, CM Kallos, CM Koslowitz, CM Lancman, CM Levine, CM Lander, CM Menchaca, CM Powers, CM Reynoso, CM Rosenthal, CM Salamanca, CM Torres, CM Treyger, CM Ulrich, and CM Vallone.
Our city council meeting facilitators included staff members Ada Lin, Steve Mei, Joanna Chan, Priscilla Fok, Stephanie Lee, Bryan Lucero, Tommy Lam, Shuping Deng, Tommy Lee, Shuk Cheng, Sumon Chin, Iris Ng, Simon Weng, Stephanie Eng, Lois Lee, Raihan Mondal, Tony Chong, and Jeff Lau! The rally included our President & CEO Wayne Ho and Policy team members Carlyn Cowen, Amy Torres, Frances Huang, and Howard Wong. A special thanks to our amazing speakers: Maia Arbuli, Xiaolin Chen, Ada Lin, Andy Zheng, Emily Lai, Alice Jiang, Anna Shamray, Lois Lee, Vickie Wong, Lingzhi Zhang, Yishuan Wu, and to Tony Chong, Shuk Cheng, Stephanie Lee, and Ashley Huang for recruiting speakers.
Our amazing policy team made this exciting event happen. Thank you to Frances Huang and Amy Torres for planning the day and to Ashley Chen and Howard Wong for supporting.