Essential Worker Highlight: Suzan Lam, Director of CPC Project Gateway
Main Content
Essential Worker Highlight: Suzan Lam, Director of CPC Project Gateway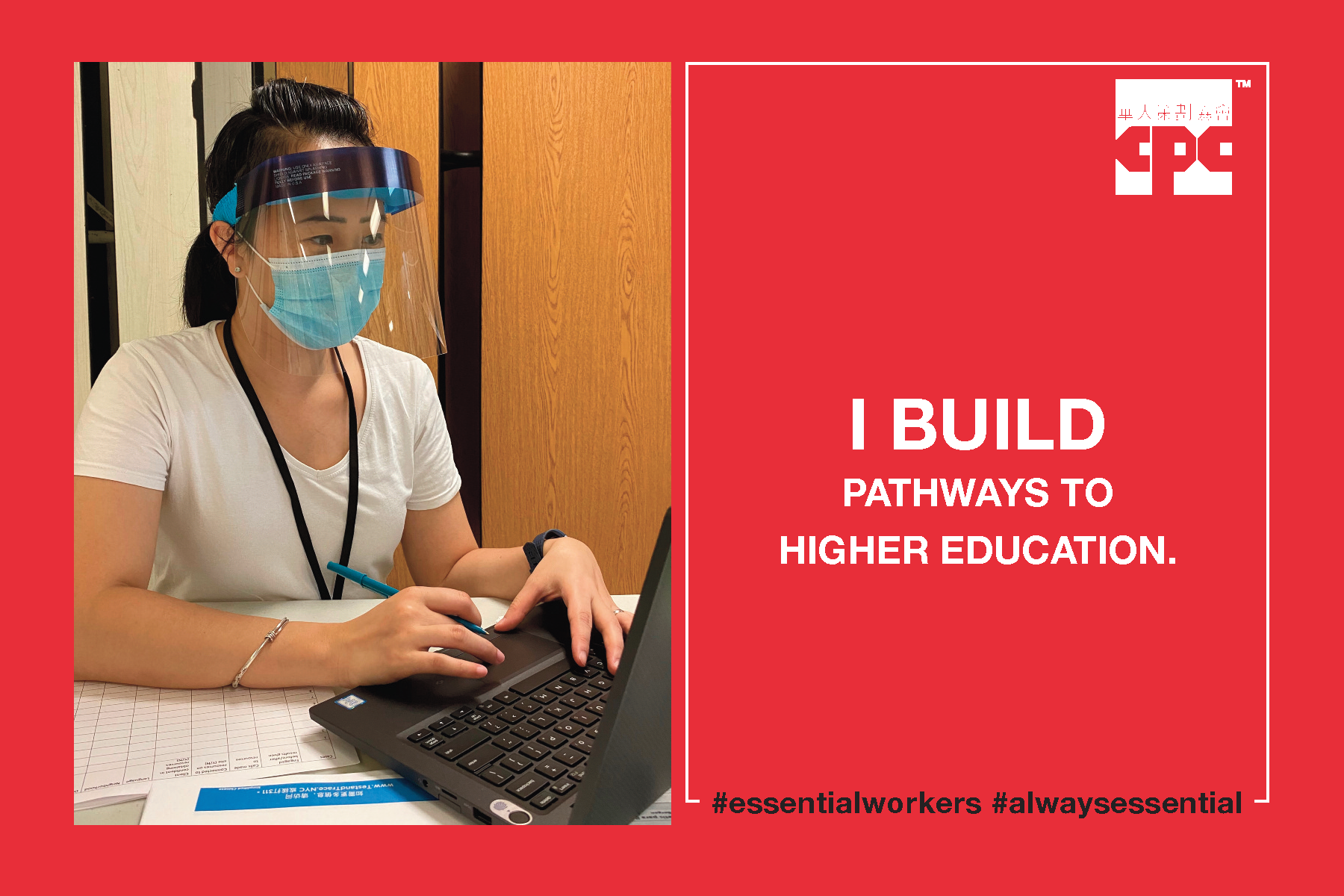 While medical personnel treat the coronavirus in our hospitals, other human service providers and essential workers are ensuring New Yorkers have the resources they need to not only remain safe but also continue to have opportunities to thrive. These individuals, whether working from home or within our neighborhoods, are supporting a strong recovery for those who are too often overlooked, underrepresented, or underinvested in.
The following Q&A took place between Chris Kuo of CPC Leadership Council and Suzan Lam, Director of CPC Project Gateway. Suzan helps youth and their families navigate the college experience. Throughout the pandemic, she has also offered guidance and support to individuals diagnosed with COVID-19.
The CPC Leadership Council is a tight-knit community of business and nonprofit leaders who seek to advance CPC's mission to promote social and economic empowerment of Chinese American, immigrant, and low-income communities.
 Join CPC in sharing stories of essential workers using the tag #AlwaysEssential and #EssentialWorkers.
Essential Worker Highlight: Suzan Lam, Director of CPC Project Gateway
Chris Kuo, Leadership Council: How did you end up in this position?
Suzan Lam, Project Gateway Director: Like some of the community members that I worked with, I did not have a clear goal of what career I wanted to pursue. I studied at CUNY Baruch College with the intention to study business. Coming from an immigrant household, business was amongst the few careers that were encouraged. However, this was a short-lived goal as I did not find it to be impactful and ended up graduating with a degree in psychology. After graduation, I joined CPC as part of the Young Adult Internship Program. This was a citywide initiative to re-engage youth who had dropped out of school or couldn't find employment and needed guidance to get back on track with their lives. Throughout those years, I felt motivated to support our community members and valued the work that CPC was doing. When a new opportunity opened up at Project Gateway in 2018, I applied and became the new director, carrying with me the knowledge and experience with working with disconnected youth.
Chris Kuo, Leadership Council: What is Project Gateway all about?
Suzan Lam, Project Gateway Director: Project Gateway serves about 300 community members per year through many different initiatives, including college and career prep workshops and one-on-one counseling sessions where we assist individuals with applying for admission to schools and financial aid. We actually only have two staff members but work with a lot of youth volunteers. Most of the students supported by our program are Asian Americans, who are stigmatized as a minority believed to always excel in school. The reality is that a lot of Asians don't get the support they need to graduate. Many of our students come from low-income and immigrant households and don't have family members whom they can look up to or speak to about college because they are the first in their family to have that opportunity. They also don't really understand how college majors relate to career paths. Some students know what careers interest them but not what they should study to pursue those careers. Others have a major that they want to study but aren't sure what jobs that major could lead to. This confusion puts youth at risk of dropping out, so my responsibility is to connect with them and provide support.
Chris Kuo, Leadership Council: What motivated you to pursue this line of work?
Suzan Lam, Project Gateway Director: Like many of my students, I came from a low-income immigrant household and was the first in my family to graduate from college. I did have some older relatives who had gone to college, but they weren't able to graduate, at least initially. Families like ours encouraged their children to go to college but could not offer support with the whole process of applying to schools, applying for financial aid, understanding college majors, and navigating different career paths. When I learned about Project Gateway and how it involves both parents and youth to teach families about college, that really hit home for me. I wanted to help families understand how to not let their child be alone in their transition to college and to see that for their child to succeed, they actually need to help them navigate their interests. Project Gateway was a way for me to teach students the importance of higher education and how to better navigate the system. I wanted to share the lessons I had learned through my own college experience and save them some of the difficulties I had faced trying to figure things out on my own.
Chris Kuo, Leadership Council: How does your program connect with youth in the community?
Suzan Lam, Project Gateway Director: A lot of our outreach is done by our youth. One of the ways we've connected with students is by creating a mentorship program. We recruit program alumni that are now college students or graduates to act as mentors to incoming freshmen, helping them navigate their college experience. We also have interns and volunteers who plan college workshops for us and compile student resources like lists of scholarship opportunities. Our program even has a College Advisory Council made up of high school seniors and college students that plan youth engagement events. They're the ones who help us determine what's important to our youth. For example, they recently organized a virtual "transition fair" for incoming college freshmen that covered topics like signing up for classes and dorm life. They also engage students through our social media page. We do outreach with families as well to give them a better understanding of college and involve them in the application process. After all, students need their parents' tax statements to apply for financial aid. We also partner with CPC's other center-based and school-based youth programs and with local high school counselors to reach students and their families. We hold info sessions at our Manhattan Community Center.
Chris Kuo, Leadership Council: How has the pandemic affected your program?
Suzan Lam, Project Gateway Director: Since the college application season (our busiest time) generally lasts from September to February, Project Gateway wasn't impacted by the pandemic as badly as other programs were. From March to August is when we normally hold a lot of fun youth engagement activities to prepare students headed for college. While students had trouble balancing their workloads in the transition to remote learning at the beginning of the pandemic, by the time summer came, most weren't taking classes anymore. We were fortunate in that the population we work with tends to be more tech savvy, so it was easy to stay engaged with them. We've started utilizing Zoom to hold recorded virtual events, which are then shared on Facebook. We've also created channels for communication on Discord, which is a really popular app among our students. In a way, it has become easier to connect with our students than before. Most of them have been at home and in front of their computer, so there's been little reason for them not to participate in our events. One of the concerns students have right now is whether college classes in the fall are going to be fully remote. For this year's mentorship program, we've decided to recruit more rising sophomores, since they just had the unique experience of transitioning to remote learning during their first year of college. We hope they can alleviate the anxiety felt by our incoming freshmen and offer helpful feedback.
Chris Kuo, Leadership Council: Has COVID-19 had any other impact on your work?
Suzan Lam, Project Gateway Director: Throughout the pandemic, I've actually worn a second hat as a supervisor of the NYC Health + Hospitals Resource Navigators initiative that CPC has been involved in. We've directly supported pop up rapid testing sites in Sunset Park in partnership with Housing Recovery Operations that serves over 300 people a day. The program helps individuals who test positive for COVID-19 navigate the resources available to them. It's a really challenging and stressful time for most of these individuals, and I think being able to lead this service has been an amazing opportunity to provide support where it is most needed. It also shows how CPC values empowerment of its staff. I feel like if I was at another organization, I might not have the opportunity to take on such a different role. This work is definitely something that I am grateful for.
Chris Kuo, Leadership Council: How would you improve Project Gateway if you had more resources?
Suzan Lam, Project Gateway Director: With only two staff, Project Gateway relies a lot on student volunteers. We would welcome having even more youth interested in planning out events, talking about their college experiences, or becoming mentors to our incoming freshmen. As well, I would love to create an eight-year program that follows students from their first year of high school all the way up to their last year of college. Students don't always think about the opportunities that college can open up for them, and I think we need to help them understand that career pathways are not necessarily linear. If one pathway doesn't work out, there are always other opportunities to branch out into something different.
Chris Kuo, Leadership Council: Do you have a memory from your years at CPC that you'd like to share?
Suzan Lam, Project Gateway Director: One other experience that I remember fondly is being on the committee that plans CPC's all-staff meetings. CPC is a large organization, and staff at our many program sites across NYC don't often get to meet face to face. About two years ago, as part of CPC's strategy to unify the organization, we began holding events that brought all of our members together for fun and professional development. I joined the committee in charge of that last year, and it was a great way to make an impact on all my colleagues. One of the highlights of the year was being able to plan summer social events at three different locations. It was a nice way for our frontline staff to get involved in something different from their day-to-day work and participate in an organization-wide initiative. Planning the events definitely took a lot of work, but it was so rewarding. I hope that we can do that again next year if we're not still in a pandemic.
Essential workers risk their health and their families' health to serve others through COVID-19. As New York begins to recover, organizations like CPC will be among the ones helping the hardest hit New Yorkers put their lives back together. Support them here! #AlwaysEssential