CPC Joins The Yellow Whistle Campaign
Main Content
CPC Joins The Yellow Whistle Campaign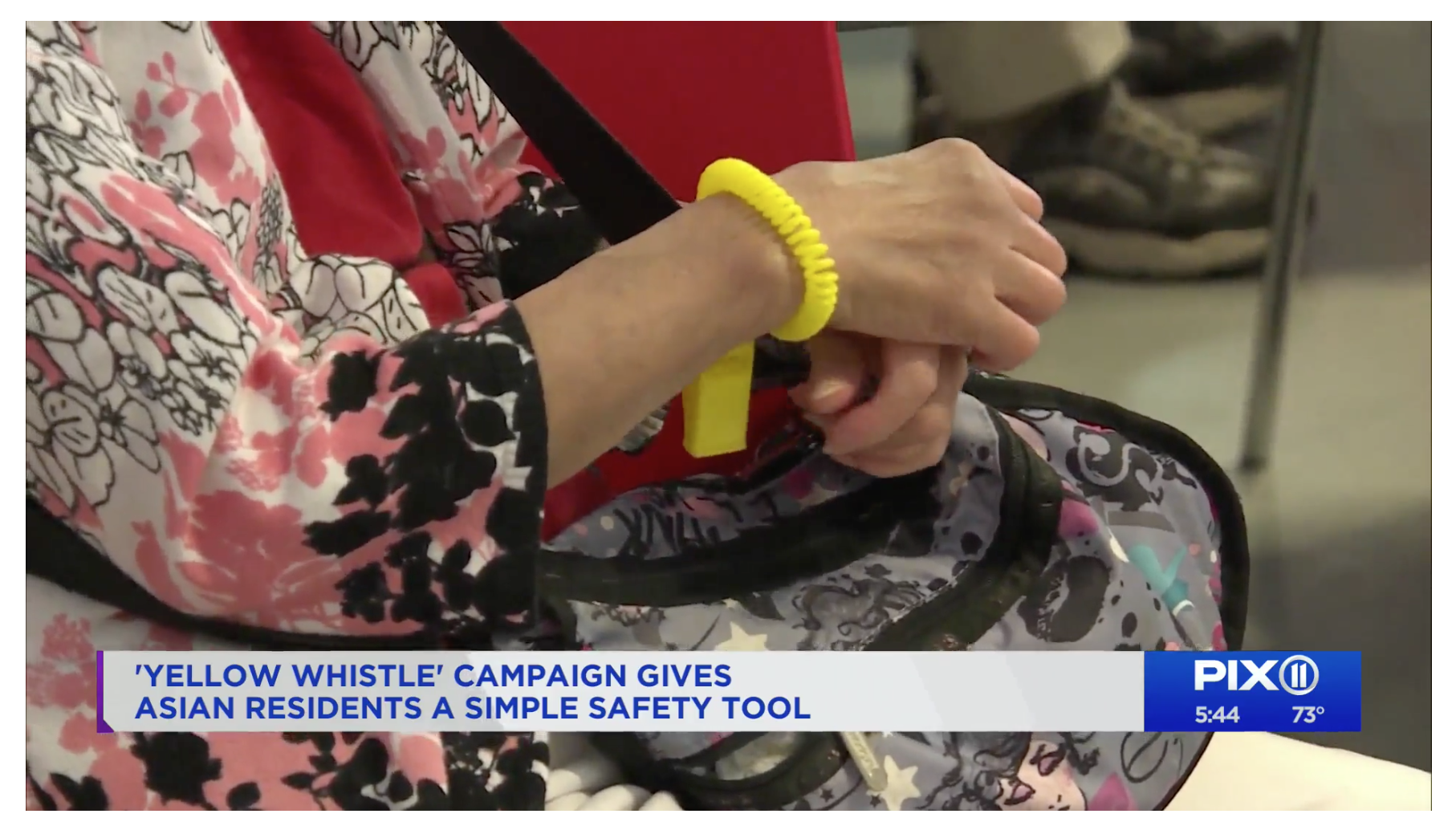 More than 100 whistles were handed out on Thursday, June 24th at the Chinese-American Planning Council's Open Door Senior Centre in Chinatown as part of the Yellow Whistle Campaign. CPC and The Yellow Whistle (TYW) campaign organized the community event to distribute whistles to senior citizens in the Chinatown community.
The event brought together activists, community leaders, public officials, and members of the NYPD to show solidarity in the fight against anti-Asian racism and violence. According to the non-profit Stop AAPI Hate, there have been over 6,600 recorded incidents of anti-Asian hate since March 2020 and New York had the largest increase in anti-Asian hate crimes relative to other major cities. In addition to discussing how The Yellow Whistle™, a simple instrument of alarm, can potentially save lives, the speakers will also discuss how community support can help prevent and mitigate AAPI-hate incidents and the importance of reporting discriminatory actions to law enforcement.
Speakers and guests at the event included Oscar Tang, Dr. Agnes Hsu-Tang, and Li-En Chong, Co-Founders of The Yellow Whistle, with Christina Lu, Director of The Yellow Whistle campaign; Wayne Ho, President & CEO of Chinese-American Planning Council; Po-Ling, Director of Chinese-American Planning Council's Open Door Senior Center; Detective Henry Chung, Member of the NYPD Asian Hate Crime Tasks Force; Captain Paul J. Zangrilli and NCO Supervisor Sergeant Kakit Yip from NYPD's 5th Precinct; Fred Teng, President of America China Public Affairs Institute and Member of the NYPD Hate Crime Advisory Panel; Frank H. Wu, President of CUNY Queens College; Henry Tang, Community Leader and Former Chairman of Chinese-American Planning Council; Justin Yu, President of the Chinese Consolidated Benevolent Association; Victoria Hsu, Director of the J.T.Tai Foundation; John Lam, Chairman and CEO of Lam Group; William Su, Chairman of the Myanmar Chinese Association; and Sio Wai Sang, President of Golden Jade Jewelry.
The Yellow Whistle is a rapidly growing national grassroots campaign, founded by Oscar Tang, Dr. Agnes Hsu-Tang, Li-En Chong and others, who are dedicated to bringing awareness to and combating rising anti-Asian violence. After launching in April 2021, The Yellow Whistle campaign has grown from distributing 10,000 whistles to 500,000 across the country.
Oscar Tang, Co-Founder of The Yellow Whistle, commented, "We are pleased that the Chinese-American Planning Council is supporting our campaign by serving as one of our community outreach partners. 14,000 whistles will be distributed to their Senior Services and
Home Attendant programs. We need to work together to protect our community, particularly the elderly and vulnerable, from these senseless acts of violence and racism."
CPC is taking action to combat anti-Asian racism by launching the Community Safety and Belonging Initiative with the goal of ensuring that New York City's Asian American community members feel safe, respected, and included in their neighborhoods and across New York City. CPC is proud to join with The Yellow Whistle to stand in solidarity and protect our community members, especially seniors, against the growing anti-Asian violence.
Wayne Ho, President and CEO of the Chinese-American Planning Council, said, "In New York City, Asian Americans have experienced over 1,100 bias incidents, causing fear and trauma. All New Yorkers must have safety and belonging in the neighborhoods where they live, work, study, play, and worship. CPC is fortunate to collaborate with The Yellow Whistle Campaign to distribute whistles to our seniors during this challenging time. We are grateful to The Yellow Whistle Campaign, partner organizations, donors, and elected officials for this joint effort to promote safety and belonging."
Dr. Agnes Hsu-Tang added, "Asian Americans, all Americans, deserve to feel safe in this country that we call home. We encourage all communities that have experienced hate crimes and want to proactively protect their vulnerable members to contact us and request whistles. These whistles can potentially save lives. We are providing these whistles at no cost, because we cannot put a price on life, dignity, and humanity."
Inspector Tommy M. Ng, Commanding Officer of the NYPD Asian Hate Crime Task Force emphasized that, "A Hate Crime against one Asian American is against ALL Americans. We, the NYPD, will utilize every single resource to investigate and prosecute those individuals who commit such a hateful act."
Congresswoman Grace Meng sent her video message to support this event and encouraged everyone to step up and speak out against the anti-Asian violence.
Over 100 organizations across nearly all 50 states, including Alaska and Hawaii, have joined The Yellow Whistle campaign. The campaign began as an Asian American-focused campaign, but the universal message of self-protection and belonging has gained traction among various communities and faiths who are wearing yellow whistles on their wrists to show solidarity in the movement, and by distributing whistles to those in need. The Yellow Whistle is a symbol of unity and has a message that everyone, not just Asian Americans, can identify with and unite behind.
For more information or to request whistles for your organization, please visit www.theyellowwhistle.org.
Coverage appeared in PIX11, The Independent (UK), China Press, World Journal, Epoch Times, andResonate.