NYC Ladders for Leaders Application Now Available
Main Content
NYC Ladders for Leaders Application Now Available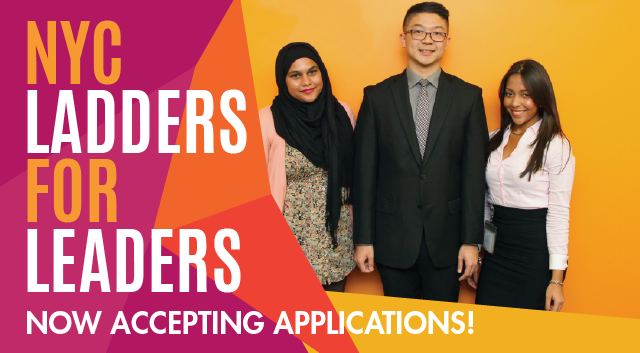 The 2016 NYC Ladders for Leaders Application is now available. Ladders for Leaders is a nationally recognized program that offers high school and college students the opportunity to participate in paid professional summer internships with leading corporations, non-profit organizations and government agencies in New York City. Ladders for Leaders gives students a unique opportunity to explore their interests and discover new ones through: Pre-employment Training: Receive help with résumé and cover letter writing, and interviewing skills. Learn essential workplace readiness skills and business etiquette; Paid Summer Internships: Paid internship opportunities available in a variety of industries to accommodate student interests; Opportunity to join a growing Alumni Network: Broad network of alumni, post-internship opportunities and networking events open only to past participants of the program.
This competitive process differs from the Summer Youth Employment Program in that it requires applicants to submit an application to one of several community-based organizations serving the five boroughs. Applications are evaluated based on academic performance, response to an essay question and résumé.
For more information, please contact (212)334-0082 x273 or apply online now.
CPC is proud to be a participating Community Based Organization in the Ladders for Leaders program.